Description
MT Wide format digital home textile printers are developed by MT Digital Industrial Co., Ltd.
Cotton Fabric Printers equip with accurate tensile force system provides stable and hi-effective fabrics feeding process, which is suitable for a wide range of fabrics and overcome the difficulties of materials slant and pleat occurring while printing. 


Digital Textile Cotton Printers printing width from 1800mm to 3200mm are available. They can print and produce various colorful Home textile like, curtains, cushions, beddings and other coated fabrics and textile fabrics.
At digital Fabrics we print on cotton fabrics and other natural fabrics using direct to fabric printing technology. In direct digital fabric printing rolls of cotton fabric are printed using large format digital textile cotton fabric printer directly onto fabric.
This digital fabric printing method is a quick and easy process. Digital textile cotton fabric printer print custom fabric no matter how small or large print run- the minimum size can be less than a meter! The number of colors within a design or amount of designs does not impact the cost when printing digitally on to cotton. Digital textile cotton fabric printer can print design with unlimited colors on fabrics your choice. For digital printing on cotton fabrics, digital textile cotton fabric printer can use woven bases such as cotton, canvas, cotton drill, cotton linen, and cotton poplin, also print on beautiful bamboo fabrics.
Created from fibers that occur in our natural world, cotton fabrics are very pleasant to wear. They are great to wear, as it's soft and comfortable next to the skin due to their excellent moisture absorption. Natural fabric is suitable for fashion garments, tablecloths, bedding, baby clothes and various craft projects. Our digital cotton fabric printer can print on the fabric that has nice handle and feel and are beautiful all around your home and family.
Feature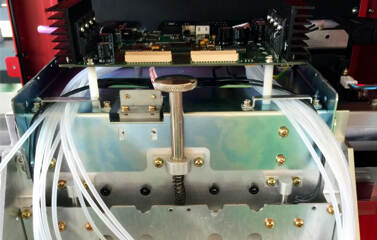 1. Printheads Type equipped with Cotton Fabric Printers are Industry grade Ricoh Gen5, Epson DX5, Epson 5113 and Xaar1201 textile inkjet printhead, resolution up to1440dpi with more than two years life span, suit for big lots, continue and unstoppable industrial production, high durability and high definition for digital cotton fabric printing.
2. Digital Textile Cotton Printers can provide High durability and high definition. The Printing speed, quality and stability of Cotton Fabric Printers are comparable with Japanese printer brands like, Epson printer, Roland printer, Mimaki Printer and Mutoh Printer. Ricoh Gen5, Epson DX5, Epson 5113 and Xaar1201 high precision printheads ranked as twin-row or four rows on Cotton Fabric Printers.
3. Digital Textile Cotton Printers provide fully guarantee for printing precision and stability by applying high quality aluminum crossbeams, THK guide rail, servomotor and stable rack.
4. Various Fabrics can be printed by Digital Textile Cotton Printers. Cotton Fabric Printers use textile reactive inks, textile acid inks and textile pigment inks which are good matching for cotton, Linen, silk, Lycry, nylon, Polyester, chemical fiber etc.

5. Transmission structure equip with Cotton Fabric Printers. The Cotton Fabric Printers equip with accurate tensile force device for media feed in and taken-up to ensure the feeding error rate less than 0.3%. The Digital Textile Cotton Printers No need maintenance that can be lower using cost. And the feeding material system is 100% suitable for non-elastic fabric; Cotton Fabric Printers also can transit cloth material stably to ensure digital textile cotton printing speed.
6. Constant temperature heating heater supports the best digital textile cotton pigment printing. Digital Textile Cotton Printers equip with ceramic heater tube that heat up super quickly. The precise heater sealing can ensure the constant temperature to fixation the pigment ink on printed cotton fabrics. 


7. Cotton Fabric Printers adopt full imported printheads protection system including negative pressure system, moisturize capping device, suction facility and printhead scrape device, that keeps printhead unclog, clean and non-air bubble status for a long time, and improves stability of Digital cotton Printing. 


8. Digital Textile Cotton Printers adopt fabric Printing Thickness adjustable function, Maximum fabric's thickness up to 15mm, printheads height can be adjusted on Cotton Fabric Printers. 

9. Low cost for Digital cotton Printing. Digital cotton printing is simple and leaves out paper transfer process, only one operator can operate Cotton Fabric Printers with highly efficiency bearing the highest printing performance. Digital Textile Cotton Printers also adopt the most advanced thermal energy technology, which can reduce the energy consumption (electricity, water) and minimum environmental impact.
10. Cotton Fabric Printers provide high productivity. It is Brand-New digital textile cotton Printing Concept which Unnecessarily handmade plate making but printing on fabric directly. It's suitable rapid speed production digital cotton printing, clothing material printing, flags printing, banners printing and various fabric printing.
11. Digital Textile Cotton Printers is Less Investment and Higher Savings. Digital cotton Printing Sample costs dramatically reduced, because No more engraving plate departments! There is also No more cost and stock for printing materials, digital textile inks.
12. Manpower is Flexibility using when you choose Cotton Fabric Printers! Digital Textile Cotton Printers are stable but high efficiency which will be save your labor cost and time cost, Cotton Fabric Printers also have broad market prospect and unlimited business opportunities on home textile printing industry.
13. Digital Textile Cotton Printers are Easy training for distributors and end users! Moreover, MT Industry always rapid response to customer technical inquiry.
14. 4 colors or 8 colors ink combination is optional for Cotton Fabric Printers, They can configurate colors according to the requirement of the painting design. Digital Textile Cotton Printers are really support double 4 colors and CMYK plus 4 special Neon colors(fluorescence colors) printing, be able to get wider color gamut.
15. Open type ink supply system equip with Cotton Fabric Printers, end users can control digital cotton printing cost flexibly by choosing different textile ink brands.
16. Cotton Fabric Printers equip with Smoke evacuation filtering system! It can filter flue sublimation smoke effectively as an environment protection device to keep clean environment.
Solution
Digital textile cotton fabric printer can be carried out most effectively through the usage of two sorts of inks, reactive ink or pigment ink. The former is favored for pre-treated fabric with the help of processes such as steaming, washing and drying. The latter is the most effective for non-treated fabric using dry heater. Reactive inks offer the advantage of providing a large gamut of colors and shades, contributing to a superlative finish and highly attractive appearance.
The wide ranges of cotton fabrics are used for garments, apparels, home textiles and accessories.
Cotton Printing through digital print process carried out effectively using Reactive ink. The RFD / Bleached Cotton fabric are used for digital printing and needs to get Coating / Padding first before digital printing and Steaming, Washing and drying. Cotton Printing through Reactive inks provides an advantage of achieving wide spectrum of colors & shades with brightness and appealing appearance.
Application

Cotton is a natural fiber, is one of the most popular textiles throughout the world. Its breathability increases manifold its ability to absorb sweat, making it an immensely successful choice in the garment industry worldwide. In addition, the durability, wide receptivity to colors and shades, strength and adequate production enables large volumes of cotton fabric to be printed and used in far-reaching applications such as curtains and bedspreads, to clothes, apparels and accessories.
Digital Textile Cotton Printers are applied in textile printing Industry to replace traditional cotton printing techniques, which is the solution of both large batch & small batch, low cost, fast printing requirements. The productive printing speed and width options achieve the possibility of meeting the fabrics printing requirements with digital printing method. Adequately Meeting customers' requirements of Digital Textile Cotton Printing, digital home textile printing, sample printing, individual finery printing, family fabrics printing, home textile adornment printing, digital Cushion printing carpet digital textile printing, curtain digital textile printing and interior decoration digital textile printing, digital textile bedclothes printing and more applications.