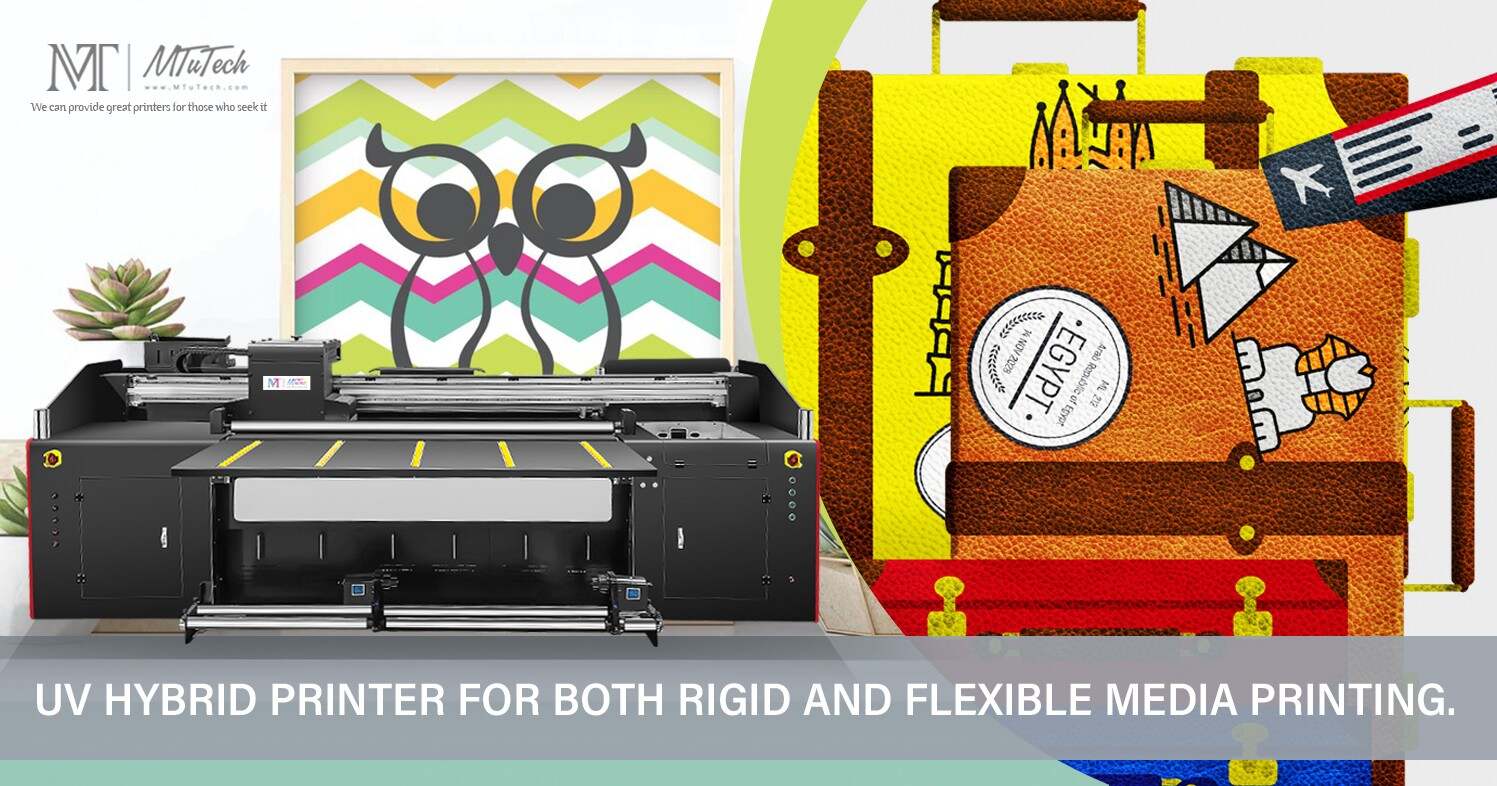 High productive UV hybrid printer range for rigid and flexible media.
This hybrid large-format UV LED inkjet printer family combines award-winning print quality with extreme productivity, cutting-edge automation and low ink consumption.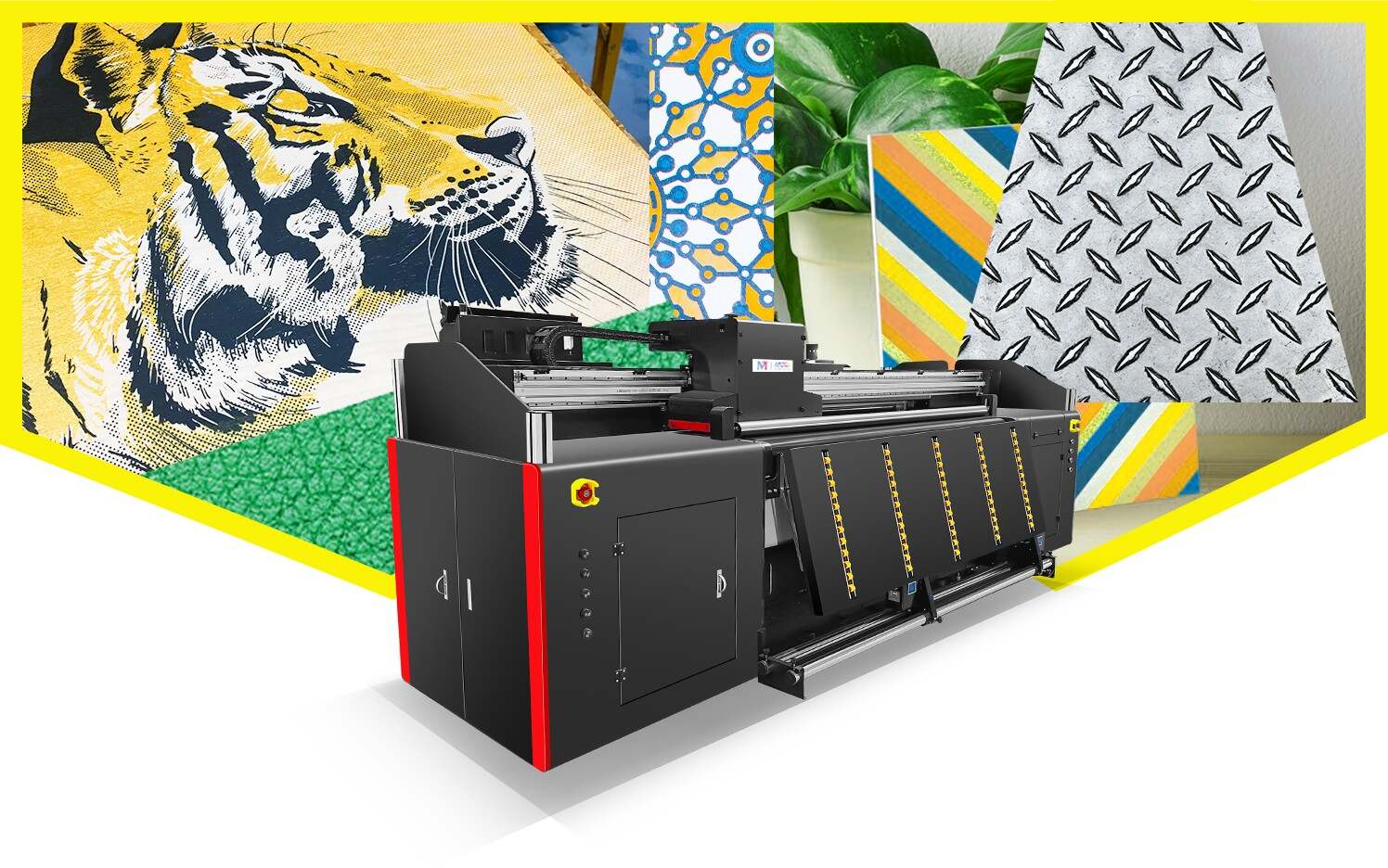 Produce smooth, detailed prints up to 1.9 m wide at up to 52 ㎡/h. Thanks to the rapid UV LED curing of MT's signature high-pigmented UV inks and the smart automation features of the Photoprint workflow software, these hybrid UV printer workhorses exceed expectations every time.
With MT-UV 1904M LED UV roll and flatbed printer, you will find it can easily handle extreme workloads, multiple-shift operation and 24/7 printing. Suited for a variety of rigid and flexible substrates, these printers offer you countless options to create eye-catching large-format prints. They can be deployed in six configurations with different automation options.
MT-UV 1904M allows up to 4 Epson i3200 print head, in a 4 row configuration (CMYK). With a versatile print zone of 1.9m, the MT-UV 1904M utilize fully adjustable water-cooled UV LED lamps which will allow for printing on heat sensitive materials faster than competitive technologies, such as thin slides, self-adhesive sheet, stretch PVC materials, and more.


lHybrid UV solution: prints flawlessly on both rigid and flexible media
lHeavy-duty: built for 24/7 printing
lImpressive productivity and multiple automation options
lAward-winning image quality in CMYK W V color configuration
lUV LED technology bringing economic and ecological benefits
lThin Ink Layer technology for lowest ink consumption
lPowered by smart Photoprint workflow software

With the versatile MT-UV 1904M Digital UV Printing Systems, you are only limited by your imagination. You can print on:
PVC, Vinyl, Acrylic, Canvas, Paper, Foam, Dibond, Forex, Coroplast, Wood, Metal, Plastic, Glass, Leather, Stone, Brick, Porcelain, Rubber, Cardboard, carton and PVC, as well as (self-adhesive) vinyl, blue-back paper, canvas, coated paper and PET foils. This makes them suited for banners, posters, signage (e.g. traffic or industrial information), exhibit graphics, POP, mockups, backlit, front-lit, self-adhesives (labels), etc. They can also be used for niche applications such as wood, art reproductions, glass, interior decoration and more.



1. Industry-leading print quality for extremely vivid prints
MT-UV 1904M uses Epson i3200 Printheads, which is engineered for high-quality printing, yet has an outstanding output of 52 ㎡/h with full bleed capacity. Whatever you are creating, the MT-UV 1904M printers, powered by MT's signature UV LED-curable inks, deliver a wide color gamut and high color vibrancy. MT's color management module allows for accurate mapping of spot colors and neutral gray printing, while the robustness of the printers and their precise media transport, combined with specific jetting algorithms and masking technology, results in excellent solid color reproduction on a wide variety of media. The 6-color models include CMYK, White and Varnish.
Your customers will enjoy a print quality resembling offset printing, with fine details and smoothness throughout. The 3.5PL droplets produce stunning images at 720 x2400 dpi with a fine rendering of shadow and highlight details, and razor-sharp texts in as small as 4-point type both in positive and negative text. The printers also excel in smooth ramp-ups over the tonal range, with outstanding skin tone rendering.

2.Belt conveying control system
The MT-UV 1904M hybrid UV printer with belt conveying control system, it can make a trace less printing effect when printing thin material like pvc film. It's capable of printing on wallpaper, advertisement cloth and other flexible and hard materials.
3. Variable Dot Printing – uses smaller drops to produce smoother gradations, while larger drops produce uniform solids. Variable dot, true greyscale imaging 3.5PL, 5.5PL, and 11PL-at a true native 1200 DPI.
4.Waveform Control – utilizes finely tuned frequencies for each ink's specific gravity and viscosity to precisely shape and place individual drops.
5. MT White Ink Stir Technology - continuously agitates the white inks to prevent settling.White Ink is special and will subside so that it will affect printing color or will be easy to block print head. After installing this, white Ink can stir automatically. If there is sediment at ink box, stir can work auto to prevent ink sediment.
6. Germany IGUS towline

MT-UV 1904M small format uv hybrid printer is suitable to high speed, which can protect wires from abrasion and can prolong service life.Besides, It can work stably in a long time.
7. Feeding and taking up system
Feeding and taking up systems all adopt tension control, it can adjust the tension strength while printing depends on the material thickness, and provide a stable tension when printing continuous media, ensure the stability and printing quality when the media is in motion.
8.UV-curing Lamps / LED

Instant UV ink curing for fast production.Cures on both the left and right pass.
9.Emergency Stop Switches.

The user can stop the printer operation from either side of the machine.
10.On Board Control Module
Allows user to adjust printer settings for each ripped file, and make on-the-fly adjustments of ink and media settings, white ink workflow and physical printer settings. Those settings can be saved for repeat runs, eliminating the need to rerip job.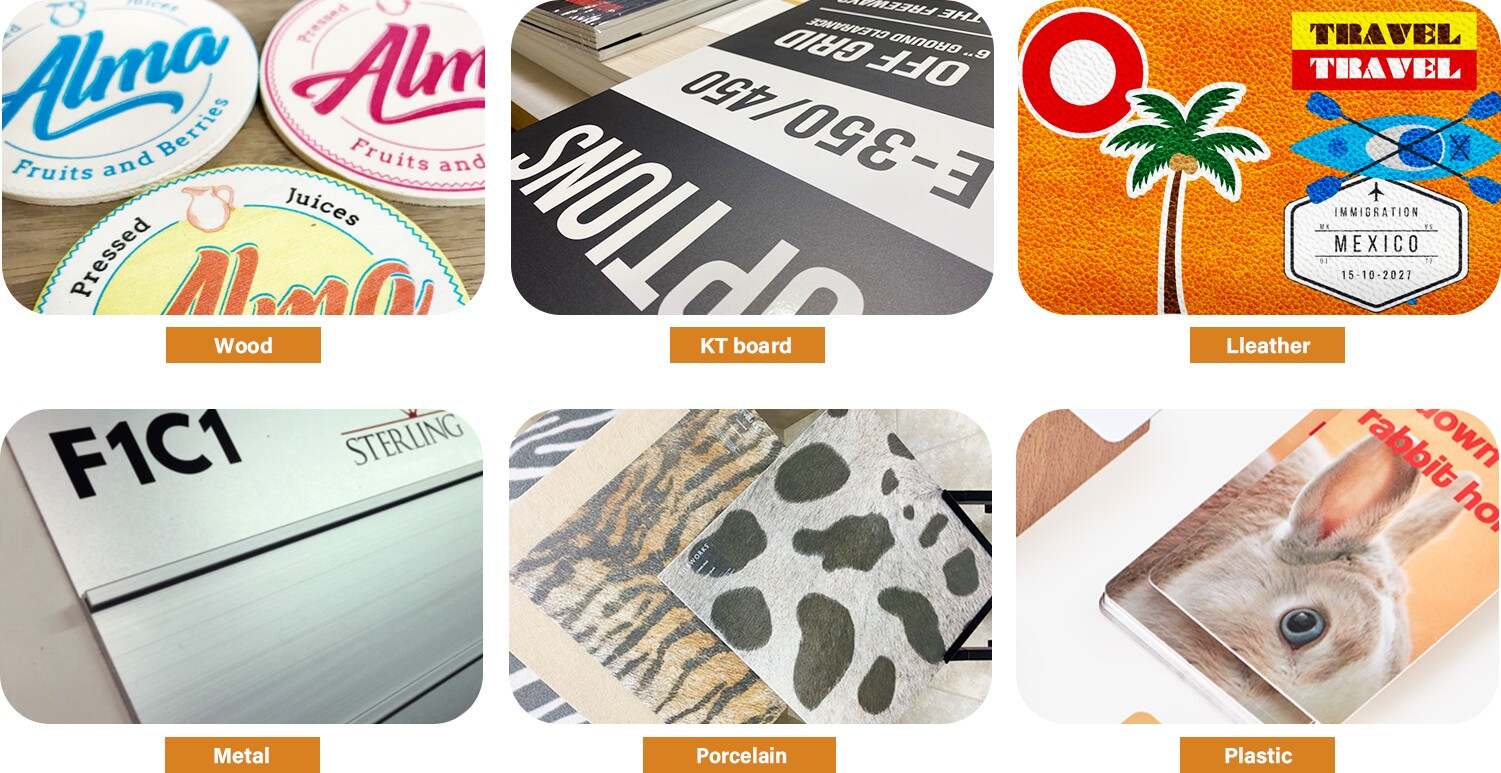 Specially formulated to print on rigid or flexible media, MT's UV LED inks broaden the scope of possible applications. This is what you can expect:
lVibrant colors, impressive results
lThe lowest ink consumption out there
lExcellent adhesion and durability
lAdvanced white printing and ink management
lPrimer option
lCompliant to industry norms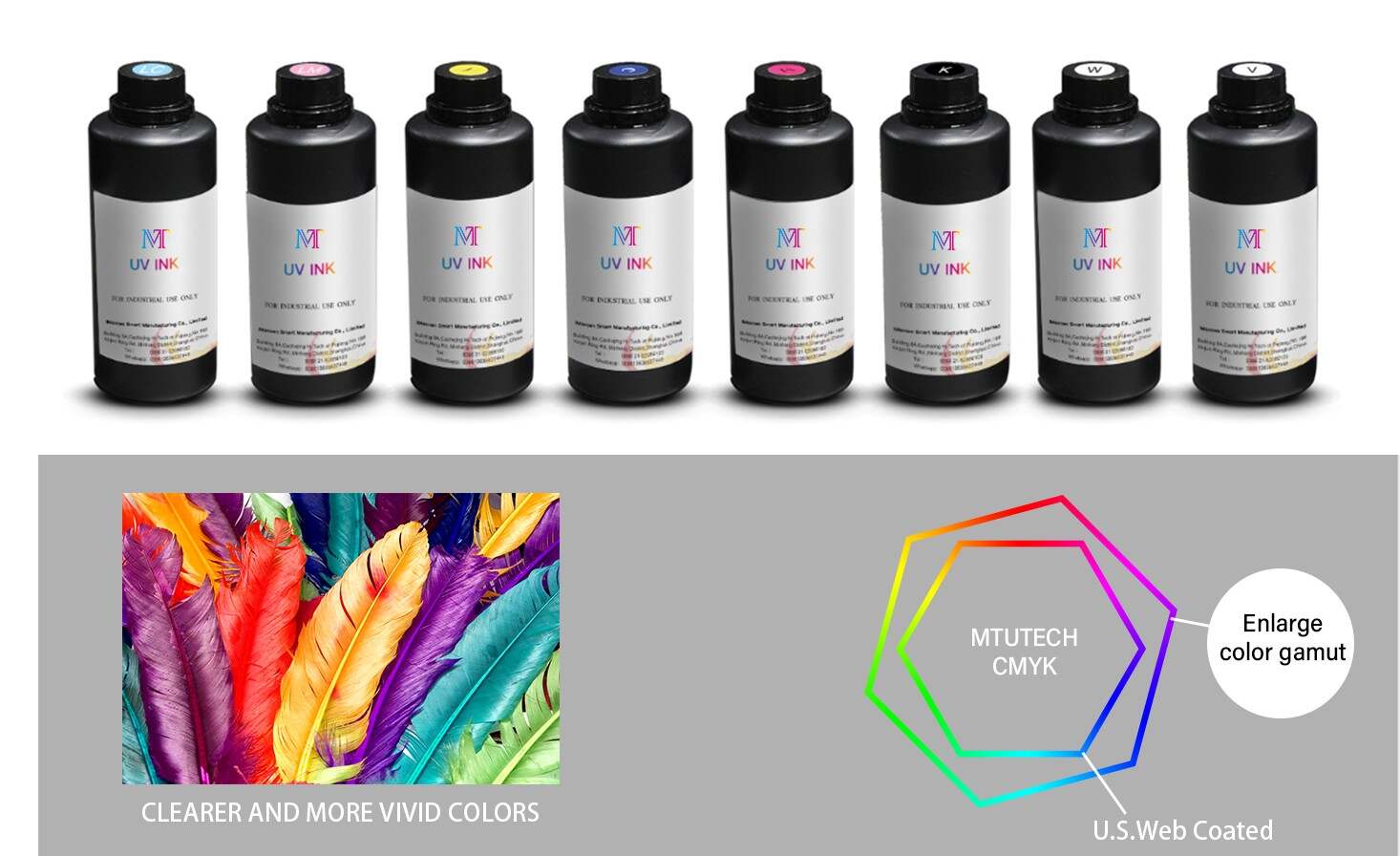 Mode Type
UV Mesh Belt Machine MT-UV1904M
Printhead
Four Epson I3200 Printheads
Number of Nozzles
1280 Nozzles X 4 Epson I3200 Printheads
Resolution
1280dpi (Max.)
Height Of Printhead
5mm
Size Of Ink Droplet
3.5-11pl
Max. Printing Width
1900mm
Max. Media Width
1900mm (Max.)
Real Time Tracking
None
Max Printing Speed

52㎡/h
Media Feeder
Yes
Media Take-up
Yes
Material
Max. Weight
100kg
Application Type
Wood, Glass, Acrylic, MDF, Plastic, Correx, Foam board, Wallpaper,soft film,Wall Art,Sign Advertising,Paper,Poster,Promotion Products,Leather,PU,PMMA,PVC,PP,PE,PTFE,Ceiling,Home & Office Decoration,Oil Painting,Fresco,Wedding Photography,Mark And Signs,Exhibition,Flex, Banner,Knife Coated Substrate,Double Side Printing Banner,Advertising Cloth,Adhesive Vinyl,One Way Vision,Mesh,Reflective Banner,Reflective Vinyl,Etc......
Ink
Type
Import Soft UV Curing Ink / Rigid UV Curing Ink (3 Years Outdoor, 10 Years Indoor, Both Without VOC)
Ink Tank Reservoir Capacity
5 * 2.5 Liter Bulk Bontinuous Ink Supply System
Negative Pressure System
Vacuum Ink Supply Fluency Ink Flow Without Missing Nozzle
Ink Curing System
Two LED Curing Lamps With Water Cooling System
Media Adsorption
Multi-section Intelligent Suction System With Adjustable Strength
Interface
High Speed USB Transmission USB2.0/3.0
Power
Power Voltage
AC-220V2900W
Control Software
Print Console
RIP Software
PrintFactory,Maintop,PhotoPrint,Wasatch
Operation System
Windows 7,Windows 8,Windows 10
Printing Environment
Temperature 15-35 Degrees, Humidity 30-65 Rh
Picture Type
JPG PSD TIFF
Printer Dimension
W3160*D850*H1480mm
Packing Dimension
W3330*D760*H1020mm
Net Weight
380kg
Gross Weight
430kg