Description
MT Industry is a professional enterprise concentrating on researching and developing new Digital Belt Textile Printer for direct printing on cotton, wool, silk, polyester and nylon, which expands its successful with the Industry Digital Textile Printer. Therefore, the leading product range increases to Digital Belt Textile Printer, Digital Textile Sublimation Printer and Digital Heat Transfer Printer, which are widely used in outdoor and indoor digital textile printing industry, such as apparel printing, T-shirt printing, flag printing, home textile printing, banner cloth printing, crafts and gift printing etc.
One set MT Industry Digital Belt Textile Printer includes brand new Digital Textile Printer system and Belt Transmission System. The printing process is direct printing on the textile fabric with various textile ink. Therefore, it can replace traditional printing process and no need sublimation heat transfer paper any more! The printed textile fabric is suitable for indoor and outdoor, which is without fading after washing. The customer will save more cost and time to improve printing efficiency because of direct printing to reduces working process.
As you could expect, the Digital Belt Textile Printer MT-Belt1805Pro provides industrial production capabilities with the highest printing quality and reliability. The printing system was designed for non-stop production that achieves maximum resolution of 1440dpi and with the maximum production speed of 88㎡/h. Otherwise, The Digital Belt Textile Printer MT-Belt1805Pro owns the maximum printing width of 1800mm and equipped with the latest DX5 printhead (5113 is optional).
Moreover, Digital Belt Textile Printer can be configured with 4 colors or 8 colors. MT Industry offers a specially formulated bulk Textile Ink System, water-based, free of odors, skin-friendly and free of any volatile organic compounds (VOC), which ensure high printing resolution and environmental protection. It creates brilliant colors, sharp images and produces an impressive abrasion-resistant with waterproof result. Therefore, Digital Belt Textile Printer is suitable for all current various textile fabrics direct printing.
Feature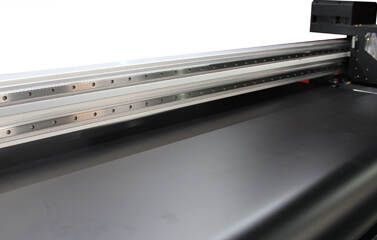 1. Epson DX5 Top Class Printhead
MT-Belt1805Pro Digital Belt Textile Printer adopts top class Epson DX5 high precision printhead, resolution is 1440dpi with two years life span, which suits for big lots, continue and unstoppable textile fabric printing industry production. And Epson DX5 Printhead supports for multiple ink technology and suitable for a variety of fabrics, For example, Reactive ink is suitable for printing cotton, linen, and hemp, silk, wool fabrics, Sublimation ink is suitable for printing chemical fiber fabrics such as polyester, Pigment ink is most of the fabrics are available!
2. New Variable Size Droplet Technology (VSDT)
The New Variable Droplet Control Technology achieves precisely control each dot for beautifully sharp image and stunning seamless gradation that makes the printing more delicate and accurate. Because of the droplet size are from 1.5pl to 21pl and the maximum 1440dpi resolution help you to deliver outstanding image quality. So that, there are more detailed and smoother gradient printouts can be achieved by this technology. It means the printing quality is greatly enhanced and accelerates the printing speed too. Therefore, more and more efficient print jobs can be accomplished and satisfy even the most discerning customers, thus MT-Belt1805Pro Digital Belt Textile Printer enhance the productivity!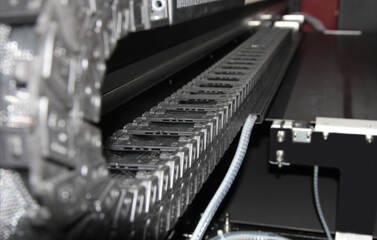 3. High Durability And High Definition.
MT-Belt1805Pro Digital Belt Textile Printer can compare the printing speed, printing quality and printing stability with imported Japanese digital textile printer brands like, Epson printer, Roland printer, Mimaki Printer and Mutoh Printer. Because of Four Epson DX5 high precision printhead ranked as four-row on Digital Belt Textile Printer MT-Belt1805Pro.
4. THK Linear Guide Rail
MT-Belt1805Pro Digital Belt Textile Printer provides fully guarantee for printing precision and stability by applying high quality THK guide rail, aluminum crossbeams, servomotor and stable rack. Especially, it adopts THK 20mm width Linear Guide Rail with two slide blocks that can efficiently increase rigidity and torsion resistance, higher precision and mute silence during printing process. The THK Micro Guide Rail and Screw Rod are introduced to carriage lifting system to deliver easier adjusting and higher precision printing.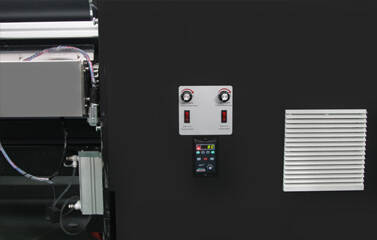 5. Directly Print Various Textile Fabric
There are various textile ink can be used by MT-Belt1805Pro Digital Textile Printer, such as reactive textile ink, dispersive textile ink, sublimation textile ink and pigment textile ink which are good matching for cotton, linen, silk, nylon, wool, polyester and chemical fiber etc.

6. Advance Transmission Structure
MT-Belt1805Pro Digital Belt Textile Printer equipped with accurate tensile force and professional belt transmission system for media feeding and taken-up to ensure the feeding error rate less than 0.3%, which provides stable and hi-effective fabric feeding process. Professional belt transmission system is also equipped with automatic cleaning, drying, and automatic correction system, to guarantee the belt surface clean and printing precision during continuous printing process. Otherwise, the belt can be cleaning, heating and adjusting during printing process automatically ! Therefore, MT-Belt1805Pro Digital Belt Textile Printer is suitable for a wide range of fabrics printing and overcome the difficulties of materials slant and pleat occurring during printing. This feeding system is 100% suitable for elastic fabric; it also can transit cloth material stably to ensure high speed printing.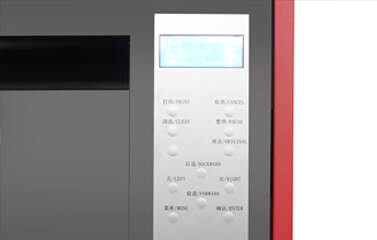 7. Constant Temperature Sublimation Heater (Optional For Sublimation Ink And Pigment Ink Printing)
The sublimation heater is optional for MT-Belt1805Pro Digital Belt Textile Printer. The heater equipped with far infrared ceramic tube radiation electro thermal system, which is controlled by intelligent PID temperature control system that heat up super quickly and its precise sealing heater body can ensure the constant temperature during sublimation textile fabric. Meanwhile, the digital tension control system also equipped on this sublimation heater that ensure textile fabric feeding and taking up are synchronously. Also, the advanced thermal energy technology saves energy consumption (electricity, water) compares with traditional hating method.
8. Independent Exhaust System (Optional For Sublimation Ink And Pigment Ink Printing)
The independent Exhaust system is optional for MT-Belt1805Pro Digital Belt Textile Printer, which collects and processes emission tail gas without any smell, good for environmental protection and the tail gas is become to normal temperature from the hot air after filtration through the cooling system that ensure the exhaust system temperature always less than 25 degree. Otherwise, the exhaust system adopts drawer type device that convenient replace activated carbon to ensure emission tail gas harmless!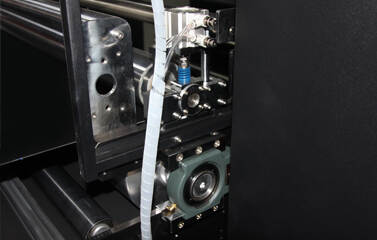 9. Printhead Capping Station
MT-Belt1805Pro Digital Belt Textile Printer adopts independent intelligent printhead cleaning and moisturizing device that provides safe and convenient printhead cleaning and maintenance function. The suction facility and printhead scrape device keep printhead unclog, clean and non-air bubble which improve stability status during digital sublimation printing. Moreover, the printing thickness is also can be adjusted depend on various textile fabric which is up to 15mm.
10. Lower Cost And Less Investment
Digital belt textile printing is a brand new textile printing concept which Unnecessarily plate making but printing on textile fabric directly. This new printing method leaves out sublimation heat transfer process. Digital Belt Textile Printer MT-Belt1805Pro integrates Material loading, feeding, printing, drying system as a automatic production line. So that, only one operator can operate several digital textile printers with highly efficiency and the highest printing performance. Digital belt textile printing is suitable rapid speed production for home textile, clothing material, flags, banners and various textile fabrics. There is broad market prospect and unlimited business opportunities on digital belt textile printing industry.
Industry Application Of MT Digital Belt Textile Printer

The 1800mm printing width of Digital Belt Textile Printer is available now. It can print and produce various colorful banners, canvas and other coated fabrics and textile fabrics. And the printout can be used both indoors and outdoors.
Digital Belt Textile Printer is applied in digital textile printing Industry to replace traditional printing techniques, which is the solution of both large batch & small batch, low cost, fast printing requirements. The production printing speed and printing width achieves the possibility of textile fabrics printing turning into digital printing method, which is adequately according with customer requirements of sample printing, home textile printing, sign advertisement printing, digital textile printing, building decoration textile printing, flag textile printing, clothing printing, soft-signage, flag banner printing, wall decorations printing, and so on!
Product Specification
Mode Type
Digital Direct Fabric Belt Textile Printer MT-Belt1805Pro
Printhead
8Pcs DX5 Drop-on-demand Micro-Piezo Printheads (Two DX5 And Three DX5 Printheads Are Optional)
Number of Nozzles
1440 Nozzles X 8 Printheads
Color

4 colors: K,C,M,Y

8 colors: (CMYK, Lc, LM, Grey, Red, Orange, Blue optional

Resolution
1440dpi (Max.)
Height Of Printhead
2-5mm
Size of Ink Droplet
1.5-21pl
Max. Printing Width
1800mm
Max. Media Width
1900mm (Max.)
Real Time Tracking
None
Printing Speed
3pass
160 Sq.m Per Hour
4pass
120 Sq.m Per Hour
6pass
80 Sq.m Per Hour
8pass
40 Sq.m Per Hour
Media Feeder
Yes
Media Take-up
Yes
Material
Max. Weight
50kg
Application Type
Cotton Fabric,Flax Fabric,Silk Fabric,Polyester Fabric,Flag Fabric,Satin Fabric,Warp Knitting Fabric,Nonwoven Fabric,Chiffon Fabric,Spandex Fabric,elastic fabric,Polycotton Fabric,Canvas Cloth,Velvet Fabric,Sofa Fabric,Curtain Fabric,Wool Fabric,Cashmere Fabric,Rayon Fabric,Modal Fabric,Towel Fabric,Bath Towel Fabric,Screens,Shower Curtain Fabric,Tent Fabric,Pillow Fabric,Cushion Fabric,Upholstery,Advertising Banners,Flag Banner,Textile Wallpaper,Wall Cloth,Art Paintings,Table Cloth,Apparel Fabrics,Home Textile Printing,Bed Sheet Printing,Outdoor Leisure Products,Hunting Supplies Printing,Beach Products Printing,Clothing Printing,Cloth Bag Printing,Sari Printing,T-Shirt Printing,Garment Printing And Footwear Printing...Etc.
Ink
Type
Sublimation Ink, R

eactive Ink, Pigment Ink, Dispersive Ink, Dye Ink

Ink Tank Account
4*2.5 Liter Continuous Bulk Ink Supply System
Auto Cleanning System
Yes
Material Drying System
Fan Drying System, 4 Intelligent Embedded Segment Heating System
Interface
HI-USB3.0
Power
Power Voltage
AC220-240V 50-60HZ, AC110-120V 50-60HZ
Control Software
Print Console
RIP Software
Wasatch / Neostampa / Photoprint options
Heater

Far Infrared Ceramic Tube Radiation Electro Thermal Heater (Optional)

Operation System
Windows 7,8,10
Printing Environment
Temperature: 15-35 centi degree, Humidity: 40-65%
Picture Type
JPG PSD TIFF
Printer Dimension
3500mm(L)*2500mm(W)*1600(H)
Packing Dimension
3700mm(L)*2200mm(W)*2170(H)
Gross Weight
1850kg

Net Weight
1600kg