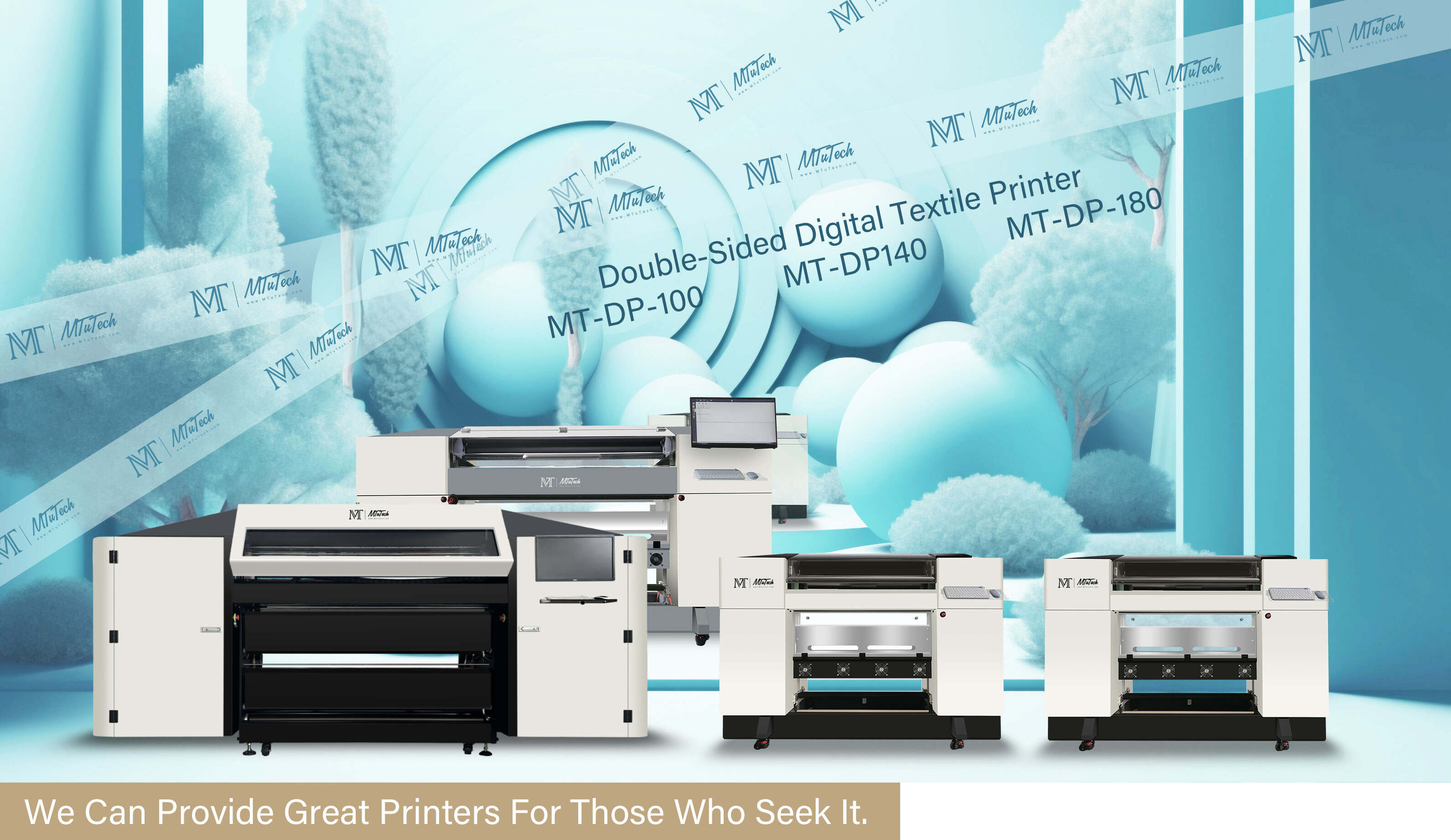 Product Description
Experience the pinnacle of fabric printing technology with our revolutionary MT-DP180 Double-Sided Digital Textile Printing Machine. Meticulously designed and engineered, this state-of-the-art machine pushes the boundaries of what's possible in textile printing. With its advanced features, unparalleled precision, and exceptional print head technology, it empowers designers, manufacturers, and artists to bring their visions to life with breathtaking clarity and detail.
FEATURES
Double-Sided Printing: The MT-DP180 sets new standards in textile printing by offering the capability to print on both sides of the fabric simultaneously. Thanks to its innovative design and dual head modules, this groundbreaking feature allows for vibrant, full-color reproduction on both the front and back of the fabric. Gone are the days of dull reverse sides - now you can achieve stunning, reversible textiles that captivate the eye from every angle.
Single-Sided Printing: In addition to double-sided printing, our machine also caters to single-sided printing needs. By utilizing a single head module, you have the flexibility to print on one side of the fabric. This versatility ensures that you can adapt to different design requirements and optimize productivity based on the specific demands of your projects.
Advanced Drying Method: The MT-DP180 incorporates a sophisticated drying system that provides options for drying before and/or after printing. This flexibility enables you to customize your workflow based on the fabric type, humidity conditions, and desired production speed. With adjustable temperature settings, you can precisely control the drying process, ensuring optimal color fastness and durability while maintaining the integrity of the fabric.
High Precision Model: Our machine is available in two high precision print head models: Gen6 and Gen5. The Gen6 model represents the cutting edge of printing technology, delivering unrivaled precision and speed. Choose from various dpi options, including 2pass (600/600dpi), 3pass (600/900dpi), and 4pass (600*1200dpi), depending on the level of detail and resolution required for your designs. The Gen5 model also offers impressive printing speeds and resolutions, making it a reliable choice for achieving precise and intricate prints.
Large Printing Width: With a generous printing width of 1800mm, the MT-DP180 caters to the demand for larger-scale textile printing. This spacious canvas allows you to unleash your creativity without limitations, accommodating expansive designs, seamless patterns, and bold graphics. Expand your artistic horizons and make a statement with prints that truly captivate.
Print Head Technology: At the heart of the MT-DP180 lies the cutting-edge print head technology. Powered by advanced Ricoh print heads, this machine ensures unmatched precision, exceptional reliability, and longevity. These industry-leading print heads feature micro-piezo technology, which enables precise droplet control for accurate color placement and exceptional image clarity. With multiple nozzles per color, the print heads deliver astonishing print speeds while maintaining superior quality. Experience the next generation of print head technology and witness your designs come to life in remarkable detail.
Automatic Nozzle Cleaning: The MT-DP180 is equipped with an automatic nozzle cleaning system, ensuring optimal print head performance and reducing maintenance downtime. This intelligent system cleans the nozzles automatically, preventing clogging and ensuring consistent ink flow. Additionally, the machine features an automatic moisturizing system, further contributing to the longevity and reliability of the print heads.
Ink Options: Choose from a range of ink configurations to suit your specific printing needs. The MT-DP180 supports 4 colors, 6 colors, or 8 colors, offering versatility and enabling you to achieve a wide spectrum of colors and effects. Whether you're printing on cotton, silk, wool, linen, or chemical fiber, our ink solutions provide vibrant, durable, and colorfast results. Compatible ink types include Reactive Ink, Acid Ink, and Disperse Direct Injection Ink, ensuring excellent color reproduction and compatibility with various fabric types.
Printing Effect Display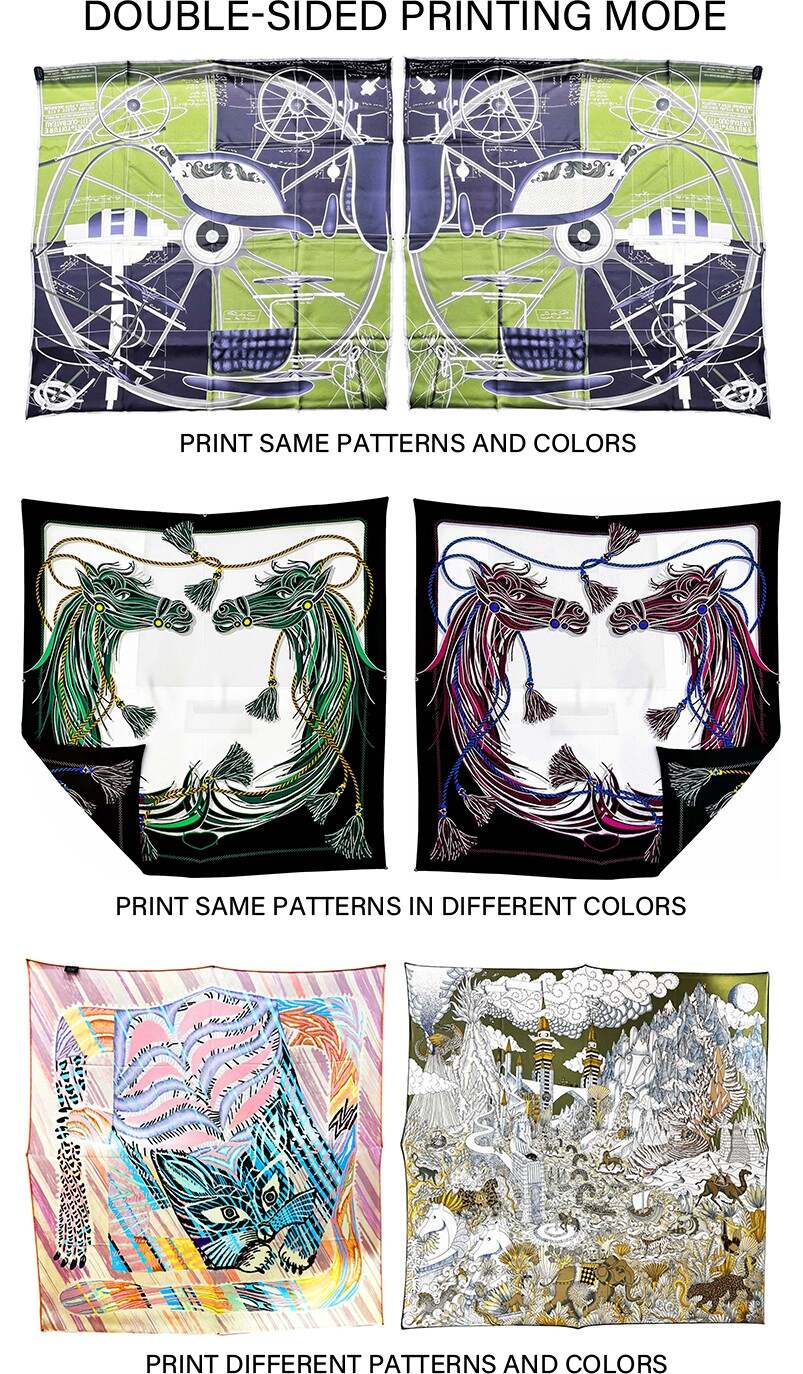 APPLICATION
MT-DP180 double-sided digital printing machine opens up infinite possibilities of textile printing. Here are some of its key applications:
Silk Scarf
Double-sided textile printing technology can replace flatbed textile machines. Double-sided textile printing not only allows for the same design and color, but also enables the creation of different colors on each side of the fabric. This is the optimal artistic solution for scarves.
Wool Textile
The hardest media for digital textile printing is wool. Wool flakes will stop the effect of ink penetration to fiber and also affect homogeneity of evaporation. Wool textile looks dark and tint without homogeneity. Double sided textile printing prints double sided of textile at same time to make wool textile looking and touching perfect.
Garment Textile
Silk scarf is easy to reveal the other side and if back side silk color is lint, then it looks bad. "same pattern with same color" art is solving the problem. Using "different pattern with different color" art to make a hard copy textile for brand owner by different design of front and back side art.
Digital Dye
Digital printing and dyeing industry media output is far more than textile media, but most important thing is dye vat pollution is seriously rectified and reformed by environmental protection of government. Double sided digital double sided printing can make "Digital dying" come true which is suitable for small orders and cut 50% sewage discharging, besides, Double sided textile printing technology can replace handwork batik, therefore, Digital batik can solve batik art and clothes problems.
Home Textile
Most of home textile products needs double sided color. For example, Most of export orders like "same pattern with different color" double sided color bed sheet and tablecloth to upgrade its value. "same pattern with same color" curtain and screen can upgrade art istic taste. And till now, Towel, handkerchief, flannelette blanket etc. are waiting for a solution of double sided color
Textile Jeans
Jeans is one of yarn dyed fabric It use special washes and stressing methods to make old affection, but sewage discharge has been restricted since environment protection. Double side technology make the front wash or printing effect, and yarn dyed effect on the back, this can make jeans more fashion and high level.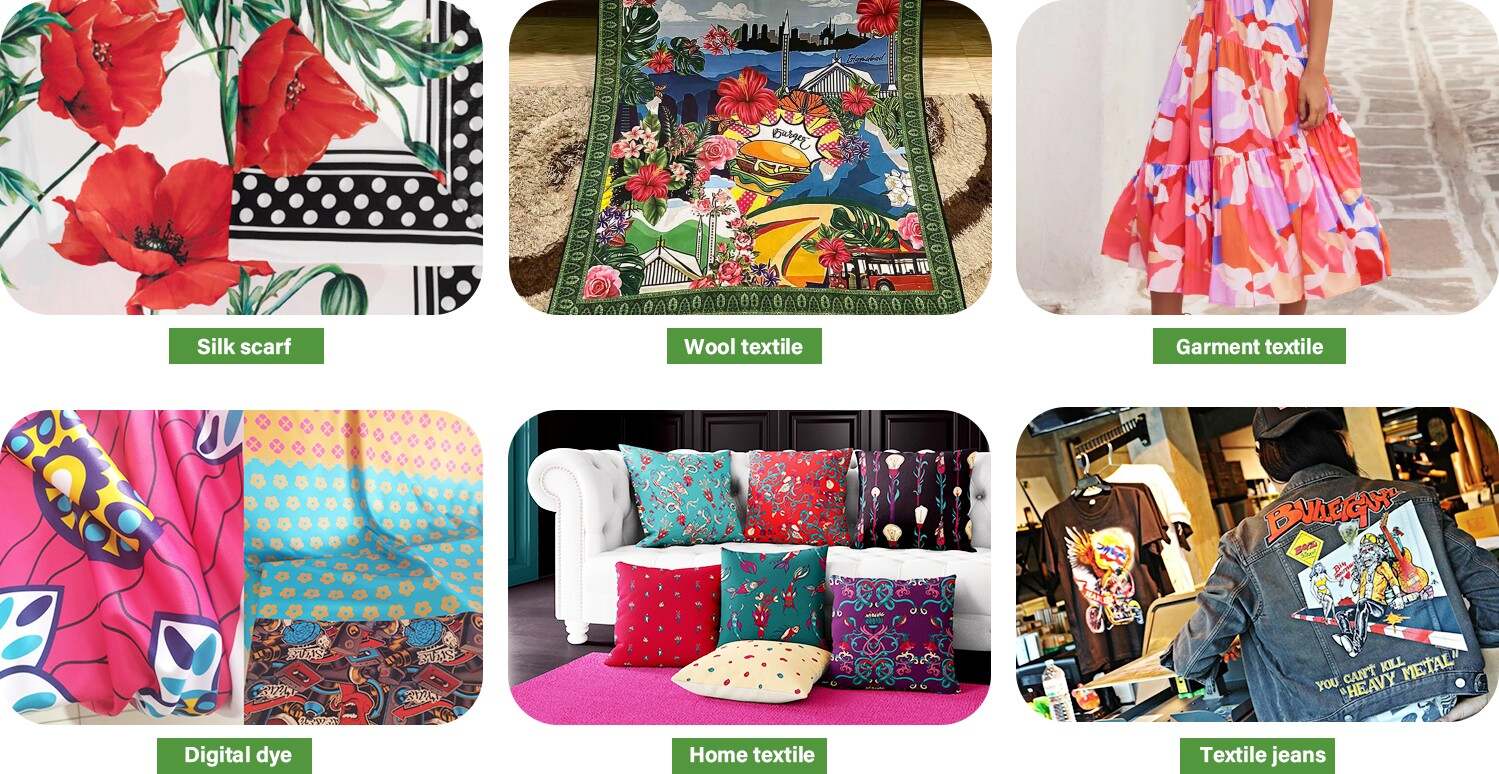 FUNCTION
The MT-DP180 Double-Sided Digital Textile Printing Machine is packed with advanced functions to optimize your printing process:
Synchronous Print: Synchronize data transfer control between the two printing carriages, ensuring simultaneous printing and precise alignment.
Automatic Alignment: Continuously collect textile images and automatically correct alignment errors for accurate and seamless printing.
Tension Control: Maintain constant tension by synchronously moving the main roller and structure, providing consistent and high-quality prints.
Adjustable Tension Data: Set and save different tension data for various fabric types, ensuring optimal printing results.
Belt Cleaning: Automatically link the print process with the belt cleaning device for efficient maintenance and optimal performance.
Print Head Maintenance: The machine features a sealed moisturization system, ink purging, and a head shave device to ensure the stability and longevity of the print heads.
Height Adjustment: Automatically adjust the printing carriage height for different fabric thicknesses, ensuring precise printing results.
Control System: Equipped with an industry-level PLC control system, providing stability and reliability for seamless operation.
Ink Supply: The negative pressure ink supply system, combined with a wriggle pump to reduce bubbles, ensures consistent and uninterrupted ink supply. An abnormal ink supply protection system further enhances performance.
Textile Media Compatibility: The machine supports a wide range of textile media, including both permeable and heavy impermeable fabrics.
Alignment Data Input: Manually input alignment data for non-recognition information images, ensuring accurate and precise printing.
Frill Check: The machine includes a sensor to detect fabric frills, pausing printing and providing an alert when frills are detected.
Print Note: Automatically records all print job details for convenient reference and tracking.
Ink Cost Statistics: Automatically calculates ink usage levels and print costs, enabling efficient cost management.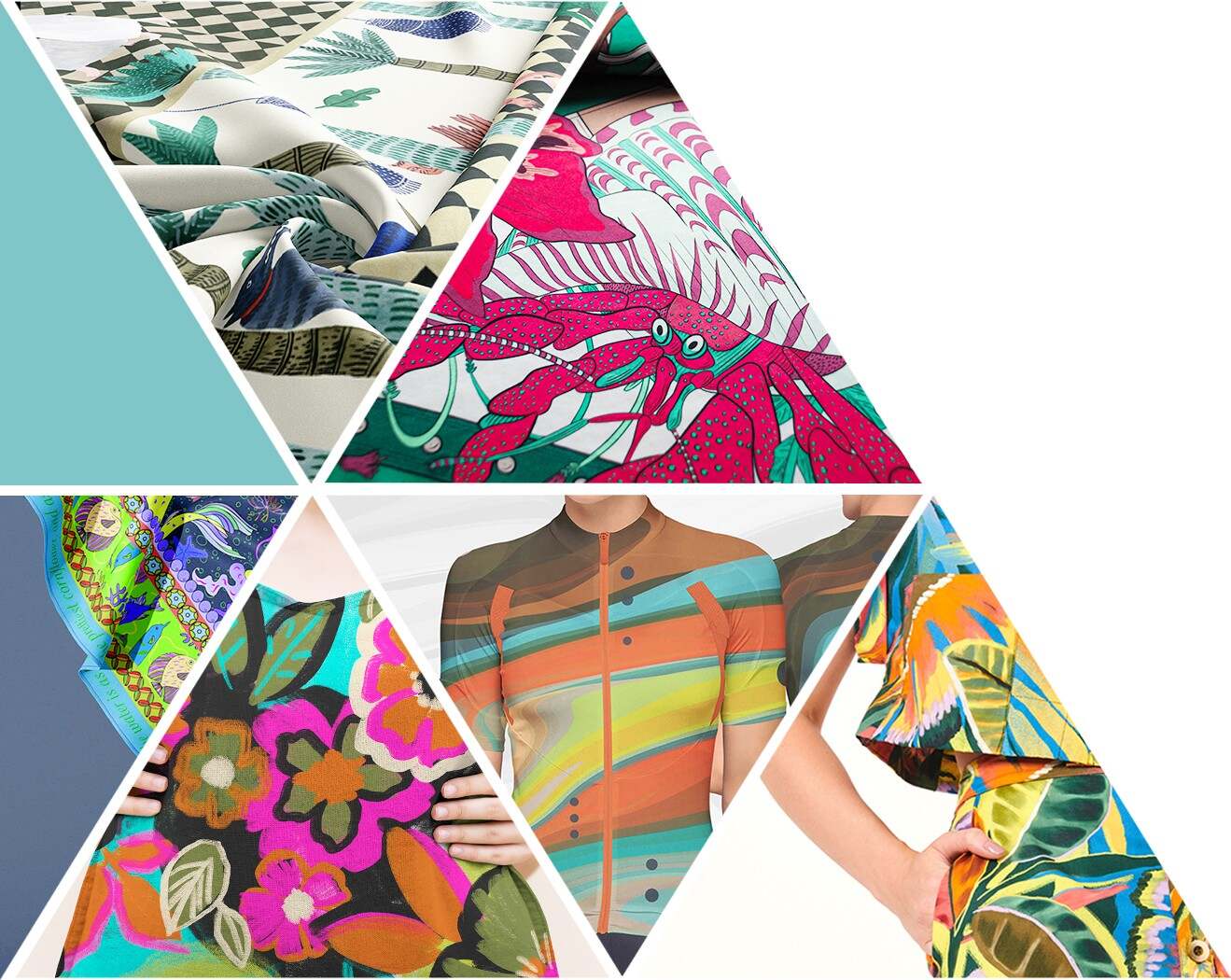 PRINT HEAD
The MT-DP180 Double-Sided Digital Textile Printing Machine is equipped with state-of-the-art Ricoh GEN5/GEN6 print heads, setting new industry standards for precision and performance. Here are the specific functions and characteristics of the print heads:
Micro-Piezo Technology: The print heads utilize advanced micro-piezo technology, which enables precise droplet control for accurate color placement and sharp image reproduction. This technology ensures that every intricate detail of your design is faithfully reproduced on the fabric.
Multiple Nozzles: The print heads are equipped with multiple nozzles per color, enabling high-speed printing without compromising quality. With a higher number of nozzles, the machine achieves faster print speeds while maintaining exceptional print resolution and color accuracy.
Reliability and Longevity: Ricoh GEN5/GEN6 print heads are known for their exceptional reliability and longevity. They are engineered to withstand the demands of continuous high-volume printing, ensuring consistent performance and extended lifespan.
Automatic Nozzle Cleaning: The print heads feature an automatic nozzle cleaning system, keeping the nozzles clear of any blockages or clogs. This intelligent system ensures optimal ink flow and reduces maintenance downtime, allowing for uninterrupted printing.
Superior Color Reproduction: The print heads deliver exceptional color reproduction, accurately capturing the nuances and vibrancy of your designs. With precise color placement and consistent ink delivery, your prints will exhibit vivid and lifelike hues that leave a lasting impression.
Experience the unmatched precision and quality offered by the advanced print head technology of the MT-DP180, and elevate your textile printing to new heights of excellence.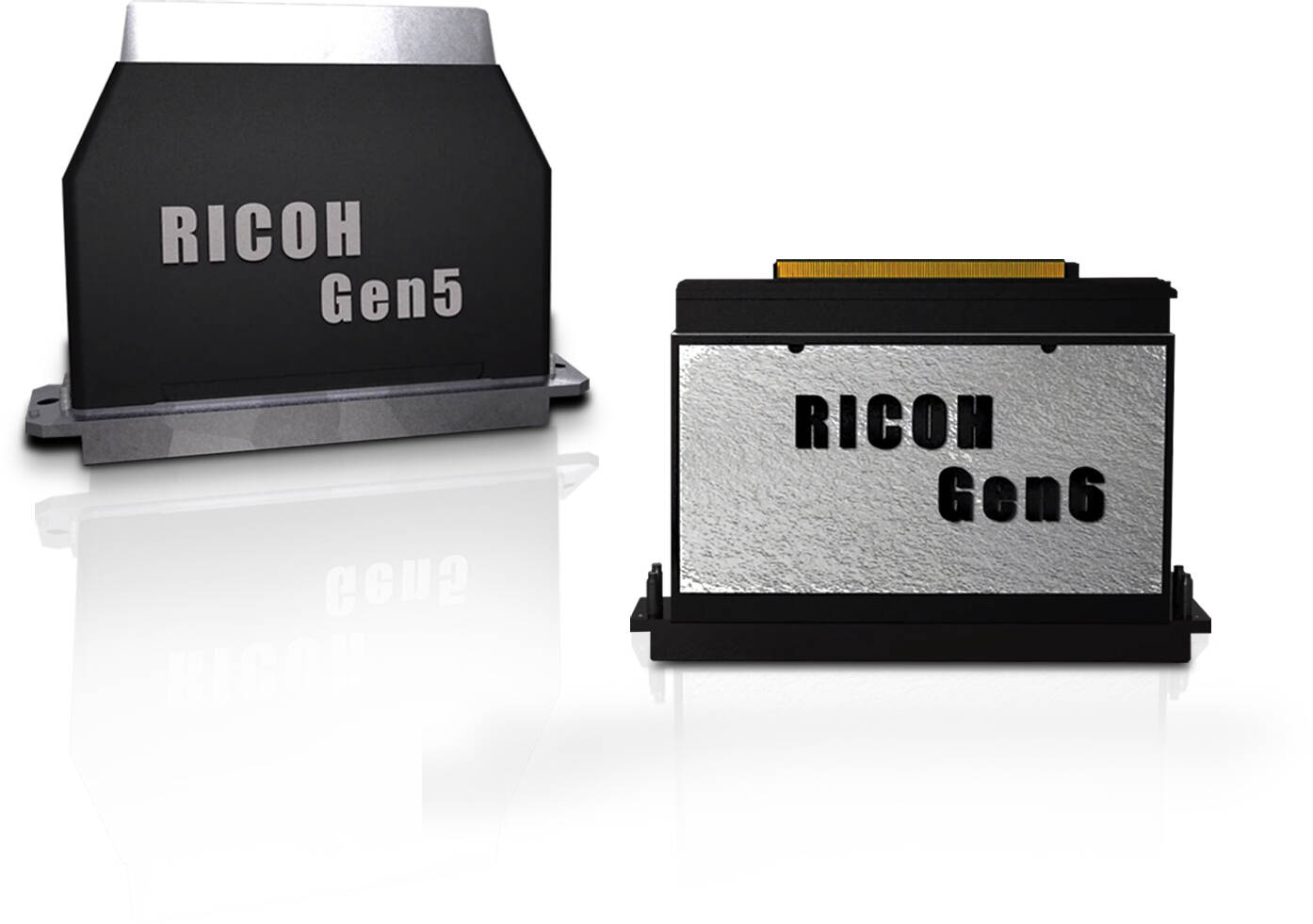 INK
Choose from our range of high-quality ink options, tailored to your specific printing requirements. The MT-DP180 supports Reactive Ink, Acid Ink, and Disperse Direct Injection Ink, enabling you to achieve optimal color vibrancy, durability, and compatibility with different fabric types. Whether you need four colors, six colors, or eight colors, our ink solutions deliver exceptional results and ensure that your prints stand the test of time.
SUMMARY
Experience the future of textile printing with the MT-DP180 Double-Sided Digital Textile Printing Machine. Its innovative features, high precision capabilities, and state-of-the-art print head technology make it an indispensable tool for designers, manufacturers, and artists. Unlock new creative possibilities and achieve stunning results with this cutting-edge printing solution.