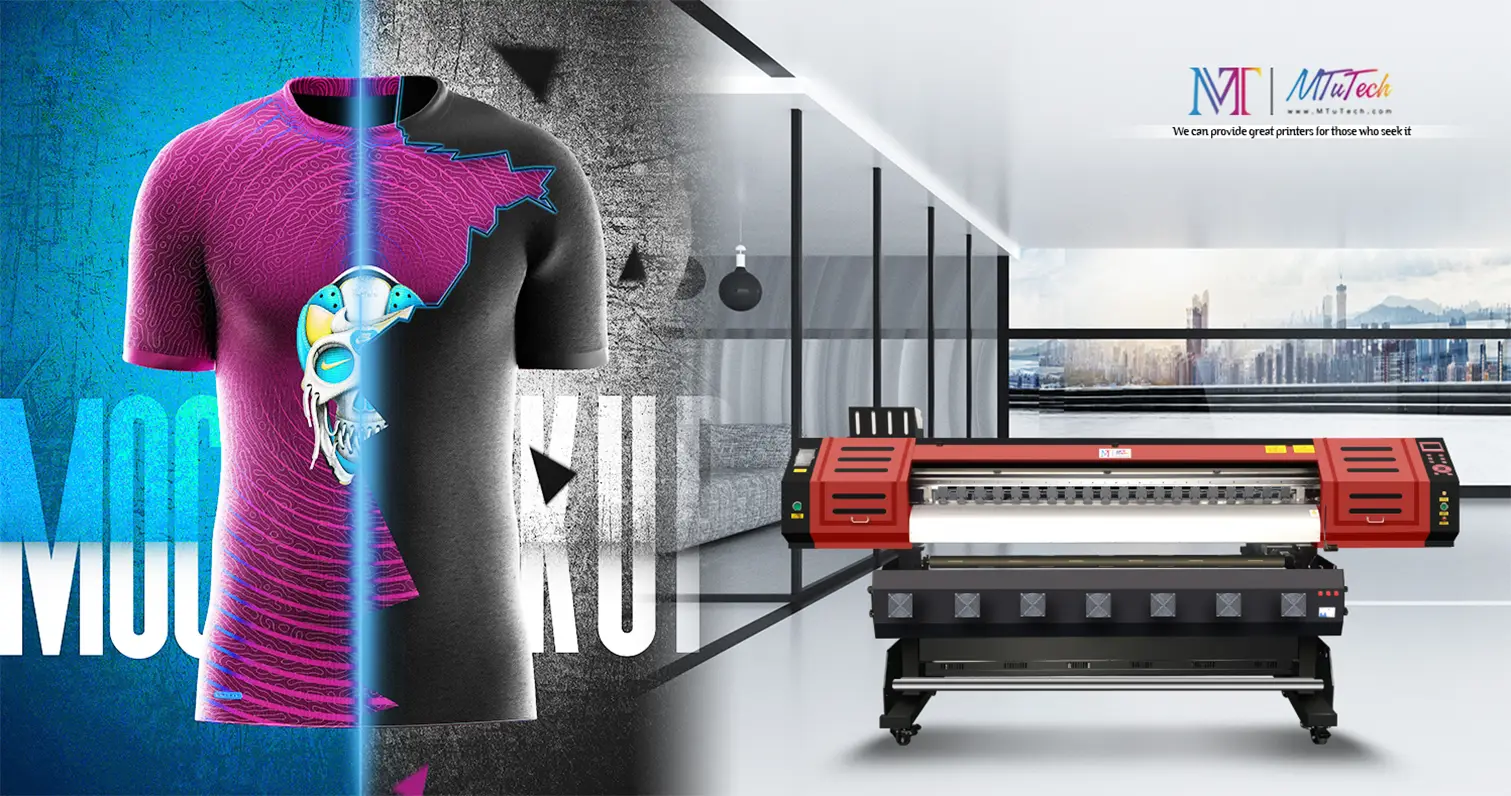 How do you reinvent the dye-sublimation transfer printer?
You start by designing each component from the ground up to work together as a system - from the printhead and ink technology, to the printer engine and software. result? Made with an affordable, professional-grade dye-sublimation web printer that delivers exceptional reliability, consistently and professionally prints highly detailed, photographic-quality graphics for small to large production runs. Whether you are a novice or a veteran, MT-P1804A printer is a profitable high-quality dye-sublimation printer.
Introducing the all-new MT-P1804A Printer
The MT-P1804A printer is ideal for fast, economical professional grade thermal small to medium sublimation transfer printing at speeds up to 55m²/h(592 ft²/h)and widths up to 1.8m(70.8'' ). Developed using the latest advances in performance imaging, this innovative system features a i3200-A1 printhead, an integrated roll-to-roll media support system with high precision winding. This and other dye subsystems we offer include the user-friendly POTOPRINT software.
Use MT-P1804A printers to produce any type of life-like detailed design. The print is also very durable, won't crack, peel or fade, and can even be washed repeatedly without degrading.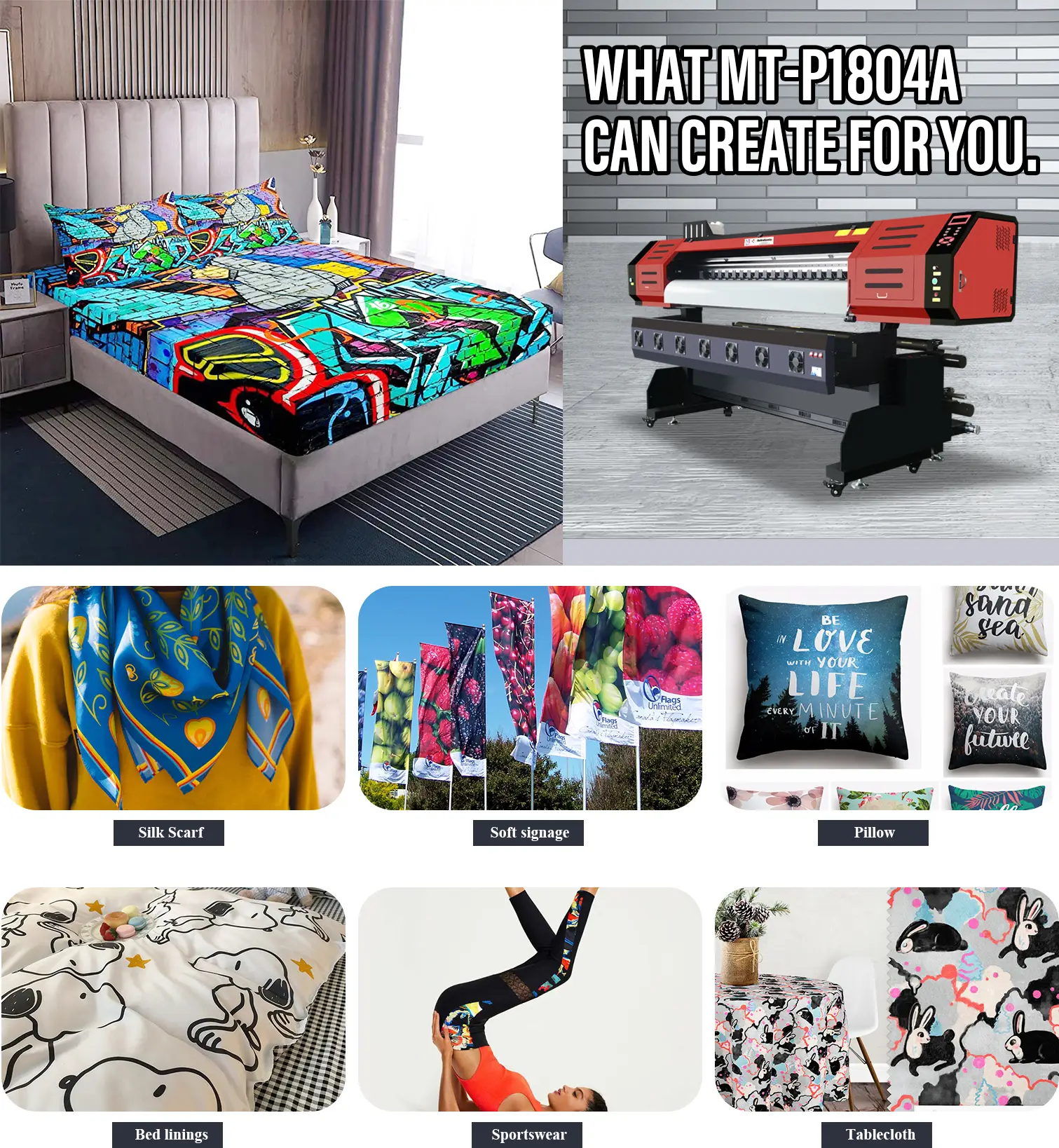 In the ever-evolving world of dye sublimation, ease of use and value are just as important as performance and quality when choosing the right inkjet printer to produce transfer graphics. This is where MT-P1804A stands out. MT-P1804A features state-of-the-art print control technology, premium POTOPRINT software, four- color printing options, and more, allowing you to deliver stunning results on a wide variety of materials.
MT-P1804A dye-sublimation printers can print fabrics with a polyester content of at least 85%, MT-P1804A represents new markets and new opportunities for clothing, decoration and product customization.
Eye-catching soft signage

Create stunning banners, flags, backgrounds, points of purchase and more at high speed. Take advantage of the MT-P1804A additional ink options to produce high-quality images with subtle skin tones and extremely vibrant colors.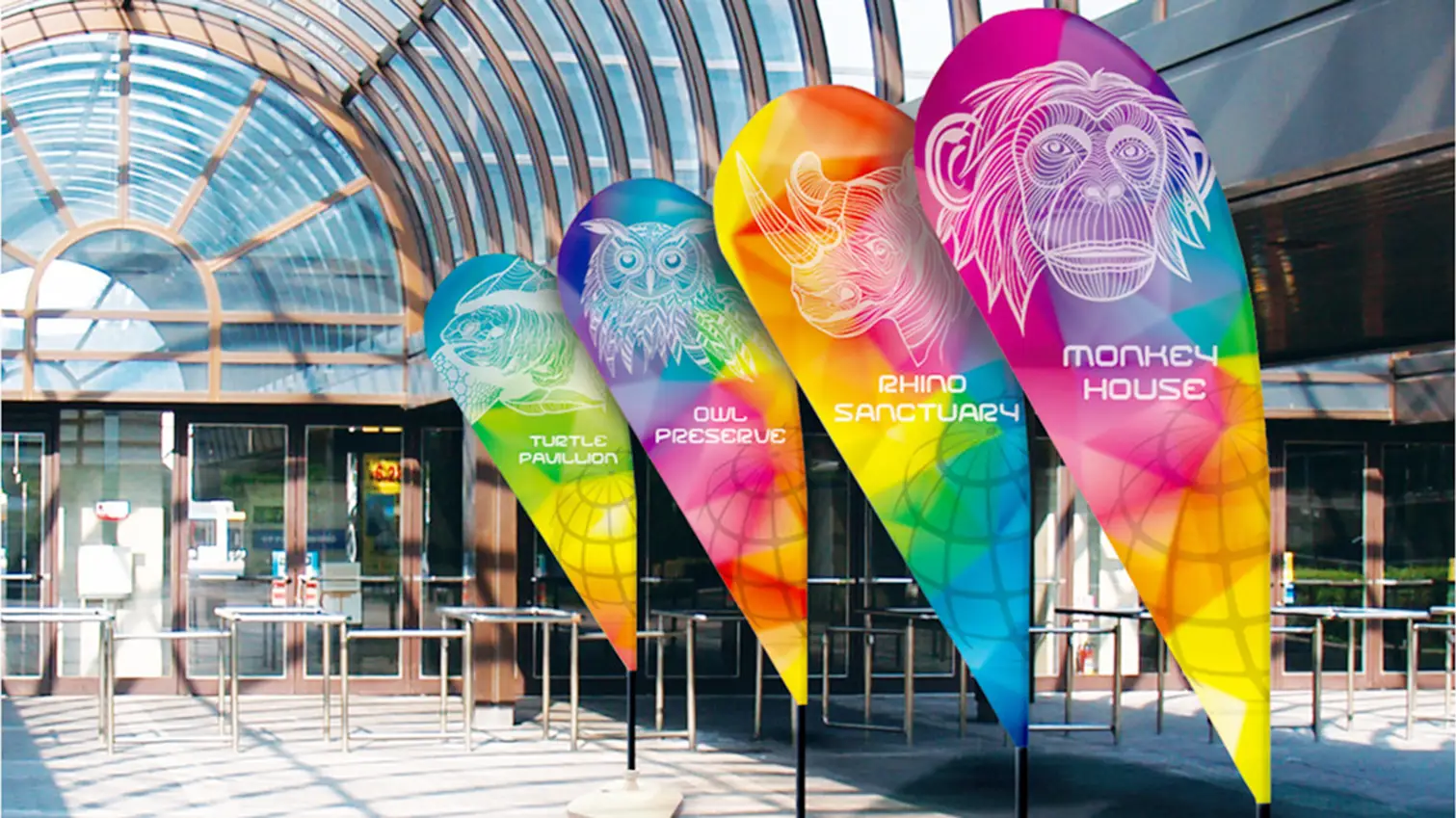 Hard stuff is easier than ever
No matter what type of rigid material you plan to sublimate - from snowboards and skateboards to custom decorative tiles and promotional items like mouse pads, mugs, umbrellas and more - MT-P1804A has you covered. Bright colors? Rich blacks? Subtle gradations? Super fine details? MT-P1804A has a solution. will work.
Create wearable art

From team jerseys, custom hats, handbags, and more, you can quickly roll up your sleeves and expand your client offering with high-quality apparel produced on the MT-P1804A1 with ease. Take your digital textile printing to a whole new level.
Rev up the reliability
Off-the-charts imaging. Unmatched reliability. Exceptional production capabilities. World-class MT service and support. The MT-P1804A puts you in the driver's seat for creating premium sublimated vehicle graphics, such as upholstered interiors, personalized accessories and custom restyling gear.
Custom interior decoration
Print logos, brands, patterns and designs on a variety of fabrics for home, home decor and wall coverings. With the MT-P1804A, you can make great decorations in effective time.
Engineered from the ground up for Dye-Sublimation industrial textile, true roll-to-roll manufacturing, designed to run all day, every day, the MT-P1804A Printer offers a range of features.
1.Realize high-quality, high-definition logo graphics
The use of ink droplet technology that expresses high-quality images suppresses the influence on printing caused by individual differences in the nozzles and misalignment during stagger adjustment, and optimizes the ejection sequence to achieve more accurate ink landing. This enables vivid reproduction of dark colors without unevenness and excellent print quality.
2. Improve production performance with high image quality
There are a variety of print modes to choose from to suit your job, from the fastest mode at 110m²/h(1184 ft²/h)to the draft at 80m²/h(861.1ft²/h), to the high quality at 55m²/h(592 ft²/h).
When outputting 1.8m(70.8'' )size prints, the printing output per hour can reach 110m²(1184 ft²), which will be able to meet the market demand for high output.
3. New functions to ensure reliable long hour print operation
The motor of the take-up device is mounted on both sides. In conventional models, the drive motor was installed only on one side, but by installing it on both right and left sides, the force applied during winding is equal on both sides and improving the stability of winding.
FUNCTION
New after heater platen reduces ink drying times for true Roll-to-Roll productivity

New built-in take up reel for accurate Roll-to-Roll media handling

Using professional i3200 print heads

Photographic hight quality with resolution up to 720x2400 dpi

Outstanding everyday production speeds up to 55m?/h (592 ft?/h)

High Reliability - Developed to Run 24/7

NEW, easier to use RlP software, potoprint, included; reduces RIP time by 25%
DYE SUBLIMATION INK
You'll Need to Use a Specific Type of Ink
Transferring of design or text or graphic onto the fabric requires the ink to be converted into the gaseous form. The chemical process for dye sublimation is very specific, and hence you will need to use a particular type of ink called disperse ink or dye. It is also known as dye-sub ink.High temperatures allow ink to transfer to items without migration, cracking, or smudge because the ink becomes an integral part of the printed product, does not fade over time, and is completely washable. This makes sublimation inks highly reliable and durable, in addition to the high level of accuracy that can be reached using this type of ink and printing technique.
The long-lasting sublimation ink is highly recommended for a variety of printed products, When approaching a printing task that calls for a detailed print, sublimation ink should definitely be considered. It's important to make sure that the printed fabric can handle the high temperature and pressure involved in the dye sublimation process, as some fabrics, like cotton, might be damaged due to these conditions.
Disperse dyes have a vibrant gamut and some manufacturers like MT have introduced fluorescent inks to further push the gamut towards being more vibrant!


Choosing Dye Sublimation Inks
MT includes dye sublimation inks, reactive dye inks, textile pigment inks, and other ink options with our products.
There are also various types of inks, so research what is best for your type of project. For example, the same ink used for textile may not produce the same results on hardware. Large-format printers often use aqueous sublimation ink dyes, while wider-head printers may use solvent-type dyes.
PRINT HEAD
Why We Choose Epson i3200-A1 Inkjet Printhead ?
PrecisionCore Technology
a. All MEMS manufacturing and thin film piezo element can realize high precision and high density(600 npi / 2 rows of nozzles). Contributes to compact, high speed, high quality, and high image quality.
b. Precision made of Epson unique MEMS nozzles and an ink flow path ensure the per fectly round ink droplets are placed accurately and consistently.
Support for grey-scale
Epson's unique Variable Sized Droplet Technology (VSDT) delivers smooth gradation by freely control to eject the droplet volume.
High resolution
Ink ejection of up to 4 colours realize with high resolution (600 dpi/colour). In addition to the I3200, I1600 has also been added to the lineup in order to meet the various customer needs.
High durability
PrecisionCore print head has proven high durability and extended service life by Epson's industrial printers.

PRODUCT SPECIFICATION
Mode Type

Dye Sublimation Printer MT-P1804A1

Printhead

Four Epson I3200 Printheads (Two/Three Printheads for option)

Number Of Nozzles

3200 Nozzles

Color

4 Colors: Cyan, Magenta, Yellow, Black

Resolution

2400dpi (Max.)

Height of Printhead

2-5mm

Size Of Ink Droplet

3.8-12pl

Max. Print Width

1800mm (74'')

Max. Media Width

1900mm (Max.)

Real Time Tracking

None

Printing Speed

1pass

220 Sq.m Per Hour

2pass

110 Sq.m Per Hour

3pass

80 Sq.m Per Hour

4pass

55 Sq.m Per Hour

Media Feeder

Yes

Media Take-up

Yes

Material

Max Weight

600kg

Application Type

Sublimation Paper,Heat Transfer Paper,Cotton Fabric,Flax Fabric,Silk Fabric,Polyester Fabric,Flag Fabric,Satin Fabric,Warp Knitting Fabric,Nonwoven Fabric,Chiffon Fabric,Spandex Fabric,elastic fabric,Polycotton Fabric,Canvas Cloth,Velvet Fabric,Sofa Fabric,Curtain Fabric,Wool Fabric,Cashmere Fabric,Rayon Fabric,Modal Fabric,Towel Fabric,Bath Towel Fabric,Screens,Shower Curtain Fabric,Tent Fabric,Pillow Fabric,Cushion Fabric,Upholstery,Advertising Banners,Flag Banner,Textile Wallpaper,Wall Cloth,Art Paintings,Table Cloth,Apparel Fabrics,Home Textile Printing,Bed Sheet Printing,Outdoor Leisure Products,Hunting Supplies Printing,Beach Products Printing,Clothing Printing,Cloth Bag Printing,Sari Printing,T-Shirt Printing,Garment Printing And Footwear Printing...Etc.

Ink

Type

Sublimation Ink

Ink Tank Account

12*350ml Continuous Bulk Ink Supply System

Auto Cleanning System

Automatic Cleaning And Moisturizing Spray Flash Function

Interface

HI-USB3.0

Power

Power Voltage

AC220-240V 50-60HZ

Control Software

Print Manager

RIP Software

Maintop/Photoprint/Wasatch/Print Factory

Operation System

Windows 7,Windows 8,Windows 10

Printing Environment

Temperature: 20-25 Centi Degree, Humidity: 40-60%

Picture Type

AI/EPS/PDF/PSD/FS/PD/JOB/CUT/JPG/JPEG/FPX/PCD/PCT/PICT/WMF/PRT/PLT/2PS/FJB/PRN/TGA/TIF/TIFF/BMP/PCX

Printer Dimension

W3640 * D1370 * H1940mm

Packing Dimensions

W3330 * D760 * H1020mm

Gross Weight

600kgs

Net Weight

530kgs
ABOUT MTUTECH
MTuTech develops, manufactures, sells and maintains industrial dye-sublimation printers, direct-to-fabric printers, thermal pressure printers, inks and software. By providing total solutions for the printing process of the logo graphics, industrial products and textile and apparel markets, we aim to be the creators of "high quality, high profit" for our customers continuously.