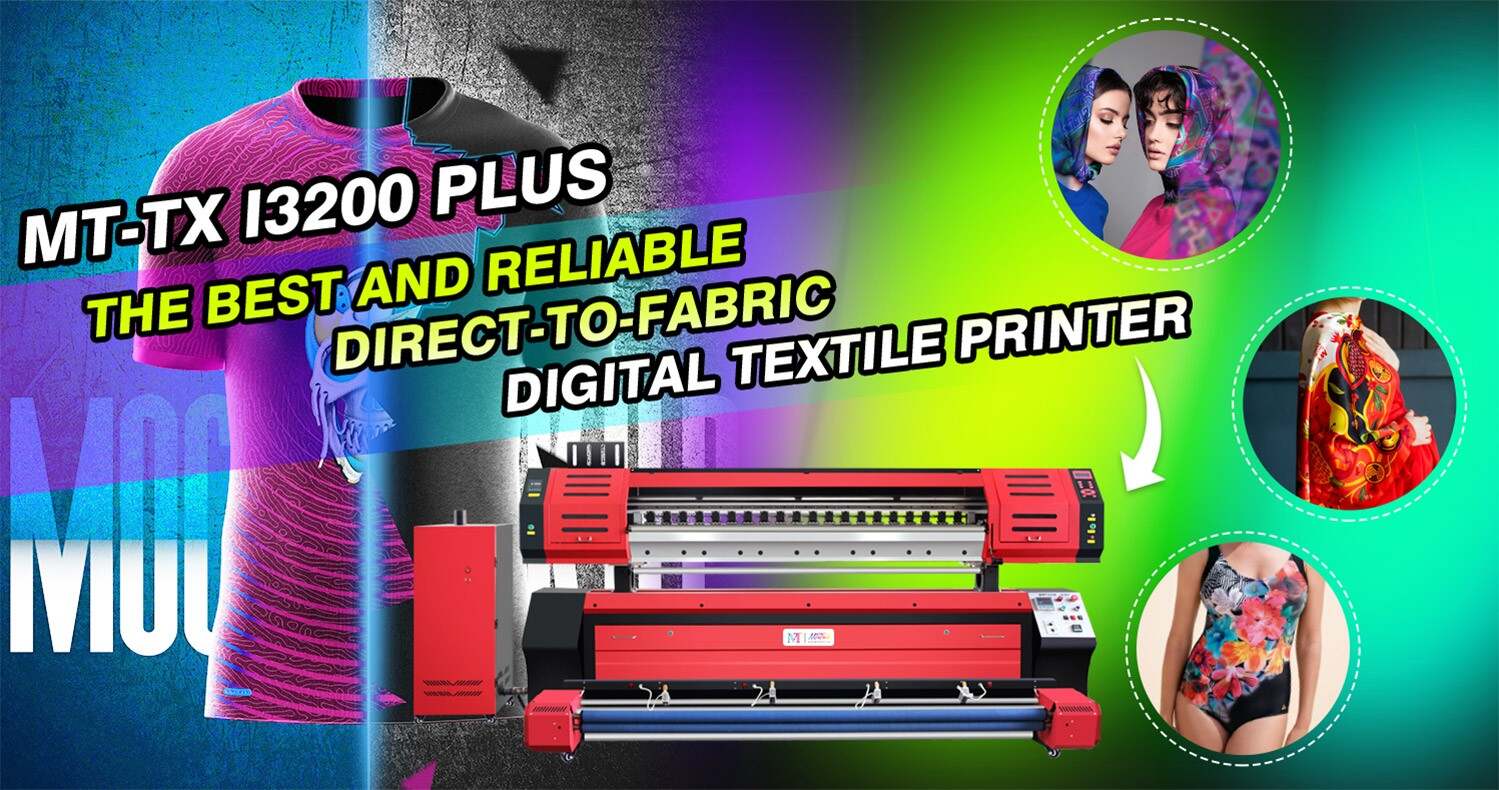 MT-TXI3200Plus is a workhorse in the fashion world for creating uniquevibrant designs in short order and can be printed on most stretch or sheer fabrics.The heavy duty design of the MT-TXI3200Plus with its sturdy construction makes the machine suitable for harsh industrial operating conditions, it is based on the 3E design philosophy - economical, efficient and ecological, the MT-TXI3200Plus has powerful functions and applications for maximum business.

MT-TXI3200Plus direct textile printing machine provide the perfect solution for your natural fabric printing needs. Offering versatility, flexibility and durability to help drive the transformation of fabric upholstery, the MT-TXI3200Plus is compatible with four types of inks: reactive, acid, sublimation and pigmented. MT-TXI3200Plus's solutions are ideal for apparel, homewares, flags and more. Choose your fabrics - and choose MT-TXI3200Plus direct to fabric printing solutions - as you explore the exciting world of upholstery textile applications.
MT-TXI3200Plus direct to fabric printer is also the machine of choice for most applications. It can be printed on many textiles, but is mainly used in the following categories:
Home, Curtains & Furnishings
Match with cushions, curtains, or even entire sofas, chairs, and more with MT-TXI3200Plus solutions. Creativity in color and design propels the home interior market to new levels. Walls, floors, bedrooms, kitchens and outdoor living spaces all benefit from the choice of colour and premium fabrics.
Fashion clothing
MT-TXI3200Plus's flexibility means the ability to meet demanding color and design requirements that traditional fashion printing methods cannot. With our new cartridges, MT-TXI3200Plus can now paint stunning colors on a wider range of fabric types. Whether printing one piece or 1,000s, fashion imaging is fast and delivers exquisite quality and color unimaginable just a few years ago.
Street wear/clothing
Print for endless high-value applications like t-shirts, pillows, bags, socks, and really, anything you can imagine! Print to stunning textures on all-natural fabrics like linen, silk, cotton, and synthetics Or dyes or coloring inks.
Sportswear
With the most expansive pallet of 19 dye sub-colors including orange, green, purple, and neon colors, MT-TXI3200Plus's images are never dull. The MT-TXI3200Plus Media Handling System easily adapts to a wide range of stretchable fabrics for sports apparel. MT-TXI3200Plus Systems is an end-to-end printing and fixing solution, perfect for in-house digital apparel producers.
Professional Photography, Fine Art, Decoration
Make professional photographic and fine art reproductions on fabric. Long life and fade resistance keep prints looking their best on a range of printed materials from canvas to tightly woven fabrics - tapestries, framed pictures and stretch fabric options unlock new markets for creativity.
Curtain
Capture the accelerating growth of a huge new market.
Digital printing is changing the way people look at window coverings. Today, blinds, curtains, and other interior window treatments provide form and function. Pigmented inks offer superior fade resistance to dye inks and open new doors for business in outdoor applications.
Niche Market
There are too many to list!
There are also incredible opportunities in niche markets: soft toys, leather, bow ties, neckties, wedding veils, custom shoes, handbags, tablecloths, tablecloths, scarves, kimonos, headwear, leggings, shoe bags, book covers, lampshades, baby cushions , baby clothes, clothing, horse blankets, decorative boxes, dresses, shirts, pants, and more. We continue to see a lot of applications using MT-TXI3200Plus printers.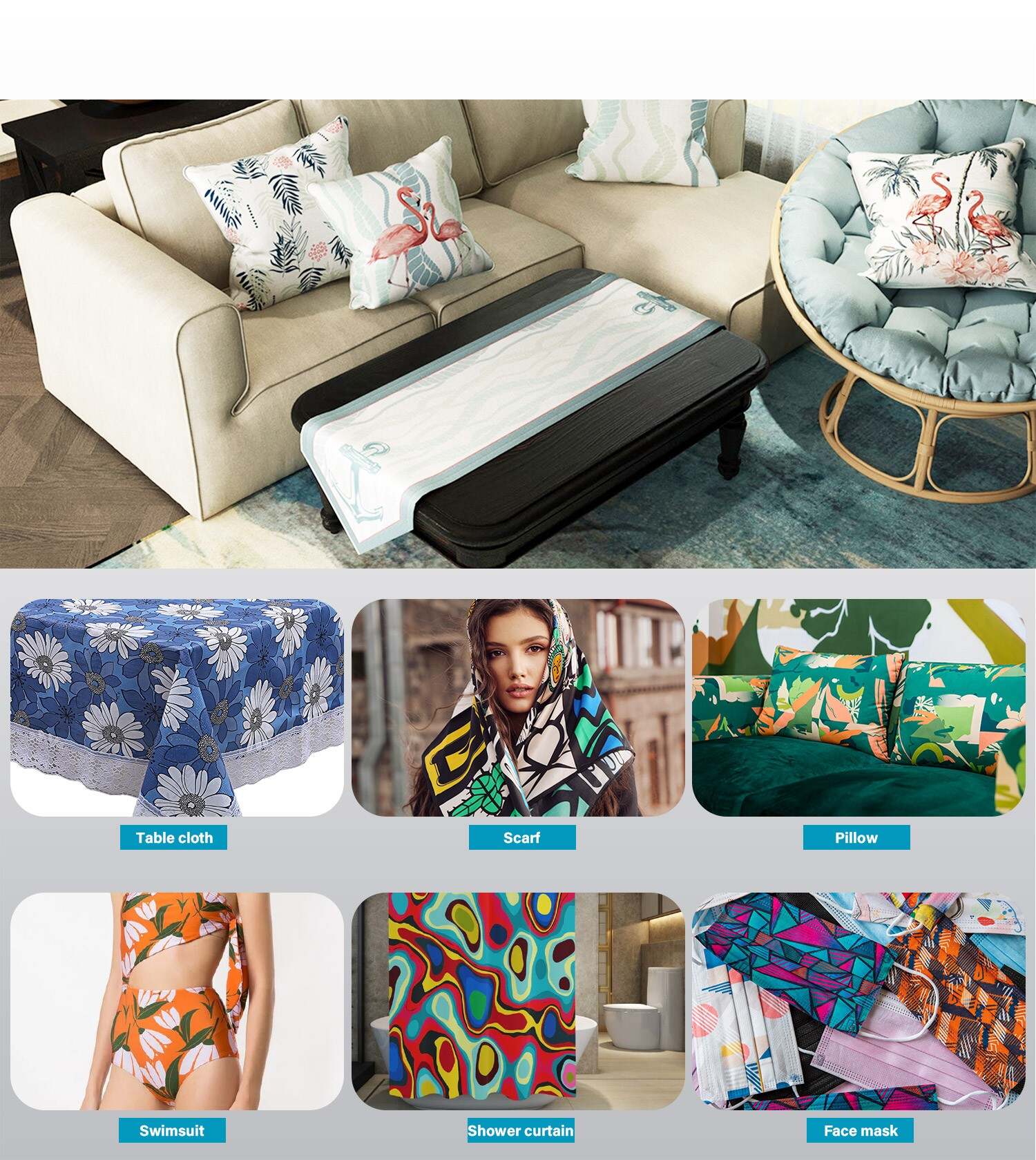 MT-TXI3200Plus provides unparalleled yield and value for digital textile printer taking their first steps towards digital production. It also provides high-performance, high-production for printers looking to further develop their digital capabilities. MT-TXI3200Plus has four print heads with a maximum print resolution of 720*2400dpi and a long lifespan.

There are many benefits to direct printing. It enables customers to afford short-term, fast-turnaround jobs and is profitable for printers. It eliminates screen preparation time and provides more time for a complete production run on the screen printing line.

Open up creative possibilities with the wide variety of substrates that MT-TXI3200Plus can print on: natural fibers, polyester, lycra, wool, silk and even polyester. Spots, fine lines, geometric patterns and intense colors can all be printed thanks to variable droplet technology.

MT-TXI3200Plus has a unique feature to select any one of the three inks of sublimation, reaction and pigment at the same time. The excellence of our wide format digital fabric printer MT-TXI3200Plus can be measured by its ability to double your profits and ROI. This is a texturing machine that easily meets the needs of designer home textiles. This versatile direct textile printer made in China gives you the freedom to choose from a wide range of fabrics and inks, opening up endless avenues for your business.

At MT, we provide complete solutions to help you meet challenges and provide new perspectives. Integrate MT-TXI3200Plus into your production environment to provide advice and support for implementing this direct-to-fabric digital printer in your existing workflow, combined with target printheads.
Installation and training are part of the complete solution, as are local service and support for years to come.

MT is a total system supplier offering efficient hardware, state-of-the-art software and compatible inks with different chemical compositions. Our goal is to help you take advantage of digital printing technology with MT. From installation and application support to attractive ink deals, we are committed to supporting you every step of the way in direct to printing.
Industrial Grade Injection Assembly
Improves printhead durability, ensures longer life, and reduces maintenance costs, resulting in less waste. Consistent print quality over the entire lifetime, even with changes in viscosity, support for variable droplet printing and production。
Feeding and take-up system
The fabric is unrolled and adjusted to maintain constant tension from start to finish, and the rubberized conveyor belt flattens the fabric in place for easy and precise printing, preventing the fabric from wrinkling during printing, and uses torque motor winding for continuous unattended printing cloth roll.
Infrared drying device
Equipped with a compact built infrared dryer that quickly dries ink on fabrics and uses energy-efficient radiation to reduce ambient heat.
Uninterrupted ink supply system
The large-capacity ink tank continuously supplies ink and is equipped with sensors to monitor the ink level in real time. When the ink level is lower than 15%, the alarm system will automatically sound and flash an alarm to remind the staff to add ink, which can avoid the loss caused by running out of ink in time.
RIP
This machine is pre-installed with MT version potoprint software and advanced color management engine and color processing tools. Fabric-specific ICC profiles Smooth gradients and bright colors Superior print quality.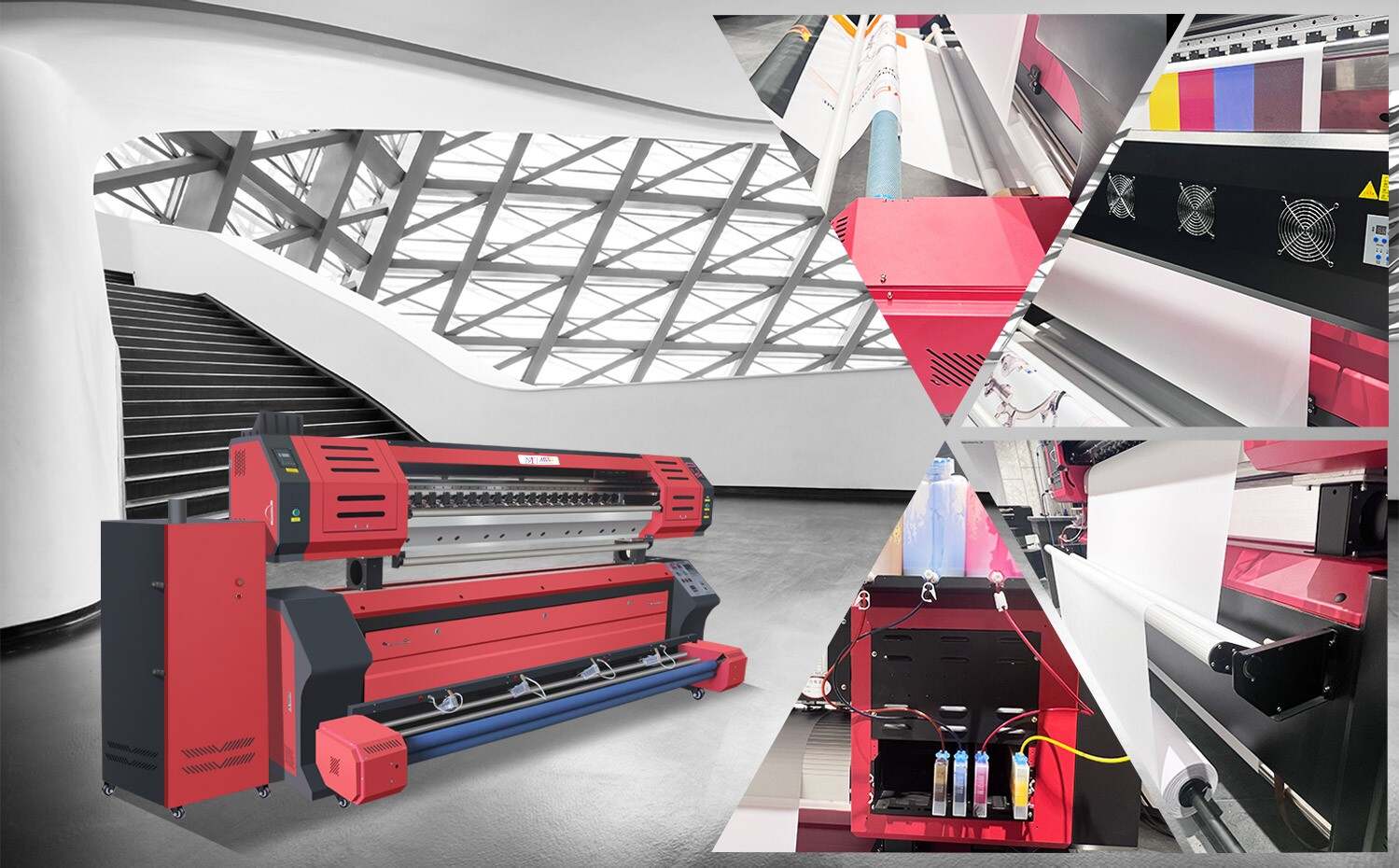 Advantages of Epson i3200-A1 printheads

PrecisionCore Technology
a. All MEMS manufacturing and thin film piezo element can realize high precision and high density(600 npi / 2 rows of nozzles). Contributes to compact, high speed, high quality, and high image quality.
b. Precision made of Epson unique MEMS nozzles and an ink flow path ensure the per fectly round ink droplets are placed accurately and consistently.
Support for grey-scale
Epson's unique Variable Sized Droplet Technology (VSDT) delivers smooth gradation by freely control to eject the droplet volume.
High resolution
Ink ejection of up to 4 colours realize with high resolution (600 dpi/colour). In addition to the I3200, I1600 has also been added to the lineup in order to meet the various customer needs.
High durability
PrecisionCore print head has proven high durability and extended service life by Epson's industrial printers.
DIGITAL PRINTING VS SCREEN PRINTIN
G
It's a question we're asked a lot, but it's not a case of one method simply being better than the other.
Technology is continues to develop for both print methods. Improvements to artwork preparation, inks and print equipment have increased screen printing quality. However, the basics of the screen printing process have largely remained unchanged. At the same time, there has been a more noticeable progression in digital printing. These include developments in several areas such as material, inks and the printers themselves.
Let's take a look at the pros and cons of digital fabric printing and screen fabric printing.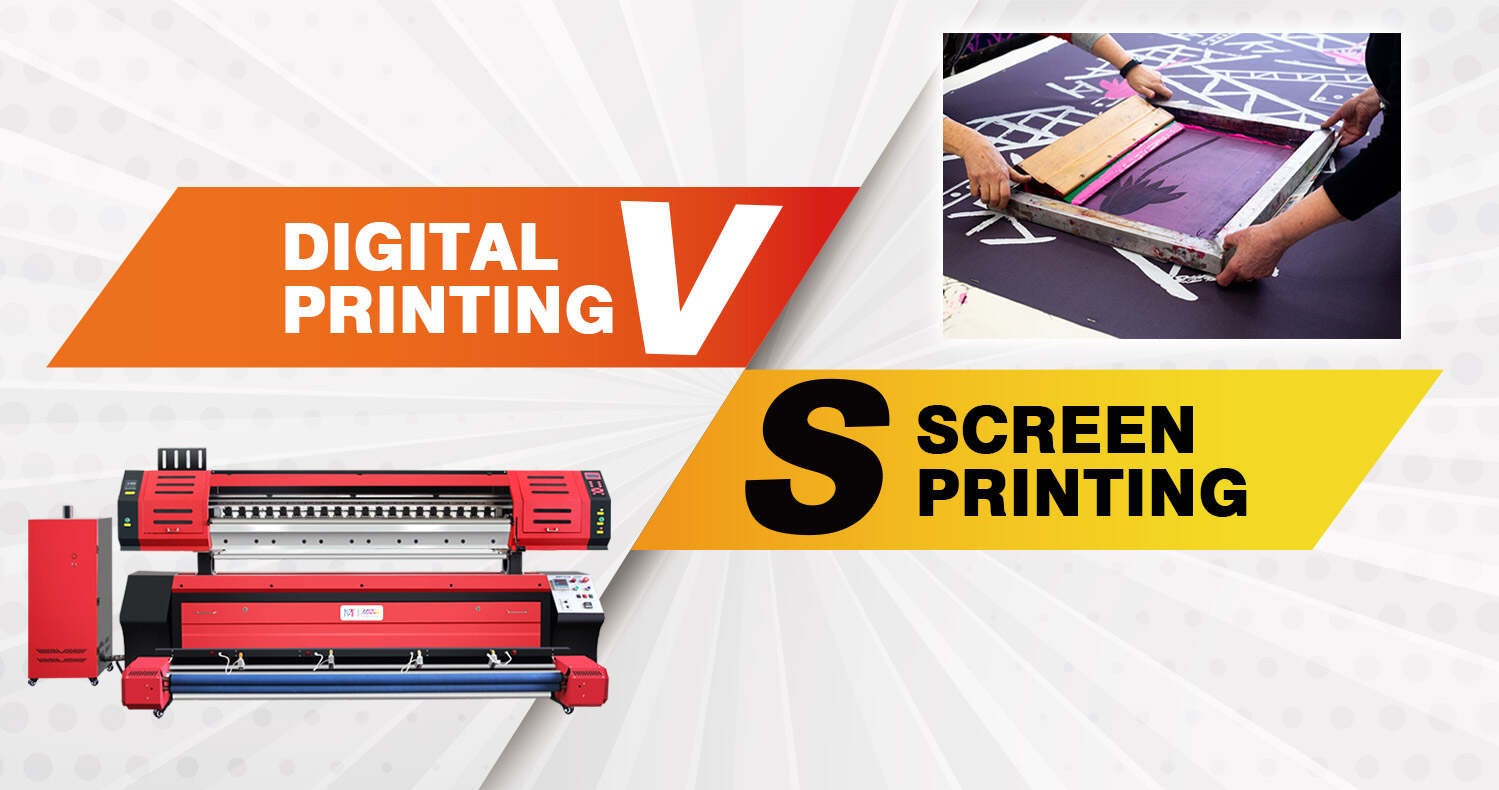 Less impact on the environment as there's less dye wastage and the fabric is printed on demand (so there are no minimums)
You can print small amounts of fabric
There is usually a quick turnaround
There is a minimal setup time
You can use unlimited colours
You can print fine detail and detailed, complex work
Minimal upfront investment
CONS:
More expensive process (although costs are coming down)
As yet, you can't create all printing methods e.g. devore, (burnout technique), discharge (bleach technique) and flocking
Some machines cannot print large volumes of material

You can use many more printing processes e.g. devore, flocking, discharge and relief printing
You are able to print large meterage of fabric easily
Cost effective for bulk orders
You have versatility with design placement
Inks are very durable
Can be printed onto many different types of surfaces
More impact on the environment with wastage of dyes and pigments and also the cleaning of screens with chemicals
The number of colours you can use will be limited by cost
Large upfront investment as you need to pay for each screen to be prepared with your artwork
Longer turnaround times
There are definitely advantages and disadvantages of both digital and screen printing methods. Before you decide which is best for you ask yourself:
What outcome am I after?
What product am I creating?
What type of surface/fabric do I want to print on?
How much am I willing to invest?
What quantities do I require?
The good news is that digital fabric printers are becoming a more affordable option, so if you're just starting out, we can easily serve you samples with MT direct fabric printer without spending a fortune.
Model Type

Direct to Fabric Printer MT-TXI3200Plus

Printhead

Four Micro Piezo Epson I3200 Printheads (Two or Three Epson I3200 Printheads Is Optional)

Color

4 Colors: Cyan, Magenta, Yellow, Black

Height of Printhead

2-5mm

Size of Ink Droplet

2.5pl

Max. Printing Width

1800mm(74'')

Max. Media Width

1900mm (Max.)

Real Time Tracking

None

Resolution

720*1200dpi

Pass Number

4pass

Mode

High Speed

Feather Mode

None /Weak /Medium /Strong /Super Strong

Speed (m² / h)

66.2 /61.8 /59.1 /54.3 /42.9

Resolution

720*900dpi

Pass Number

3pass

Mode

High Speed

Feather Mode

None /Weak /Medium /Strong /Super Strong

Speed (m² / h)

85.9 /78.8 /72.8 /66.2 /50.6

Resolution

720*600dpi

Pass Number

2pass

Mode

High Speed

Feather Mode

None /Weak /Medium /Strong /Super Strong

Speed (m² / h)

117.2 /106.8 /97.8 /84.2 /55.3

Medium

Textile Fabric, Heat Transfer Paper, Sublimation Transfer Paper,

Media Adsorption System

Intelligent Multi-suction, Multi-stage Adjustable Intensity

Media Feeder

Yes

Media Take-up

Yes

Material

Max. Weight

70kg

Application Type

Sublimation Paper,Heat Transfer Paper,Cotton Fabric,Flax Fabric,Silk Fabric,Polyester Fabric,Flag Fabric,Satin Fabric,Warp Knitting Fabric,Nonwoven Fabric,Chiffon Fabric,Spandex Fabric,elastic fabric,Polycotton Fabric,Canvas Cloth,Velvet Fabric,Sofa Fabric,Curtain Fabric,Wool Fabric,Cashmere Fabric,Rayon Fabric,Modal Fabric,Towel Fabric,Bath Towel Fabric,Screens,Shower Curtain Fabric,Tent Fabric,Pillow Fabric,Cushion Fabric,Upholstery,Advertising Banners,Flag Banner,Textile Wallpaper,Wall Cloth,Art Paintings,Table Cloth,Apparel Fabrics,Home Textile Printing,Bed Sheet Printing,Outdoor Leisure Products,Hunting Supplies Printing,Beach Products Printing,Clothing Printing,Cloth Bag Printing,Sari Printing,T-Shirt Printing,Garment Printing And Footwear Printing...Etc.

Ink

Type

Sublimation Ink, Reactive Ink, P

igment Ink, D

ispersive Ink, Dye Ink

Ink Tank Account

12*350ml Continuous Bulk Ink Supply System

Auto Cleanning System

Automatic Cleaning And Moisturizing Spray Flash Function

Heating System

Intelligent Embedded Segment Heating System

Interface

HI-USB3.0

Power

Power Voltage

AC220-240V 50-60HZ or AC110-120V 50-60HZ

Control Software

Print Console

RIP Software

Maintop/ Photoprint/ Wasatch

Three Heating Sections

Pre-heater, Printing Bed Heater, Rear Heater

Operation System

Windows 7,Windows 8,Windows 10

Printing Environment

Temperature: 18-32 Centi Degree, Humidity: 46-65%

Picture Type

AI/ EPS /PDF /PSD /FS /PD/ JOB /CUT /JPG /JPEG /FPX /PCD /PCT /PICT /WMF /PRT /PLT /2PS /FJB /PRN /TGA /TIF /TIFF /BMP /PCX

Printer Dimension

W3200 * D900 * H1430mm + W500 * D600 * H900mm

Packing Dimension

W3360 * D1070 * H840mm + W3370 * D1000 * H1140mm

Gross Weight

814kg

Net Weight

526kg






Do you feel that after learning about MT-TXI3200 printers, direct to fabric printing can help you grow your business? But are you still wondering if it's really valuable for your company?




In a personal conversation with one of our digital textile printing experts, you can discuss your current production process and learn how to use digital textile printing to stay ahead of the competition.