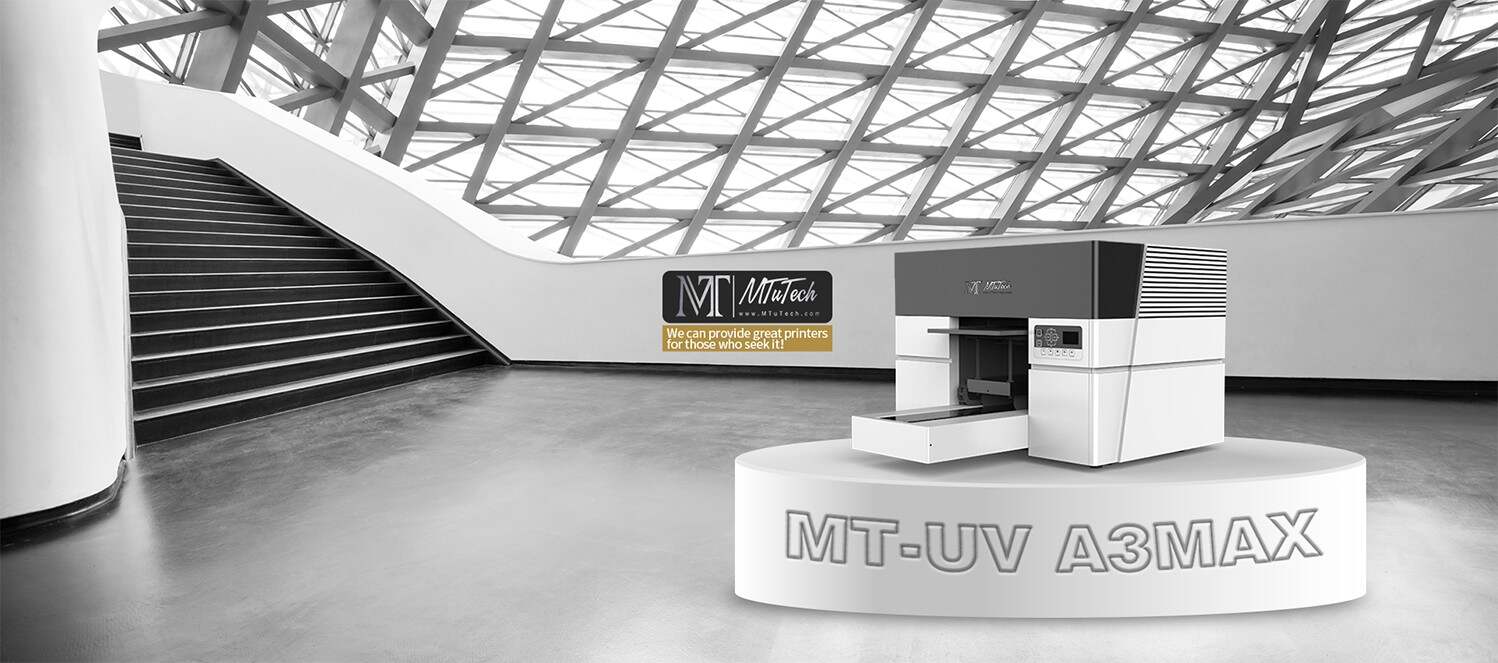 MT-UV A3MAX was the first of our A3-Series desktop UV printer. This innovative design combines industrial-strength components with high-performance, extended-wear Epson print heads to bring you a printer that's built for high resolution and designed to last.
The latest released small format A3 UV LED printer MT-UV A3MAX is perfect for short runs, of customized products in the small to medium-size category. With optimized ease and efficiency, you can print directly onto accessories, giftware, ceramics, and countless other popular products. Create unique, desirable, and highly-profitable custom items with MT A3 flatbed UV printer that offers brilliant color results, realistic textures and stylish embossed effects.
It's the ideal choice for high-quality printing on wood, acrylic, aluminum, glass and many other substrates. This A3 mini uv printer can print company logos and small text on promotional items, print onto tins, watch dials, instrument panels, etc. High-resolution high speed full color printing allows you to print company logos and small text on promotional items. Customized printing on watch dials, instrument panels, etc.
Use the MT A3 UV printer for industrial printing for short runs and fine detail work , it's quicker and cheaper for your promotional items printing business.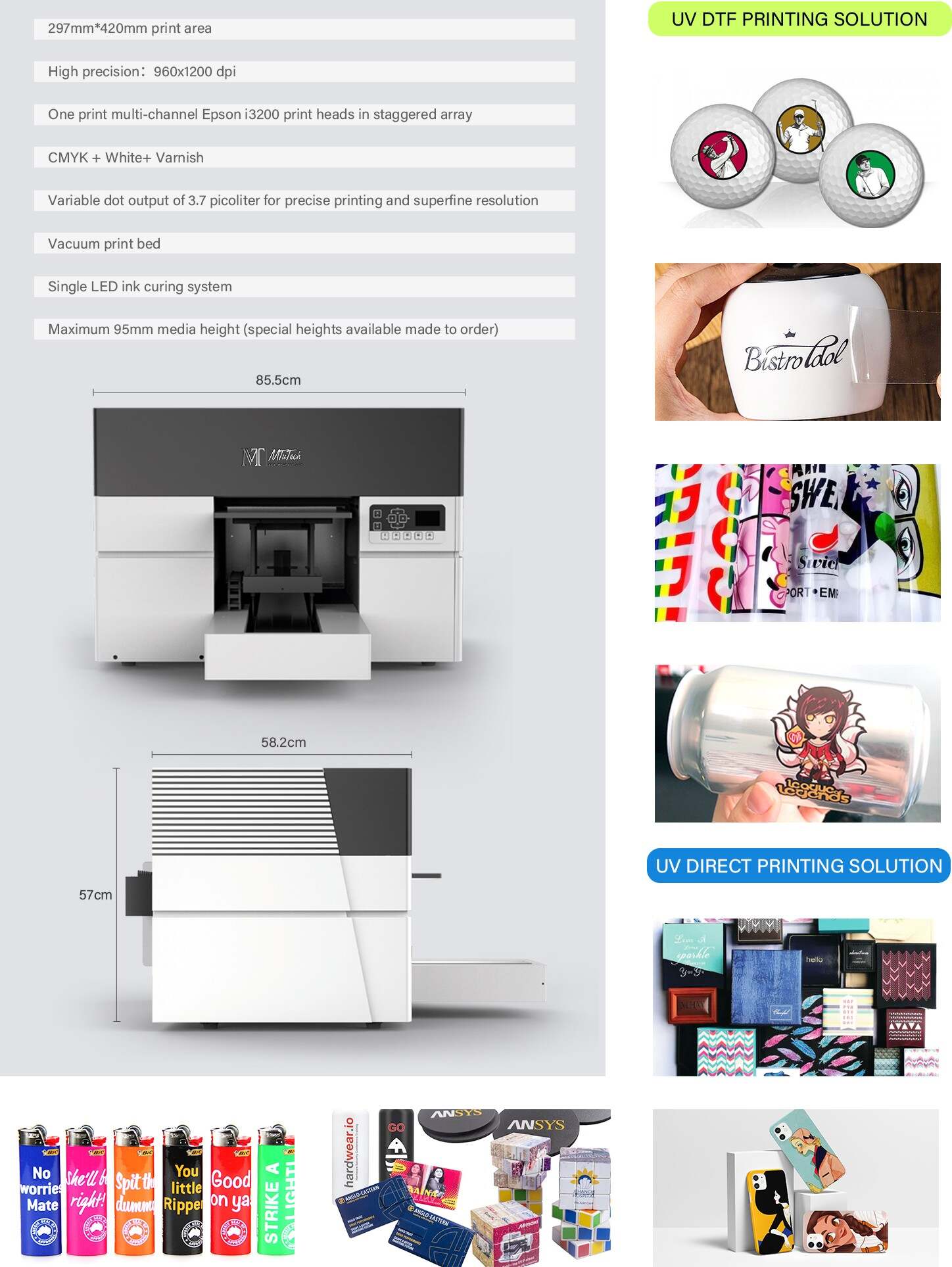 MT A3 LED UV desktop printer, the portable and safe multipurpose flatbed printer for a new generation of creatives, dreamers and businesses.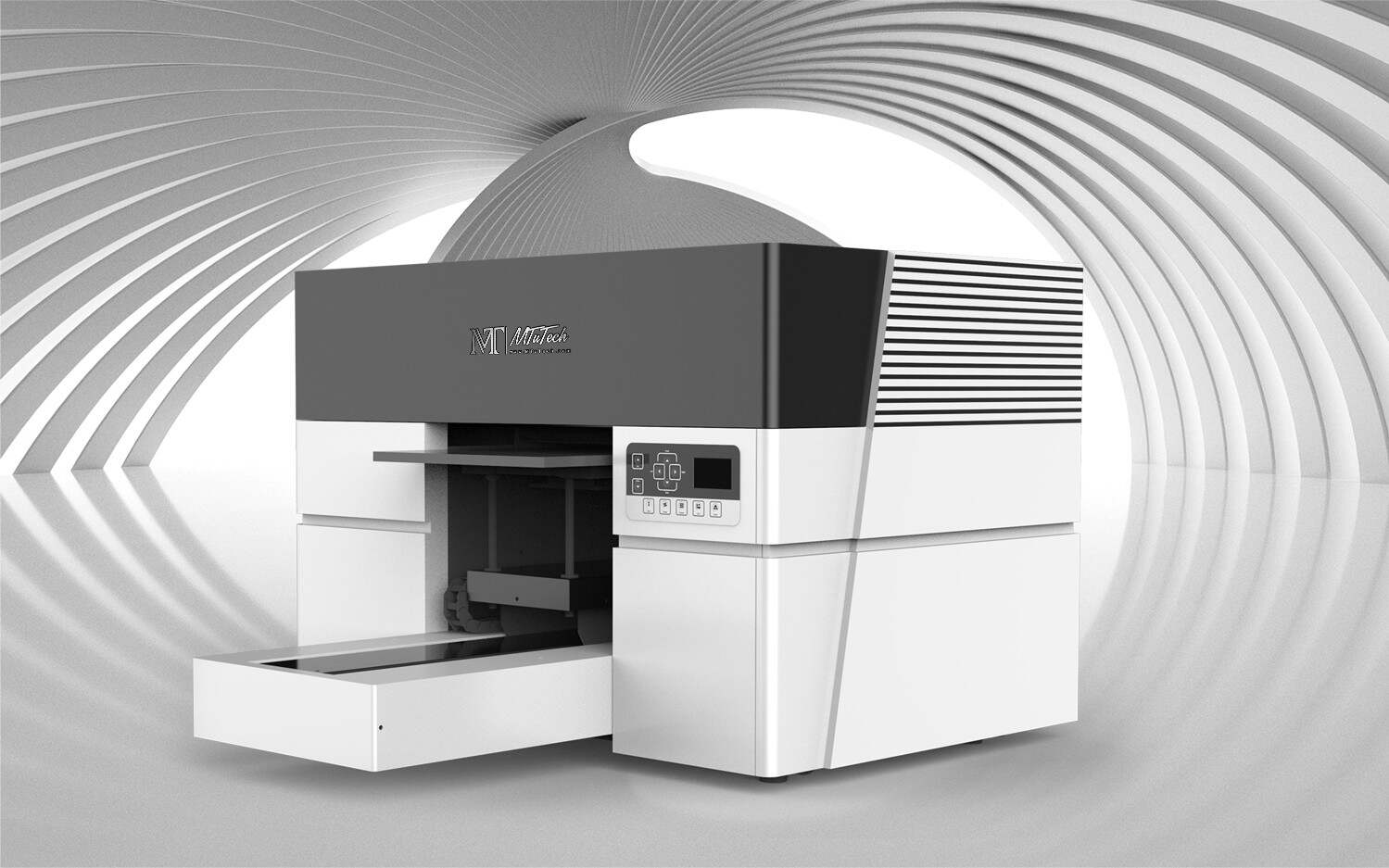 ✔Versatile compact flatbed model with high precision printing
✔Custom production printing for all materials and products
✔Reliable UV inkjet direct printer with smooth and sharp color quality
✔Photorealistic images and a variety of print effects
✔Smart, simple and easy customization workflow
✔Day-to-day performance and portability, anywhere and anytime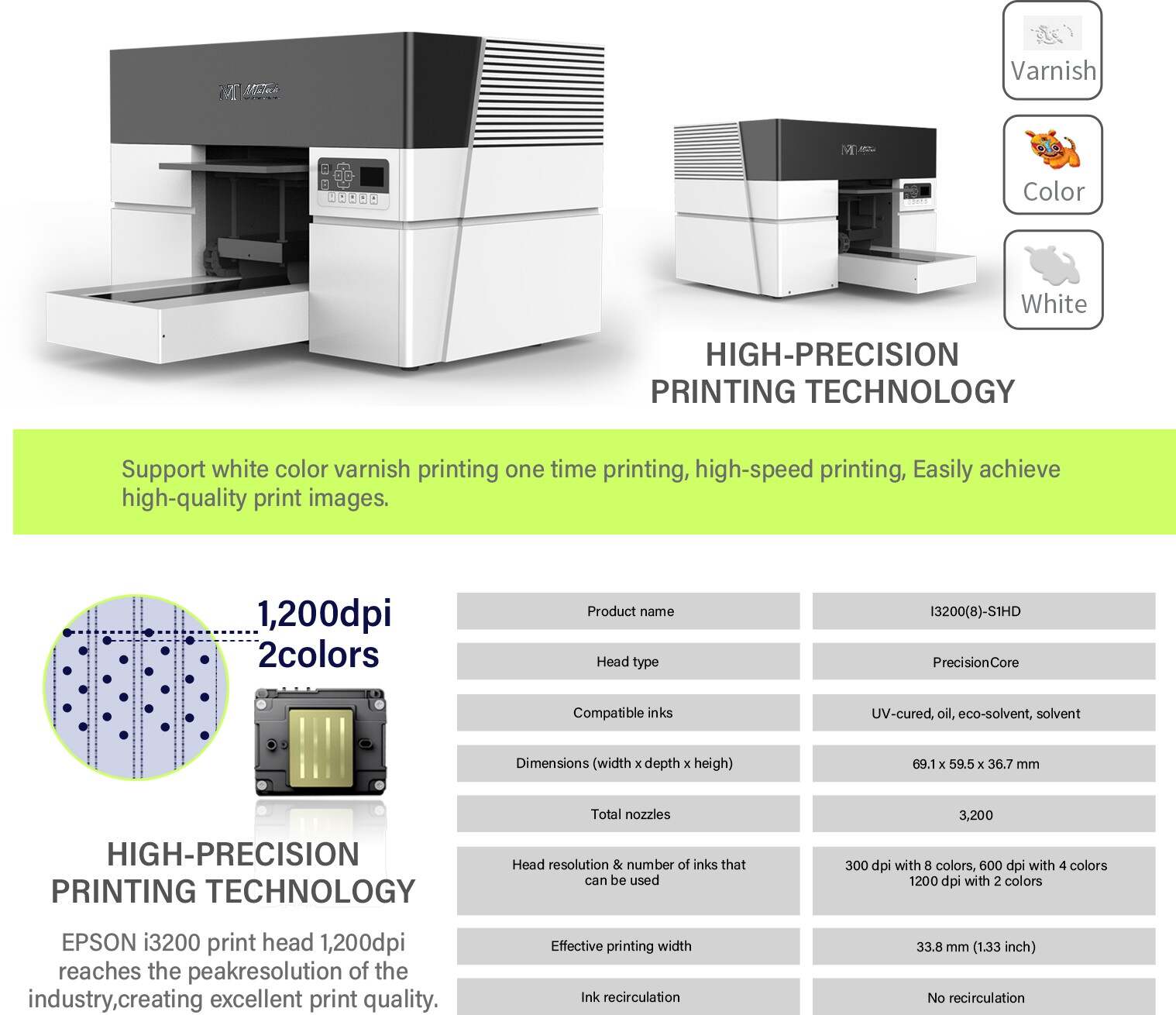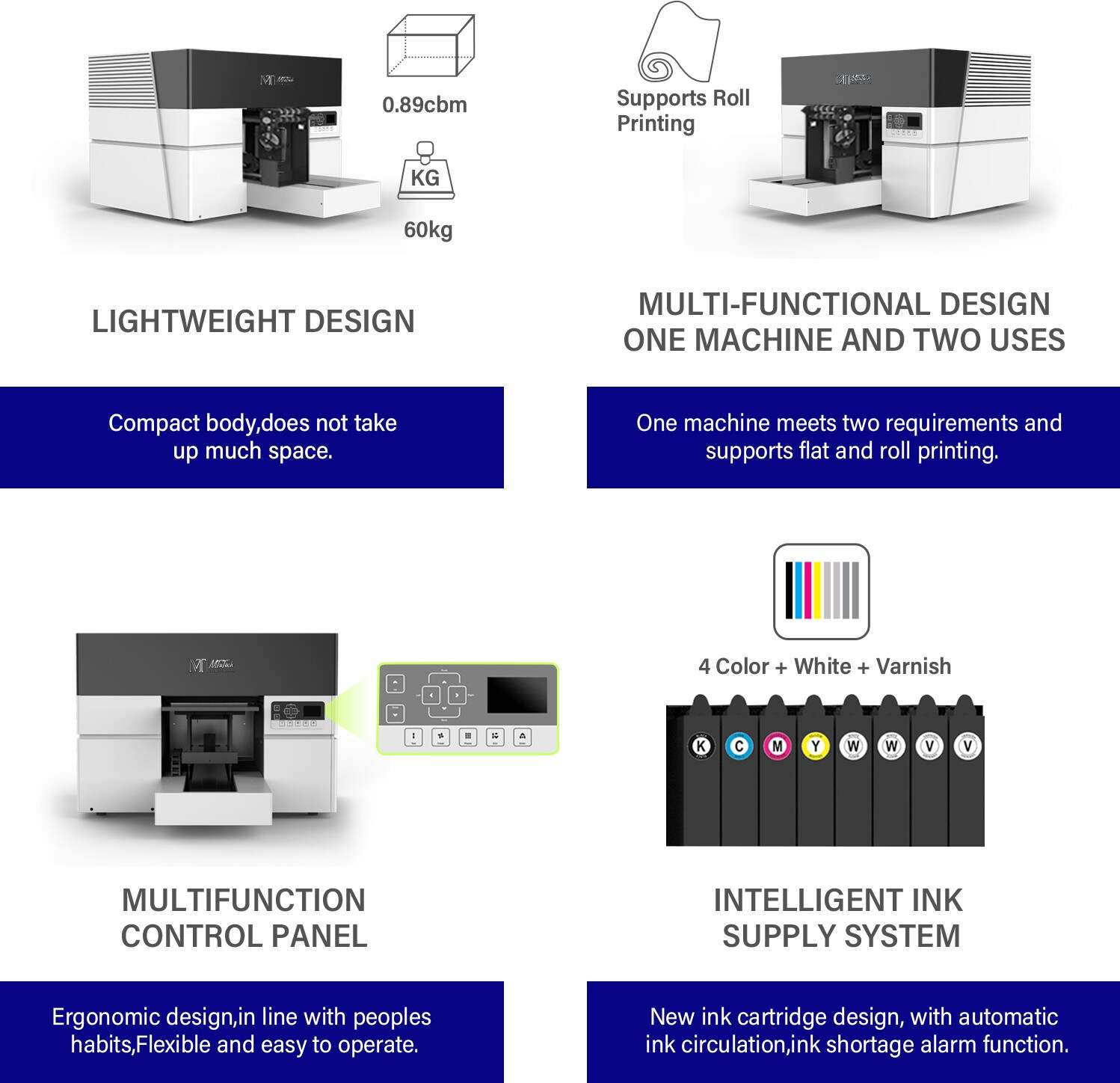 Totally different from traditional printers, the MT UV A3 UV LED desktop printer opens up a new page to all designers, creatives, dreamers, and brand business development to more, with its unique features.
✔Simple operation
One-click printing is extremely convenient to use. Direct output from your design software to work station for fast printing. Easy templating customization and compatibility.
Do not need a cumbersome operation, upload a good picture, the need to print the items placed on the printing platform, and start to print. Support multiple tasks on queue.

Step 1
Select the item you want to print.
Step 2
Upload photos to the printer.
Step 3
Place the item on the print platform.
Step4
Wait a minute when printing.
Step 5
Take out the item.
✔Easy maintenance
Keeping in mind that the system is for everyone, we design the machine especially for the maintenance replacement in modules.
✔Set up in minutes
Load the printer whatever surface even, plug the ink cartridges, and start to click from the software for the initial installation immediately.
✔2.5D - 3D High Res print
Get perfect details in sharp, vivid and true photo quality from Micro-Piezo inkjet printing with 1200 DPI, 3.7PL ink drop sizes and in tactile prints.
✔Accurate printing
PrecisionCore Epson i3200 printheads ensure accurate printing results. The TFP actuators, ink channels, and nozzle plates in the MicroTFP print chips that make up PrecisionCore printheads are fabricated with submicron-level accuracy using MEMS technology. Advanced technology Variable Sized Droplet Technology (VSDT) , also contributes to the blazing speed and superb print quality of Epson printers. Built with Epson's precision MEMS fabrication technology, PrecisionCore printheads take inkjet printing to a new level.
✔Economical to run
Low ink cartridge consumption down to cents of each print.

✔UV-LED Lamp Local Dimming Control Technology (LDC)
The LDC technology enables the ability to create diverse and expressive textures in the same print table movement. By dividing the irradiation area of the UV lamp, the varnish ink can be adjusted individually for greater segmented printing control. Glossy, semi-glossy and matte varnish effects can be produced in one table movement for prints combining CMYK + varnish or white + varnish.
The result is a substantial productivity boost as well as a minimized risk for graininess, banding, and misalignment of layer printing.
✔Flatbed Height Adjustment (Up to 0" - 3.75")
Print onto objects up to 3.75 inches thick easily with the Flatbed Height Adjustment function。
✔Anti-Shift Media Vacuum Table (Optional)
The optional anti-shift media vacuum table efficiently positions, holds down firmly and flattens out even thin media.
✔Braille and Raised Textures Printing Capability
Print tactile 2.5D graphics such as embossed text, braille, and textured decorations. The A3 UV-LED flatbed printer is ideal for premium 2.5D printing grater than 1mm thick. In addition, take full advantage of MT's UV ink using CMYK + White + Varnish to quickly and easily print braille and raised icons.
✔New and Improved Printer Maintenance System for UV-LED Lamps
The maintenance environment around the UV-LED lamp has been redesigned and improved to perform daily maintenance more efficiently. The UV led lamp is uniquely designed with a 15-degree inclination to protect the nozzle from UV light and prevent the nozzle from being blocked. In addition, a new printhead improves jetting stability and minimizes printer issues.
✔Obstacle Detection System
MTuTech's obstacle detection system can pause and resume printing after the sensor detects any obstacle resulting in fewer media loss.


We offer different kinds of UV-LED hard ink for hard and rigid type substrates and UV-LED soft inks for soft and flexible types of applications.
MT UV ink meets the most stringent standards for low VOC emission. It achieves excellent adhesion especially for extruded acrylic.

Discover the magic of white and varnish inks! White inks will enable you to print on dark colored or clear substrates. Special added value finishing like spot varnish or even stunning special effects such as special structures or embossing is possible with our dedicated varnish inks.
Ink Capabilities

Saving on ink consumption, the Epson print heads holds eight channels in total. The standard CMYK inks are assigned to four channels, leaving the last four customizable with any combination of white ink or varnish, or another color.
Large capacity bulk Ink system,

This system allows for 100% utilization of available ink. Refillable ink systems for economical printing. A self-agitating system effectively reduces setup time and simplifies the start-up procedure. Each 225 mL ink cartridge is designed to operate as a bulk ink solution, while keeping a open ink system. You can add the ink without pausing the machine.
White Ink
White ink allows you to print directly onto dark and clear materials. You can print solid white imprints, or use it as an opaque base for color imprints. It can also be printed as a gradient under photographs, giving you white highlights where you need them.
Clear Gloss
The clear gloss can be printed as a spot varnish on specific areas of a design to create special effects or embellishments. It gives a high-end look when printed alone on a matte black or dark-colored background. It can also be used as a full coverage glossy clear coat to provide added durability and protection.

For over 16-years, MT has provided the most dependable technology and a higher level of service and support to ensure that industry professionals can keep producing and keep profiting. MT offers enhanced remote installation and personalized training for you and your staff with your purchase of the UV A3. We also offer a 1-YEAR WARRANTY on our A3 mini UV printer to give you peace of mind. We pride ourselves on our top notch technical support via telephone, WhatsApp, email, Wechat, and live chat ,so you can reach us any time you have a question or run into difficulty.