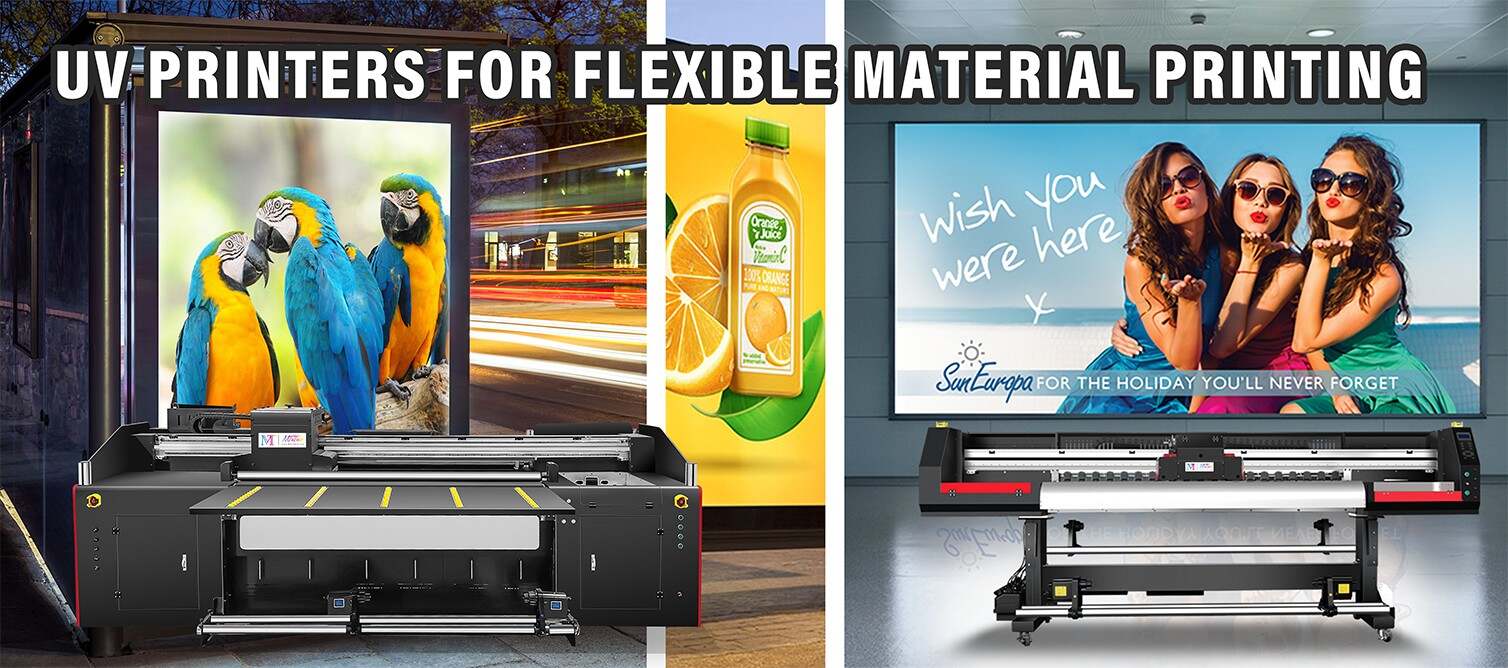 Printing on Backlit Graphics
Backlit refers to the type of media used to be seen through lightboxes. Backlit graphic applications can be a profitable and attractive solution for customers advertising campaigns. It's very popular in wide-format printing because of many advantages. First, it offers better visibility by night and in reduced lighting environments. Then, it catches the attention more easily thanks to vibrant colors, and also, it is possible to renew a print campaign regularly by easily changing the print without changing the lightboxes. This product is an excellent solution for both lights-ON and lights-OFF. You can showcase your company's brand all day and night because the material allows the shine through many light sources.
It perfect for tradeshow graphics , movie theaters, airports, window graphics, supermarket signs, POP display, posters in bus stops and other light boxes, or any high traffic area to make passersby stop in their tracks and view your brilliant and bold display. In these applications, the media is illuminated from the back, so it basically is a light transmitted through the media that reveals the color of the print. Different types of media can be used for backlit and they all have the ability to diffuse light. We can list a few of them:
- textiles and coated fabrics
- pvc banners
- rigid plexiglass
- papers
- self-designed vinyl
Use our UV roll to roll printer for backlit graphic printing to choose your own backgrounds, themes and fonts. Once you have your printing business plan ready, just contact us and we'll do the rest!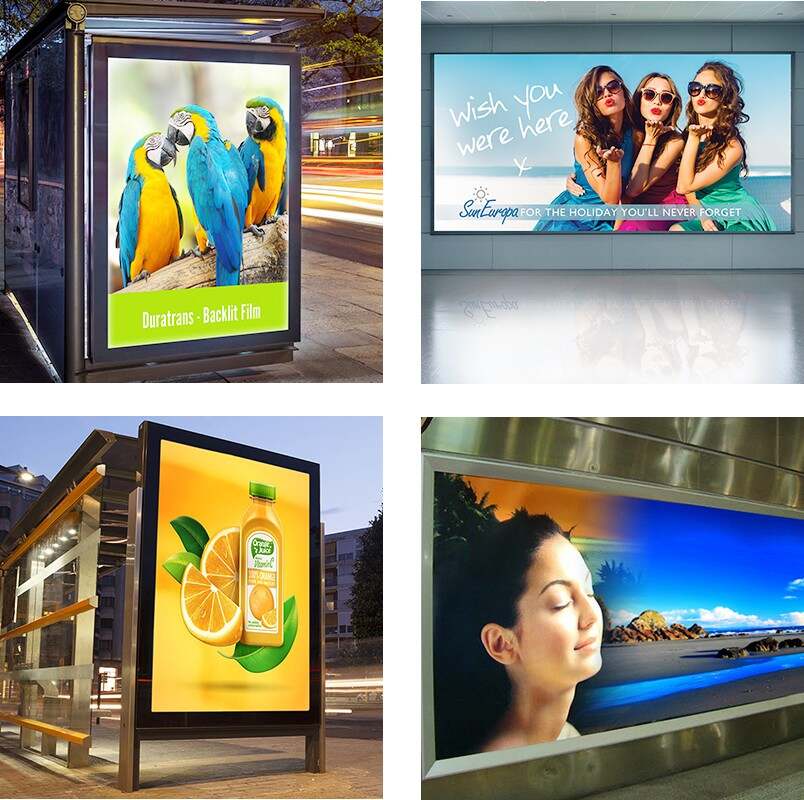 Printing on Leather
Custom leather printing is a great way to create a unique material, using your own artwork or designs, to make custom leather products.
Whether you're looking for custom leather printing solution, or printing on leather products, we have a broad selection products to choose from.
We offer a range of UV printer for leather printing, including UV hybrid printer and UV roll to roll printer. They all provides fast, professional and high-quality prints out for various flexible materials.
Our digital UV printing on leather uses the newest technology to create outstanding, permanent prints that are as strong as the leather itself.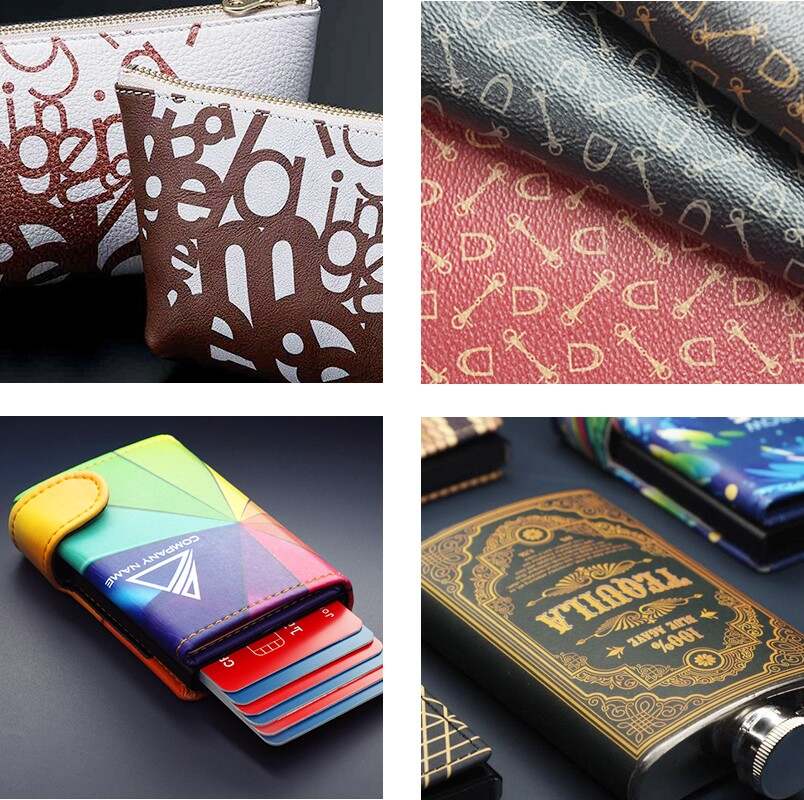 Printing on Banners
UV vinyl banner made of our UV printers is a durable outdoor banner with water-resistantand sun-resistant attributes. You can customize your banner size and banner finishings from cutfit, welded edges, eyelets to pockets. Ideal for backdrops, open-air exhibitions, fairs or any outdoor advertising uses. UV printed banner gives a vivid, fashionable look to the project. UV printed graphics can reflect the light, increasing the readability of the printed texts. Banners printed by our UV printes are of high quality, durable, fade-resistant, washable and suitable for both indoor and outdoor signage. Various finishing options are available with our UV printers.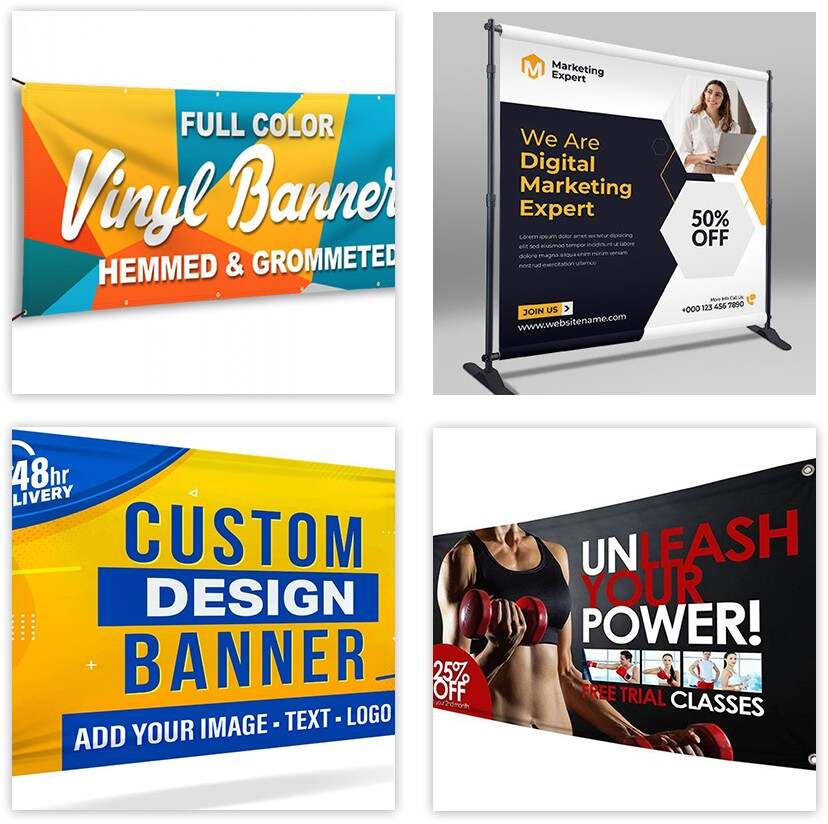 Printing on Canvas
Gallery-wrapped canvas photo prints are a beautiful way to personalise any room in your home. Whether it's one of your favourite photos for the living room wall, a collection of family portraits in the hall or a carefully curated collage, nothing beats a high-quality Canvas Print to showcase your memories every day. And it's now even easier to print your photo to Canvas straight from your phone with our UV roll to roll printer! Choose to have either one of your prized photos printed on high-quality, stretched canvas, or select and customise a photo from our extensive canvas art photo gallery.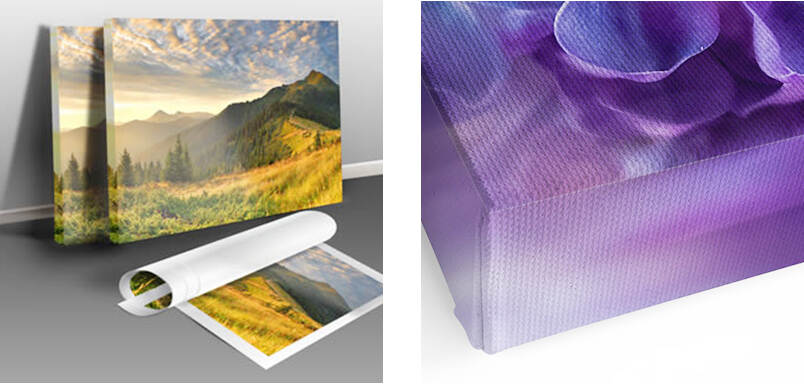 Printing on Wallpaper
Wall covering is a rapidly growing business within the interior design world. Wallpaper, murals, and other large- scale décor elements today represent an exploding global market. With the global home décor market growing exponentially, are you ready for the wallpaper print revolution?
The current trend towards more personalisation of various applications is strongly reflected in the way people decorate their living environment. This leads to an increasing demand for exclusive and personalised products for interior decoration, both for personal spaces as well as in business environments.This offers fantastic growth opportunities to expand your business.
Our MT(MTuTech)UV roll-to- roll printers, is a perfect fit for printing wallpaper, among other applications. It delivers the productivity, quality, speed, and versatility which today's wallcoverings market demands.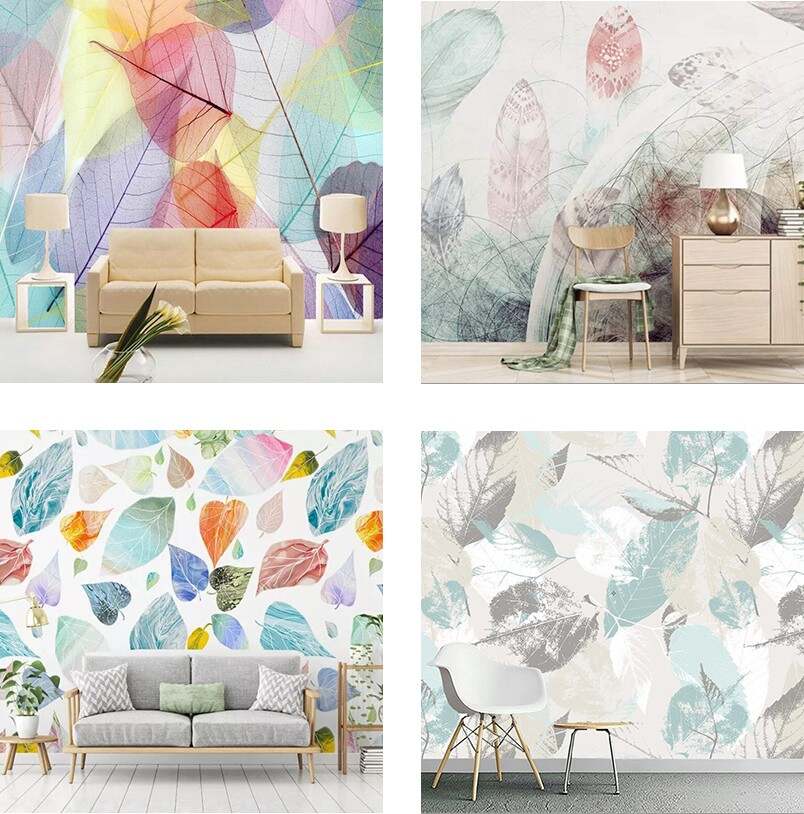 Printing on Tradeshow Graphics
After a pandemic-induced hiatus, trade shows are coming back and they will continue to be a strong driver of prospects and revenue for businesses. Your trade show booth will be the introduction to your brand for many potential customers, so making a memorable first impression is vital.
The way you present yourself speaks volumes to your prospects. Make your booth memorable by investing in high quality, branded trade show banners, table wraps, tablet stands, backdrops, and merchandise.
Our UV roll to roll printer and uv hybrid printer can offer you wide variety of custom signage for your tradeshow graphics, including banners, flags & Popups,table wraps,tablet stands,merchandise stands,dimensional signage etc.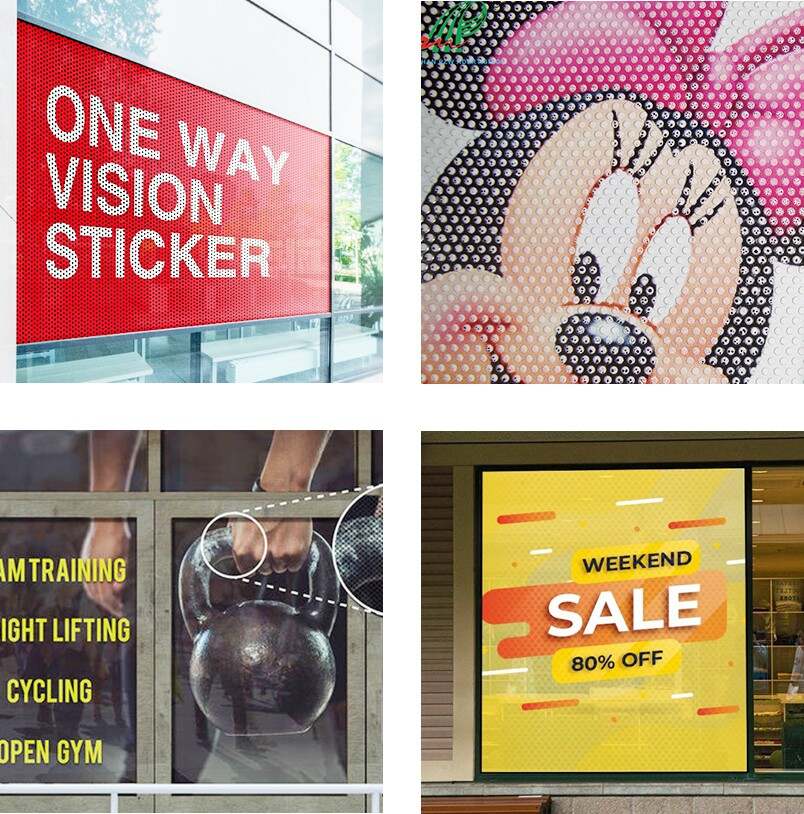 Printing on Shower Curtain
Do you think about begining your custom shower curtain business to give your guest bathroom a little more personality? Our UV roll to roll printer and uv hybrid printer help you explore shower curtain options. You can easily create the dream bathroom with the help of one of customizable shower curtains made from our UV printers. Design something stylish and unique to make the absolute perfect accent piece for any home! Shower curtain liner is quick drying & it need only be wiped with a soft, clean cloth to ensure they remain stunningly vibrant.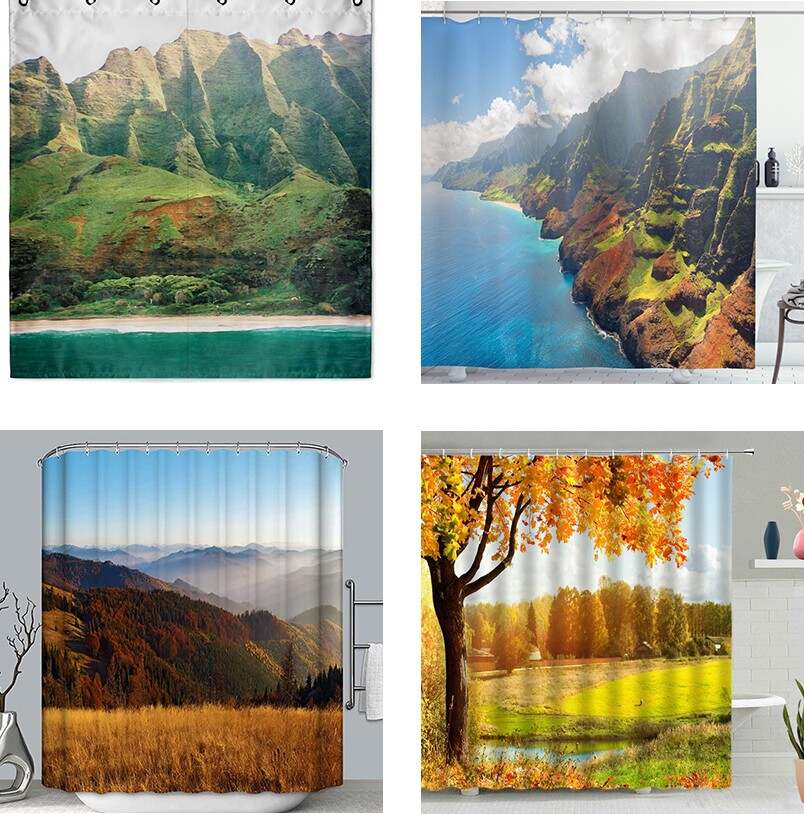 Printing on Point-of-purchase Displays
Point-of-purchase displays are printed or digital displays placed near advertised items and where customers make purchasing decisions. Unlike marketing campaigns designed to get customers in stores, POP displays focus on customers' in-store experience by bringing attention to particular brands or special offers.
POP displays have become a staple strategy for manufacturers, and many vendors will have some sort of POP material they can provide for free use in retail stores. Nowadays, manufacturers and retailers have discovered that POP displays can be placed throughout a store with great success. This material will highlight the product and draw the customers' attention to it, which is important in a retail store crammed with similar merchandise.
Are you ready to POP yet? Our professionals UV printer and UV printing solution look forward to assisting you.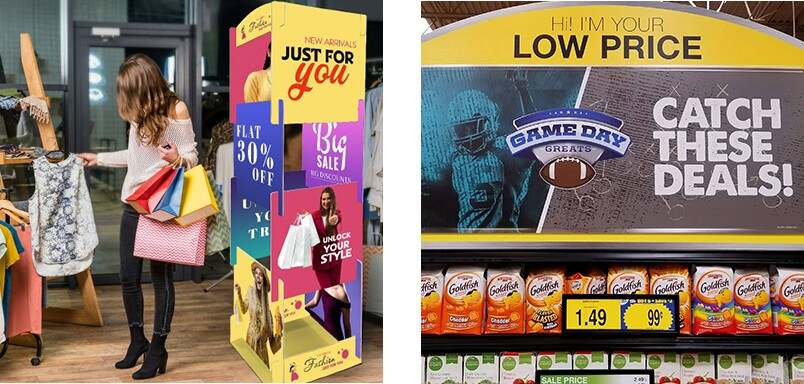 Printing on Window Decals
Working in a storefront or office setting that features large windows or glass walls? Make the most of that space and promote sales, special events or business hours with custom window decals. Use these inviting window clings to provide key information to customers like hours, contact information, daily specials and more. Just entice passersby to stop in with window decals.
Ready to start? Begin by exploring our UV roll to roll printer and UV hybrid printer to provide custom window decal designs, including industry-specific options. The finished window decal looks crisp, polished and ready to impress.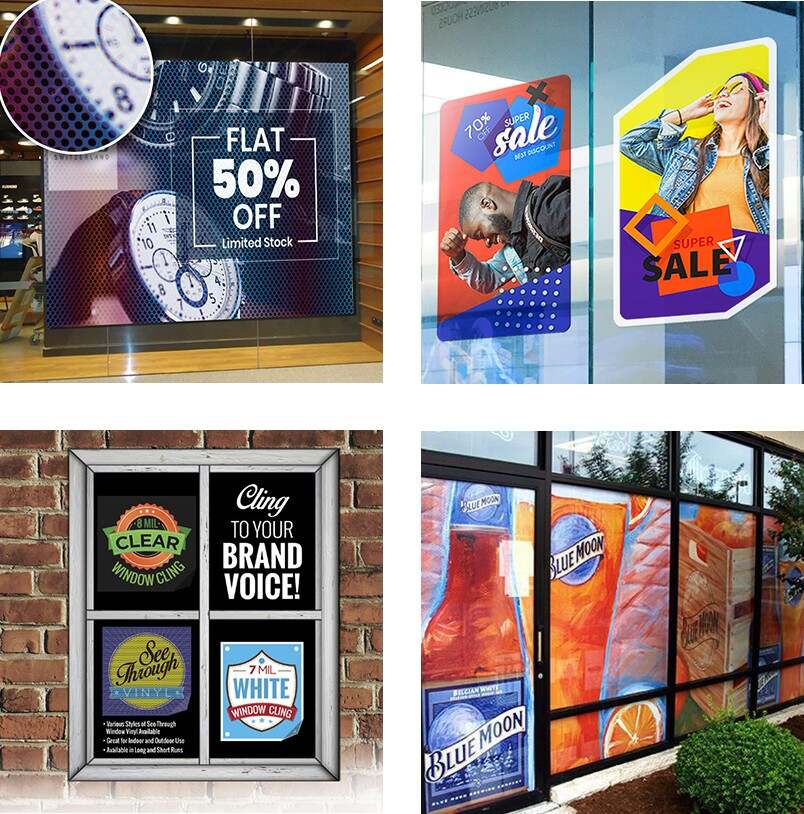 Printing on One-Way Vision Films
Large corporate offices, malls, cars and buses, dealerships, and even retail stores tend to use glass significantly these days. Be it in the form of partitions or huge panels that face the outside of the building, glass is a vital component of the overall look and feel of modern architecture. And this has created a unique demand in the printing industry.
People want to be able to look out of the office partition or display window. And at the same time, they need to show images of their products or display their corporate philosophy to the people standing on the other side of the glass. Additionally, they want privacy – to be able restrict visibility into what's happening inside.
Applications of One-way Vision Film
One-way vision films are a perfect solution to brand:
Glass partitions in malls, offices, and stores.
Building facades
Vehicle windows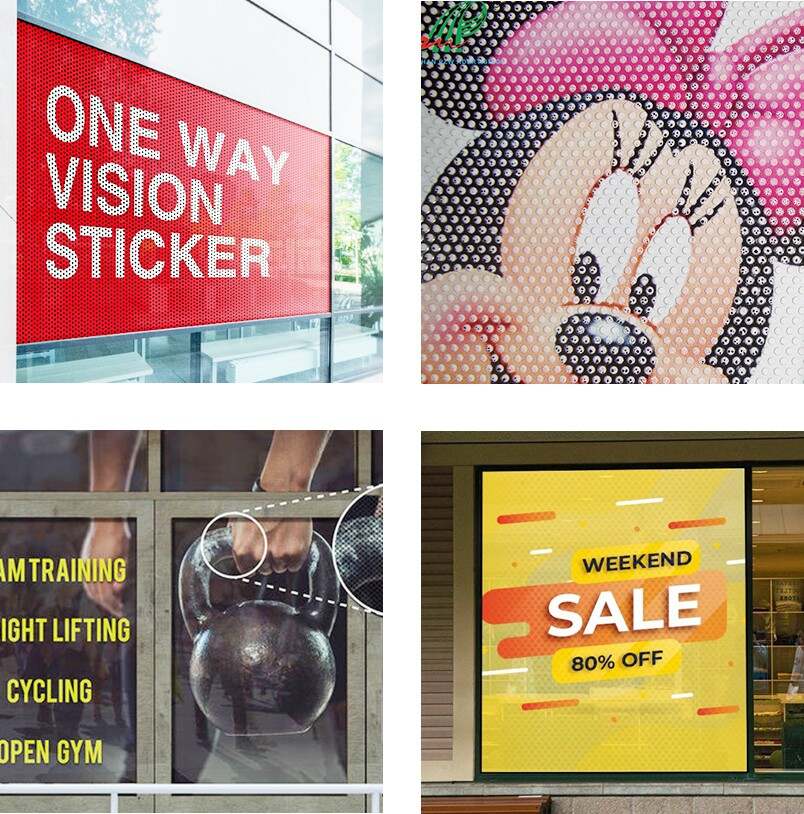 Printing on Adhesive Vinyl
If you're struggling to choose the right to print vinyl signage, We're here to assist you.
Vinyl graphics can be applied to almost any smooth surface making them one of the most versatile marketing and advertising options around. Self adhesive vinyl printed at high resolution with light-fast and waterproof inks, is the perfect solution for indoor or outdoor advertising. Available in Gloss or Matt lamination with our UV printer options.