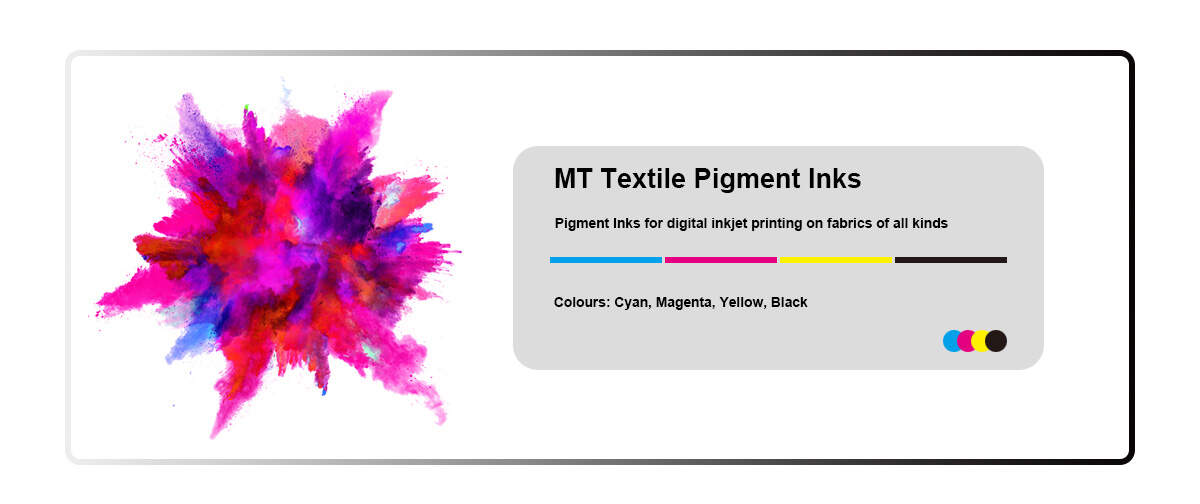 Description
MT Textile Pigment Inks
MT textile pigment inks offer amazing Consistency, excellent Print Quality and utmost Reliability. Quality Ingredients, Stable Formulations & Rigorous Control on Quality ensure the high performance in demanding production applications of textile printing industry. Precisely calibrated ink colors help you reproduce exact prints every-time. MT textile pigment inks deliver the ultimate combination of performance & run-ability.
Make the switch to a greener digital textile printing solution that requires no water, no pre treat, no steaming or washing in process. Interest for digital textile printing with roll-to-roll pigment inks is growing, and home textiles are one of the main markets of interest for this technology. The textile pigment ink is for roll-to-roll fabric printing or direct-to-garment printing, which is suitable with a variety of fabrics.
Pigment inks produce strong color combined with excellent application fastness over a wide range of application areas including fashion, home and outdoor textiles where high light resistance is key. Pigment printing is a dry process requiring only thermal fixation. It does not need post washing, resulting in a more sustainable and cost controlled technology.
Textile pigment inks contain a binder and a binding agent, which fix the color to the fibers on heating, and print fabrics with vibrant colors without losing their breathability and water absorbability.
Optimized for performance and quality. MT Pigment textile inks are designed for printing on a variety of fabrics, but it is most commonly used on cotton and cotton/poly blends. Yields full production quality crockfastness upon drying and excellent wash fastness after post-treating in an oven or calendaring. Requires no fabric pretreatment or wet post-processing. Wide ranges of materials are available for print applications, including apparel such as T-shirts, home furnishings, home textile, signage, flag, banners and more.
MT Pigment Inks (Eco-inks, Environmentally-friendly inks). MT inks are REACH regulation compliant (Registration, Evaluation and Authorization of Chemicals) in order to be a true eco-friendly solution. MT produces revolutionary and innovative Pigment textile inks, featuring vivid colors, wide color gamut, high fastness and durability.
MT textile pigment inks are specially designed for the industrial inkjet printheads. These inks are available for Epson DX5, Epson4720, Xaar1201, and Ricoh Gen5 printheads.
Feature
Key Features of Digital Textile Pigment ink
1. High Color density, wide color gamut, outstanding color saturation.


2. Excellent performance on high-speed industrial grade piezo printheads.
3. Ink with Nano grade particles, Consistent & Reliable jet-ability, no clogging to printheads
4. Advanced Polymer Binder Chemistry for Great Wash fastness, light fastness and rub fastness performance
5. Non-toxic and environmentally friendly.
6. Vivid and bright colors
7. Excellent printability
8. Very soft touch
9. Good washing and water resistance
10. Printable onto a wide fabrics range

Solution
Digital Textile Printer Pigment Ink Printing Solution
1. Pre-treatment (optional but recommended)
- Application of pre-treatment with padding
- Recommended pick-up in padding machine: 60-70%
- Drying conditions: maximum 90-100 ° C
- Recommended pre-treatment: by CPL Chemical
- The machine must be cleaned very thoroughly before applying the pigment preparation
- Do not contaminate the preparation with other preparation residues
2. Printing & Drying
- Industrial Grade Digital Textile Pigment Printer prints on Fabric directly
- Recommended drying temperature: 70-100 ° C
- Drying temperature depends on the quantity of ink, the speed of the conveyor belt, the weight of the fabric...
- After printing fabric must be dried to prevent the print from being impressed on the back of the fabric when it is rolled up.
3. Fixing/Finishing (Heating)
Fixing may be performed by:
• Calender (150-160 ° C; 2 min.)
• Air-drying after printing (150-160 ° C; 3-2 min.) if printing speed and dryer size permit
• Stenter (150-160 ° C; 3-2 min.)
• Polymerizer (150-160 ° C; 3-2 min.)
• Fixing agent (150 ° -160 ° C; 3-2 min.)
There are no significant differences between these fixing methods.

Application Benefits
• Quick, easy, dry printing process
• No post-treatment required
• Vast colour range
• Application For All kinds of fabric direct printing.