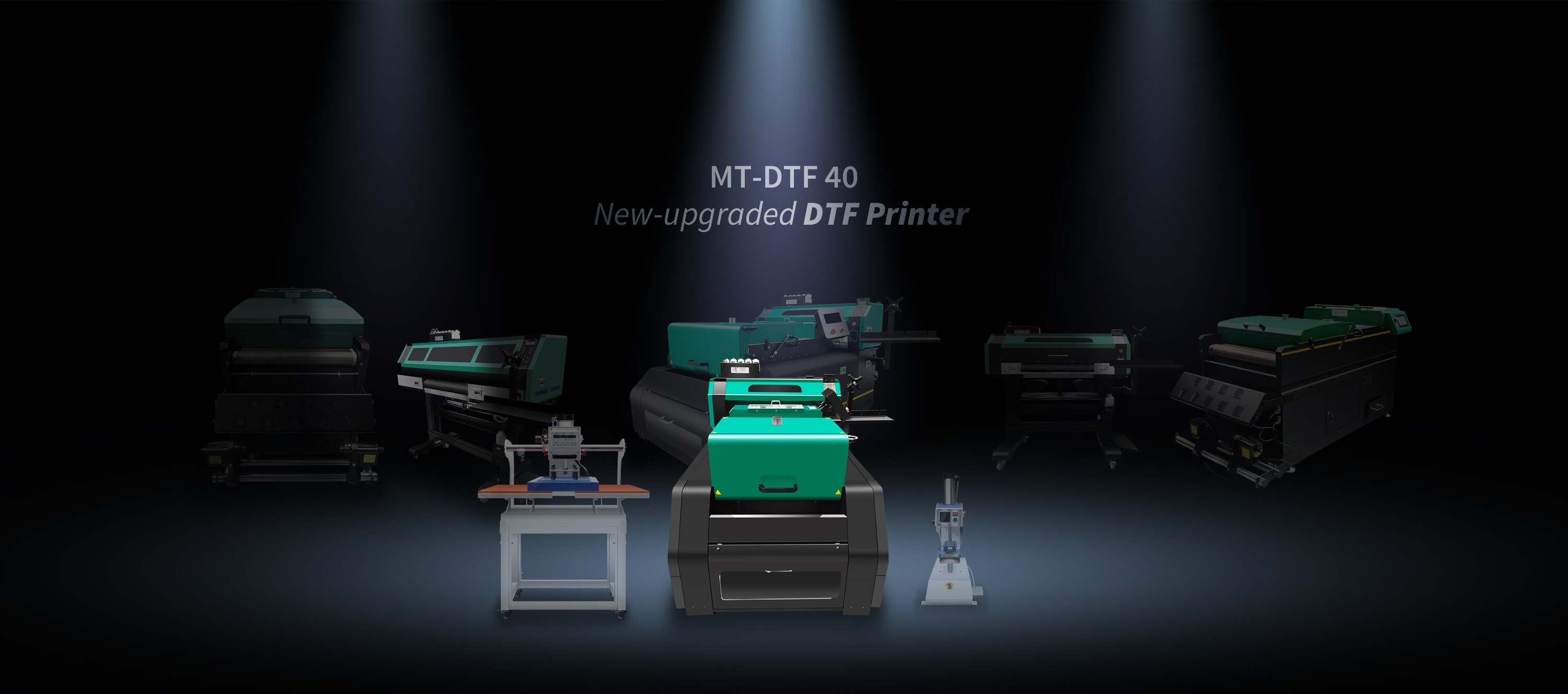 Deciding to start or expand your custom apparel business is incredibly exciting. But confuse about choosing the right equipment to run it?
After about 20 years in the industry, we should know. We've spent decades fine-tuning our machines and business systems. And we're here to help you do the same.
We offer the best direct to film printer on the market. Small size DTF printer MT-DTF 40 is designed to help you wow customers with high-quality images—without requiring a huge investment, lots of space, or steep learning curve. Our exclusive business bundles make it even more affordable. Next let's take a look at the new technologies that are popular recently – DTF to film printing.
What's Direct to Film Printing Technology?
DTF printing is a new printing technology that acts as an alternative to direct to garment (DTG) printing. The major and only difference is that DTG is used to print natural-fiber fabrics only. DTF on the other hand, has a much more versatile fabric option, and can print on apparel such as silk, polyester, nylon, and even cotton. This versatility of DTF is why it is quickly growing to become a popular printing option in the industry.
DTF VS DTG VS Screen Printing

Are you still confused about direct to film printing and traditional printing methods,like DTG printing and screen printing? We'll make it clear and tell you more about them with this form,so you can decide which is best for your printing business.


How MT Direct to Film Printer Solve Your Headache?
DTF has the following advantages that make it a perfect fit here:
1. Integrated Solution Provider
DTF system is a printing solution that needs different device and consumables. DTF printer, powder shake, heat press, ink, powder, DTF transfer film all are essencial during the printing process.
As the premium large format printer manufacturer and supplier in China, we provide integrated solution for printing, shaker, consumables (ink, film, powder) and transfer. We provide everything you need for DTF printing!
2.Print more with wide scope applications
DTF printer works for all most all kinds fabric! Cotton, poly-cottons, nylon, polyester, polyester-Spandex, 50/50 blend fabrics, and both light and dark fabrics.
It provides various special shape heat press solutions for you, opens your business to a world of possibility.You can print vibrant full-color images on T-shirts, custom pocket hoodies,polos,sports uniforms, running shorts, hats, backpacks,gloves, flags,koozies and so much more with ease.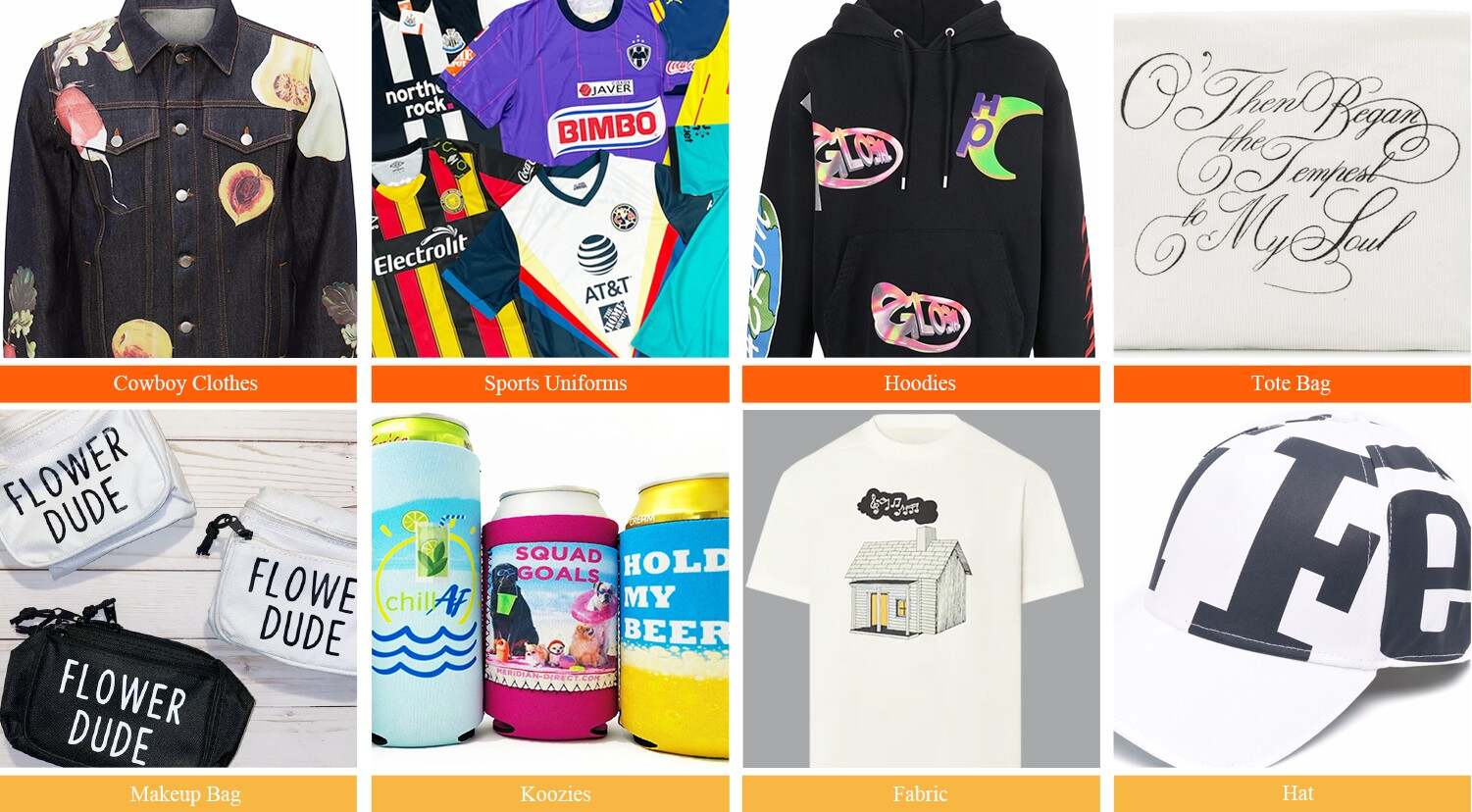 3. Simple Setups for DTF Printing System
The DTF system works best because the CMYK colors lay down first before the white ink layer. Unlike screen-printing or direct-to-garment systems, your DTF printers do not require separate underbase properties depending on what color fabric you are going to print.
And, when working with polyester fabrics, you do NOT NEED to use a separate set of ink (poly ink). The same kind of pigment ink allows applying to all kinds of fabric. You simply load the design into the smart RIP software, and it will calibrate the ink required.
As shown below, you can choose different color configurations and models according to your needs.



4. Fluorescent spot color printing solution option
Fluorescent spot color printing creates brighter and more vibrant results.It means you'll have more color options and wider color gamut than CMYK printing methods, so that you are able to provide to the high standard print out your clients are chasing.
This one solution is perfect especially for those projects don't need full color image, like logos and identity pieces which will feature your unique color scheme.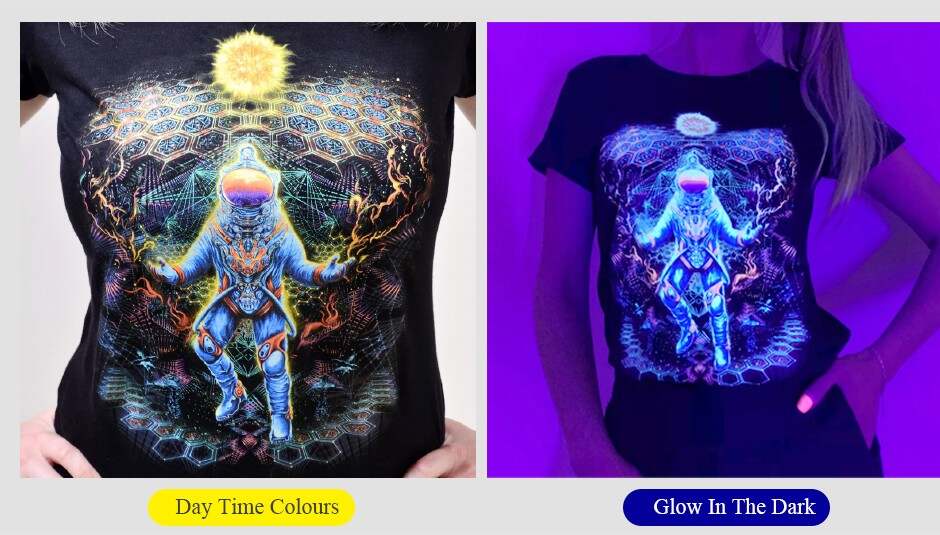 What you'll need for Direct to Film Printing?

1. The DTF Printer Films

DTF printers use transfer films that differ from the ones used by screen printers. A DTF transfer film is 0.75mm thick, making it a better-transferring feature and has transfer chart eristics that are better all around for working with multiple unique garment types. These films are commonly referred to as Direct to Film or DTF transfer films.
They are available for small-scale users in cut sheets and big commercial businesses as rolls. DTF Transfer Film can be peeled warm or cold, based on temperature. You can choose either our glossy or matte DTF transfer film for different needs, which are ideal for design professionals who need high-quality, durable, large-format color prints.
2. Direct to Film Printer Inks
DTF printers use unique inks designed in white, yellow, cyan ,magenta, black and fluorescent colors. However, the white-colored ink creates your print's foundation, while the rest pigments print your design on the PET film.

3.Hot-Melt Adhesive Powder
DTF powder is a hot-melt powder made from polyurethane resin ground into an adhesive powder. It covers the transfer film print completely before the pressing process starts. The DTF powder facilitates a successful transfer of vivid colors, graphics, or images from the DTF transfer film to the fabric, upon exposure to heat.

DTF powders or DTF pretreat powders and pretreat sheets eliminate the need for pretreatment. This is a norm in most printing techniques like direct-to-garment (DTG) printing. Pretreatment often causes unpredictable staining, negatively affecting the quality of the end result. Therefore, DTF powders are a game-changer in the printing industry. They help address challenges associated with other printing techniques.

Based on texture, the DTF powder can be classified as fine powder, medium powder,and coarse powder.And based on color, it can be classified as white powder and black powder.They are suitable for different printing cases and also offer different printing effects.

4. Automated Powder Shaker
This DTF printing feature is commonly used by large garment printing businesses. The DTF powder shaker machine plays a crucial role in ensuring a high-quality end product. The above case is so because it applies the powder uniformly while removing the excess powder. Therefore, the shake powder machine ensures that your designs will not have extra powder patches.

5. Heat Press Machine
This machine transfers the printed image from the PET film to the intended fabric. Also, it's used for heating the DTF film's hot melt powder.

6. The DTF Printer Software
Software plays an integral role in DTF printers. It determines the inks' print characteristics, end print performance, and color performance. Our DTF printer MT-DTF 40 use popular Photoprint RIP software that provided by SAI, which handles your CMYK, white and fluorescent colors,and offers the solution for all your design and printing needs.

Printing Process for Direct to Film Printer
In a quick summary, your DTF printer is going to print on a film that has a direct to textile ink coating on it. Then a powder which is the adhesion property is added to it. After which it is heated to a specific temperature. Once the temperature has been achieved, the film with the design or image is then pressed onto the fabric. You can do multiple substrates, and the best thing about this technique is that the press time is very low. Overall, about 10 seconds.
DTF printer is known for producing fantastic digital transfer sheets. And you can handle varieties of printing works from a single-color fabric design label to full-size print. With the ability of the PET transfer film, which is usually transparent. So, you can see your design under the film when you heat press it on the fabric.

Step 1 – Printing the designs on the film
The first step is to insert the pet film onto the printer tray. Make sure to print the entire design in white before printing the multi-colored layer on the white. Do not forget to flip the design before printing.
Step 2 – Adding the desired colors
Add the desired colors. The printer has several print head that performs different printing action. The first head applies the colors which is a blend of CMYK color on the film. Then the second head applies the ideal amount of white under the base perfectly on top of the colors. The second print head does this in an accurate alignment to prevent the white from showing.
Remember, this alignment is done on the film sheet on the fabric. This is because the bumps on the shirt will affect the overall design. So, applying it to the film ensures that the final design is crisp with neat edges. You can't achieve this using the traditional screen-printing process.

Step 3 – Adding the unique powder
After printing, the printer sends the film to the powder shaker unit, where a unique powder adhesive coating is added to the film evenly while it is still wet, into the loop. This powder is responsible for the infamous soft touch DTF prints always have. Ink and a thin coat of adhesive powder are the two main ingredients in direct to fabric printing.
The excess powder is therefore beaten off the film in the powder shaker machine and then it is passed to the belt drier to melt off the powder and to ensure that it is gelled to the ink.

Step 4 – High-pressure heat pressing
The next step after printing, adding powder, and shaking it off is the heat press. It is simply taking the transfer film out of the powder shaker machine and placing it on the fabric that is already on the heat press.
It should be pressed for about 10 seconds in high pressure. The hot-peel sheet is then peeled off after allowing it to cool off completely. Then a finishing sheet is placed on the fabric to further drive the ink into the fabric in high temperature.


Make your huge Profits with MT DTF Printers
Before start your new DTF printing business, you typically want to know how much this new service will cost. Let's see how the DTF printer to be hands-down winner for your project!
keep the high productivity of MT-DTF 40 (2 Epson i3200 heads)in the mind first. You can print up to 94 T-Shirt prints per hour with this robust model.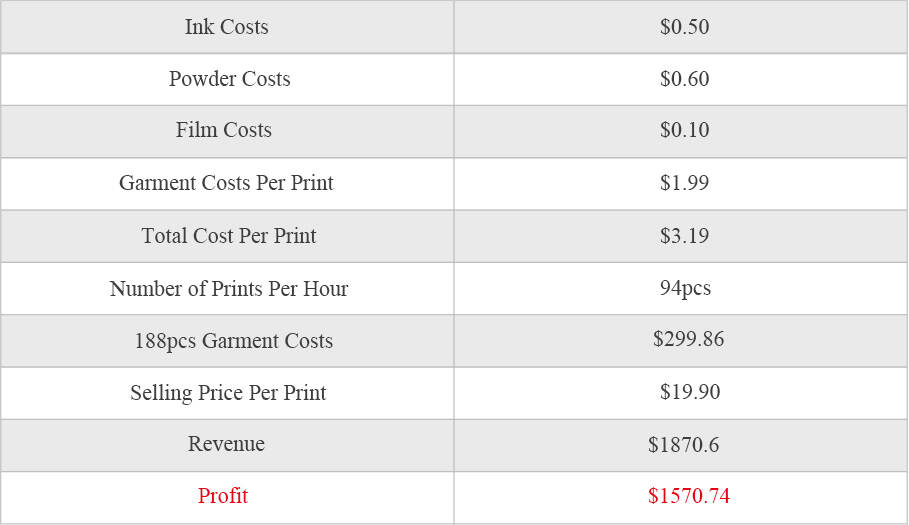 As a business owner, you can easily see how low "per shirt" costs increase your ability to make in-kind trades to sell more.

15 Reasons Why MT-DTF 40 is a Great Addition for Your Business
1. Japanese original printing system, ensure printing stability.
2. Fully automatic print output, one person can operate multiple units.
3.Optional 4-8 color printing, compatible with various print effects.
4.Continuous Ink System avoids frequent ink refills or downtime because of the lack of ink and enabling low-cost production.
5.Ink automatic circulation, white ink stirring function to ensure ink fluency, ink shortage alarm system.
6.Powder recycling system to reduce production costs.
7. Matte, glossy, fluorescent print effect that can be switched at will, a multi-purpose model.
8. Provide AI voice control system to operates and maintains the machine.
9. Optional 1-4 heads, automatic switch printing speed.
10. Automatic smoke exhaust that provides a smoke-free printing environment.
11. Adopts SAI PhotoPrint software that's easy to use.
12. Provide video tutorials, easy to operate.
13. Senior engineers available, offer lifetime maintenance guarantee.
14. Paid local services available.No worry about install and after-service.
15. Provide free operator training services till the point you know how to operate it on your own.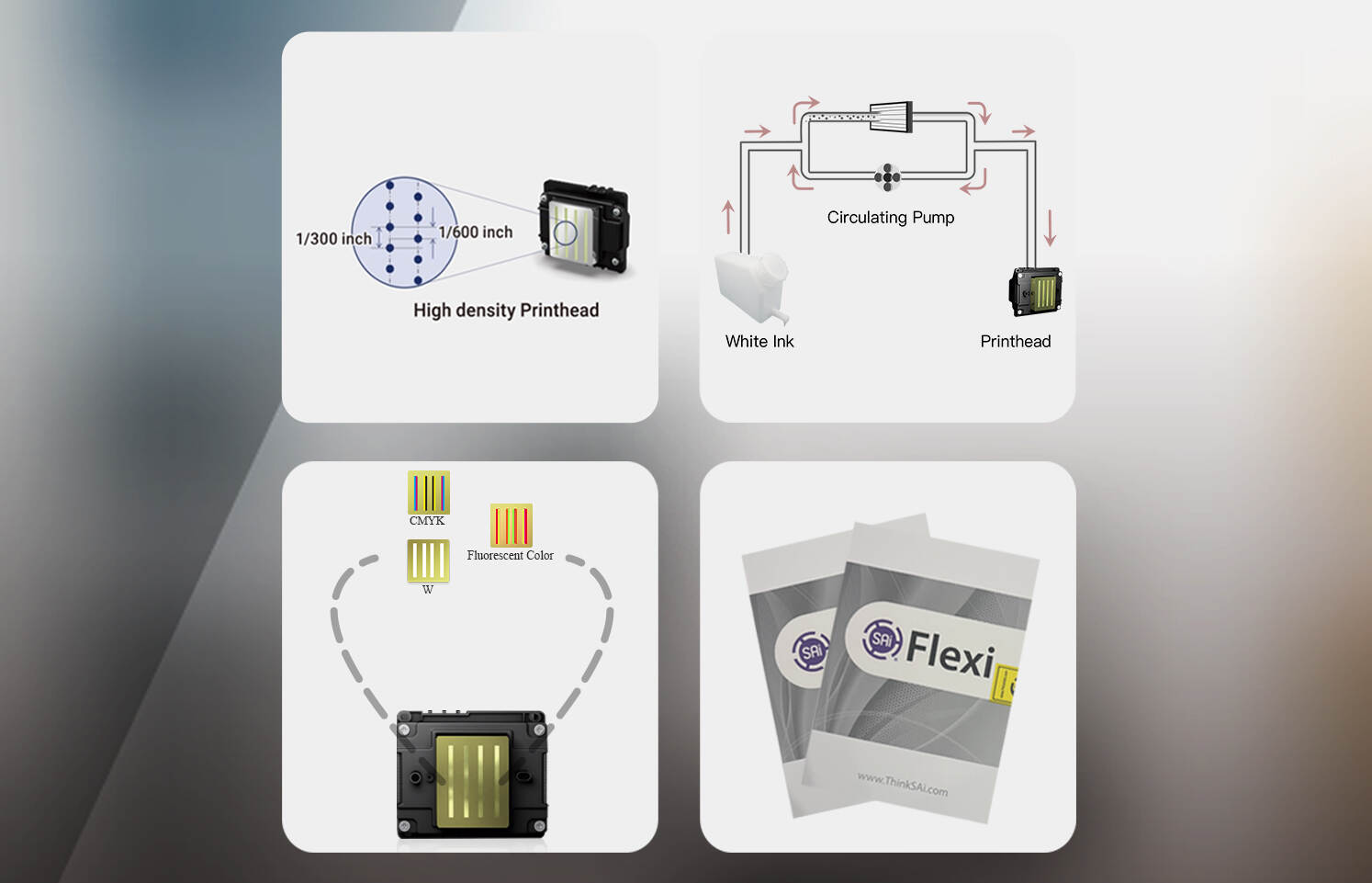 Product Details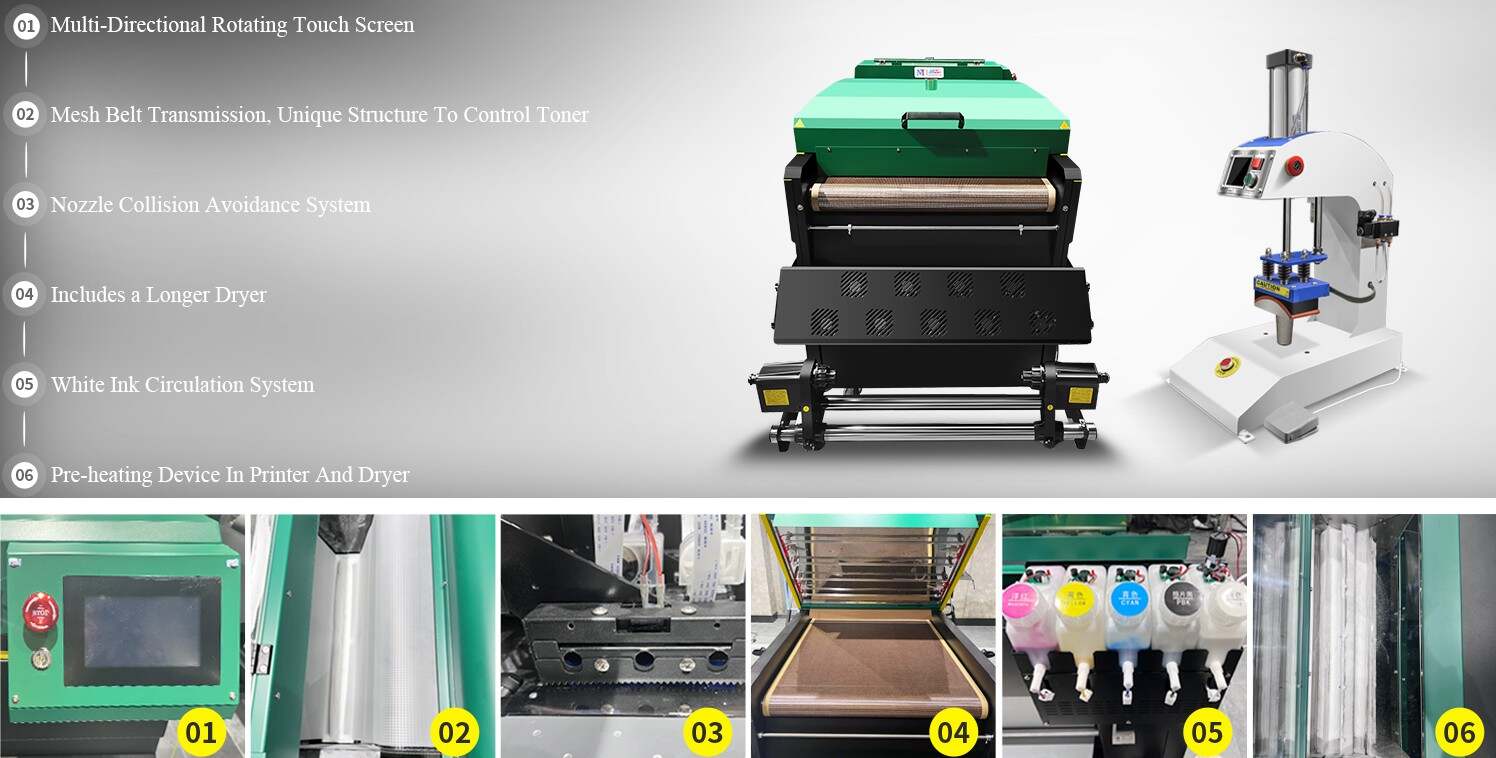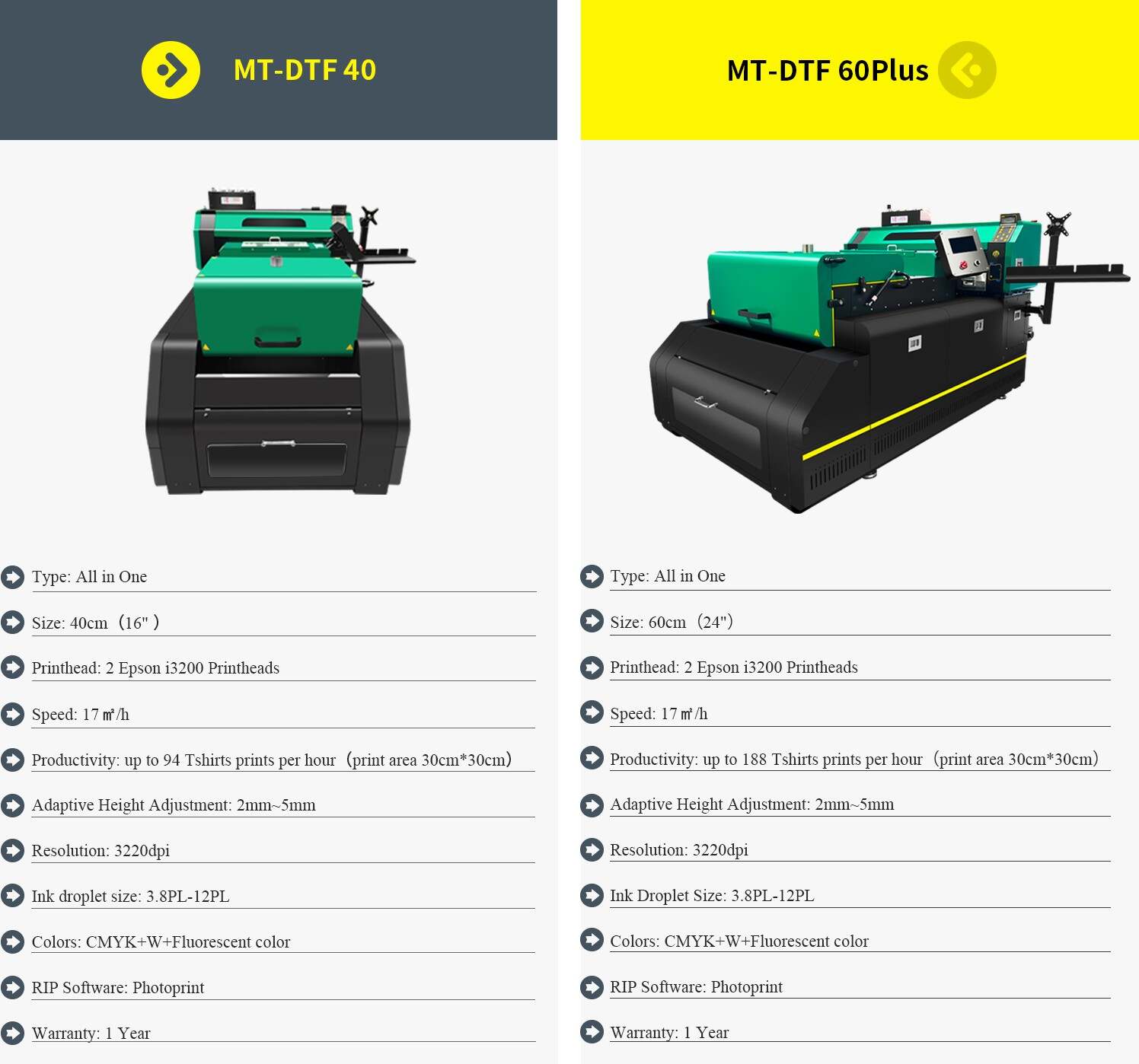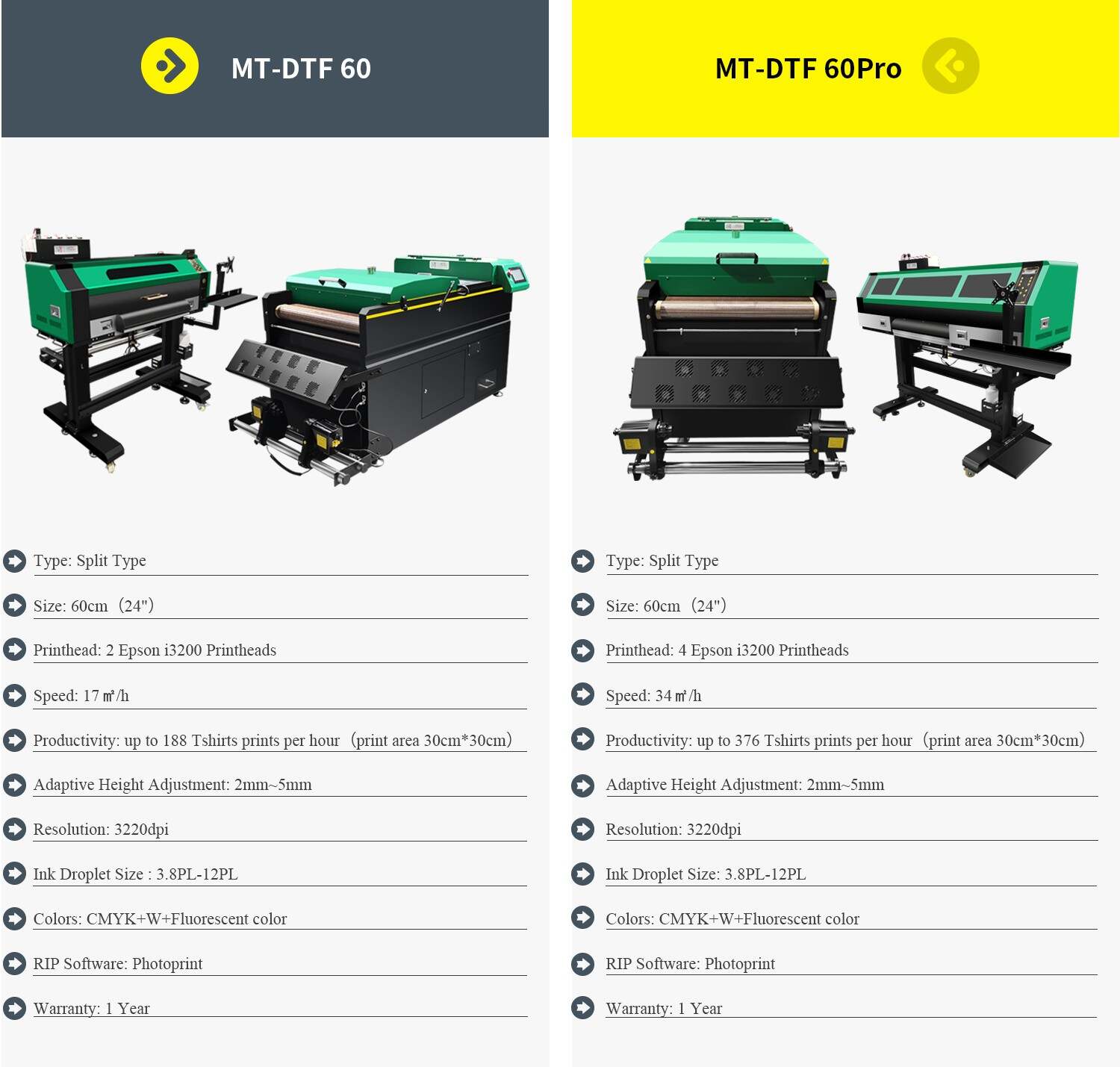 Introducing the MTuTech DTF Printer System (40cm/60cm print width, 2/4pcs Epson i3200 printheads)
Purchase Includes:
40cm /60cm(16''/24'') Printer System including RIP software

H650/H6501 Powder Application Machine (High Efficiency, New Generation Unit)

REMOTE TRAINING AND ABROAD SERVICE *

Specifications


| Model Type | DTF Printer MT-DTF 40 |
| --- | --- |
| Printhead | 2pcs Epson i3200 Printheads |
| Number of Nozzles | 3200 Nozzles |
| Resolution | 3200dpi (Max.) |
| Color | Cyan, Magenta, Yellow, Black,White,Fluorescent Color |
| Resolution | 3200dpi (Max.) |
| Height of Printhead | 2-5mm |
| Height of Printhead | 3.8PL-12PL |
| Max. Print Width | 400mm |
| Max. Media Width | 400mm (Max.) |
| Printing Speed | 34Sq.m Per Hour |
| Applications | Suitable for all kinds of fabrics, leather, bags, shoes,hats, socks, masks, gloves, plush toys, knitted underwear, swimsuit, handicrafts and other industries. |
| Media Feeder | Yes |
| Media Take-up | Yes |
| Auto Cleanning System | Automatic Cleaning And Moisturizing Spray Flash Function |
| Printing Environment | Temperature: 20-25 Centi Degree, Humidity: 40-60% |
| Interface | HI-USB3.0 |
| Power Voltage | AC220-240V 50-60HZ |
| Operation System | Windows 7,Windows 8,Windows 10 |
| Control Software | Print Manager |
| RIP Software | Maintop/Photoprint/Wasatch/Print Factory |
| Picture Type | AI/EPS/PDF/PSD/FS/PD/JOB/CUT/JPG/JPEG/FPX/PCD/PCT/PICT/WMF/PRT/PLT/2PS/FJB/PRN/TGA/TIF/TIFF/BMP/PCX |
| Printer Dimension | W2100 * D1140 * H1164mm |
| Packing Dimensions | W2305 * D1092 * H1101mm |
| Gross Weight | 300kgs |
| Net Weight | 210kgs |