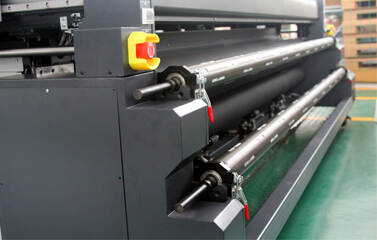 7. Ink Temperature Control System
The UV Flatbed Printer MT-H2512R Equipped with automatic heating system, was installed and Which Belonged to ink supply system. It can make the UV ink to be in the best situation at a constant temperature to Obtaining the best printing quality for clients!
8. Independent Power Supply System
Under this Function, the negative pressure system can still work continuous with the Independent Powerful Battery when the UV Flatbed Printer power cut. Therefore, this function can save big volume UV ink.
Industries Application of MT UV Flatbed Printer
UV Flatbed Printer can be use for various industries, such as building decoration industry, glass industry, mark and sign industry, exhibition industry, rigid paperboard packing industry, leather, art-ware industry, furniture industry etc.
And for more applications, the UV printing materials could be: glass, ceramic, ceiling, aluminum sheet, wood board, door sheet, metal panel, billboard, acrylic panel, Plexiglass, paper board, foam board, PVC expansion board, corrugated cardboard, flexible materials such as PVC, canvas, cloth, carpet, reflective film, leather, Aluminum Panels, Wall Panel, PVC Panels, Organic Board, Ceramics, Chevron Board, Metal Board, fiber board, Plastic, Brick, Stone, Home and Office Decoration, Electric Appliances Shell, Wall Decoration, Furniture, Tile, Gift, 3C Product, Oil Painting And Fresco, Sliding Door And Wood Door, Wedding Photography and all kinds sheet materials and coiled materials, etc.