Let's guess something about you. You are here because you want to start printing on polyester fabrics but don't know which solution is best. Or you already print on fabrics but wondering "which solution is best for polyester fabric printing". Worry no more as your answer is right here!
As technology advances in the printing industry, so are techniques. The amount of fabric printing procedures has changed and increased since ancient times. Every material now has a printing process that best suits it. However, the type of printing procedure you choose will depend on several factors. Such as your multiple design demands, production efficiency demands, model costs, type of fabric (whether cotton, polyester, or poly-blends), ink type, or durability. They are all the important factors that may affect how you'll choose your fitting solution.
But since today we are focusing on polyester fabric printing, this article will analyze the different types of printing techniques and which is best for polyester. Let's begin!

The dye sublimation printing process is the best printing method for polyester fabric. Though it works for other types of cloth that are poly-blends, however, you can't go wrong with it on polyester fabric. It works best with 100% polyester fabric, as the finished product is brighter and more vibrant. But you can still use it on poly-blend with 65% polyester and poly-blend with 50% polyester to get a vintage type of look. When purchasing a printer for your dye sublimation business, always remember that it works best for 100% polyester and 65% poly-blend fabrics. So, if your fabric contains 50% polyester, the direct to fabric printer is the best.
What is dye sublimation, you may ask? The process, although relatively new, has quickly gained traction among printers in the apparel industry. Dye-sublimation printing or sublimation printing is a technique whereby heat is applied to a transfer paper that has been printed with solidified dye. Once the solidified dye gets heated, it turns into gas; it penetrates the polyester fiber to produce a design.
When using dye sublimation, ensure your printer's nozzles are free and flowing. This is to prevent banding. Banding is when the finished product has a line of missing ink. Also, ensure that moisture doesn't get into the sublimation process, which will surely cause unwanted results. The last thing to avoid is to ensure the fabric is properly fixed on the machine to prevent shifting and causing gassing out.
Tips
· Whenever possible, always use 100% polyester fabric. This is because the fiber readily absorbs the dye during sublimation to give you a colorful, vibrant, and crisp design.
· Ensure that the heat temperature is set correctly to avoid shrinking your material, thereby distorting your design.
· Make sure your image is clear so that the finished product will be sharp.
Pros
· Beautiful colors that last long: due to the properties of the polyester fabric material, the dye during sublimation bonds well to the fiber. Producing long-lasting vibrant colors.
· It is fade-resistant and can endure several washing times and wear and tear. The printed images are not just on top of the fabric; rather, it is integrated with the polyester fibers.
· The process is eco-friendly as water isn't used in the process. Therefore zero water pollution.
· No need for extra curing or wet washing after printing as no chemicals were added to the polyester fabric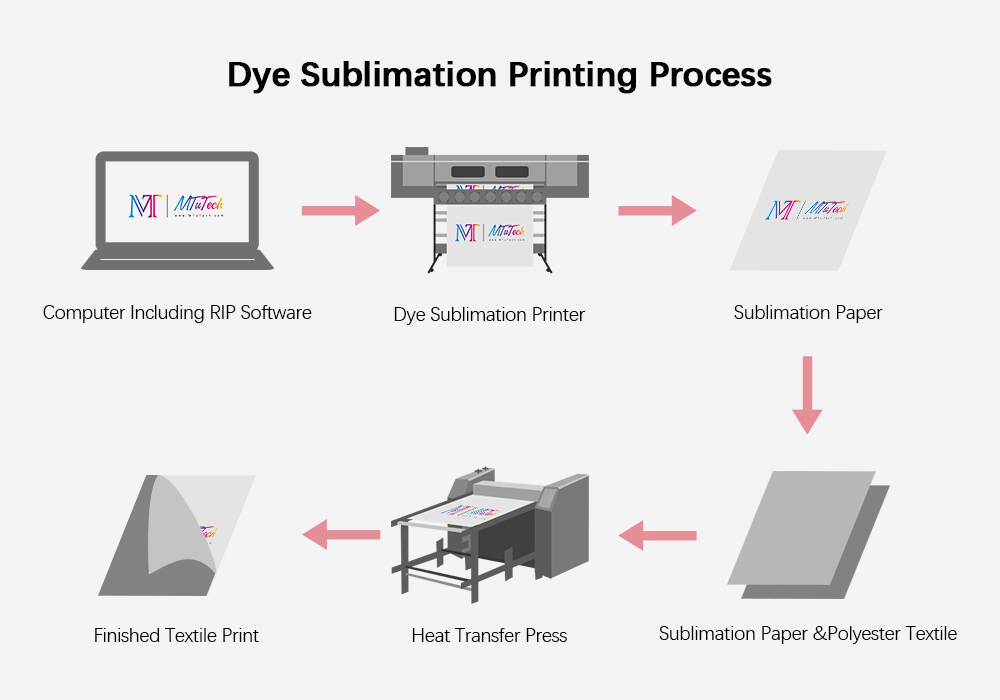 Polyester is a popular fabric option for designs and fashion. So yes! There is such a thing as polyester fabric. Polyester fabric is a synthetic fiber woven to give a durable, inexpensive product. Also, polyester and its blends are among the most popular artificial fabrics.

Of course, there are many different types of fabrics out there. However, to fully grasp why some printing processes are more suitable for polyester fabric than others, you need to understand the polyester fabric itself.
The polyester material is a synthetic fabric made from ethylene glycol and terephthalic acid polymerization. The two compounds are melted together to create polyethylene terephthalate (PET). This PET is then forced through a spinneret to form a semi-crystalline fiber in nature. The fibers are treated and then woven to produce the polyester fabric.
Other types of polyester material include poly-1, 4-cyclohexylene-dimethylene terephthalate (PCDT) polyester is produced using a similar process to PET. However, apart from the standard chemical used in PET, PCDT polyester also has glycol reacted with dimethyl terephthalate. In addition, there are also some differences in the production process.
The other type is plant-based polyester. And just like its PET and PCDT polyester counterpart, it is also made of ethylene glycol with dimethyl terephthalate. However, for PET and PCDT, the chemical is petroleum-based, while plant-based sources like cane sugar provide ethylene for plant-based polyester.

Every fabric, be it organza or velvet fabric, has unique features that make it appealing and stand out. For polyester fabrics, its unique characteristics include:
· Cost effective: Polyester fabric are generally cheaper than cotton. Although it comes with its high and low prices, its cost on average when compared with other natural fibers is low. So, if you are starting your business and searching for a less expensive printing solution, go for polyester.
· Durability: Polyester fibers are some of the strongest in the fabric industry. This means that they don't tear easily or peel like other natural fibers such as cotton does. Polyester fabrics can withstand abrasion for washing and don't wrinkle with little care required. This factor contributed to its popularity as outdoor clothing.
· It doesn't soak in moisture: polyester fabric is resistant to water due to its nature, and it is also stain-resistant.
· Wrinkle-resistant: Unlike its natural fiber counterparts like cotton, polyester doesn't wrinkle. This means that it doesn't require ironing and will effortlessly hold its shape, rigidity, and drape.
· Polyester fabrics are not biodegradable: Polyester doesn't break down easily, which has a huge negative environmental impact.

Polyester fabrics have a variety of uses, and in the fashion industry, their benefits span across;
1. Apparel for outdoor gears: Polyester fabrics' durability and moisture-resistant feature make it a great choice for outdoor clothing. A good example is the Parkas, which is made from polyester.
2. Microfiber fabric: Poly-blends and polyester are the main compositions of micro fabrics. Although micro fabrics are not strictly meant for fashion, they are still desirable.
3. Upholstery: Polyester is also a popular choice for home furnishing and décor.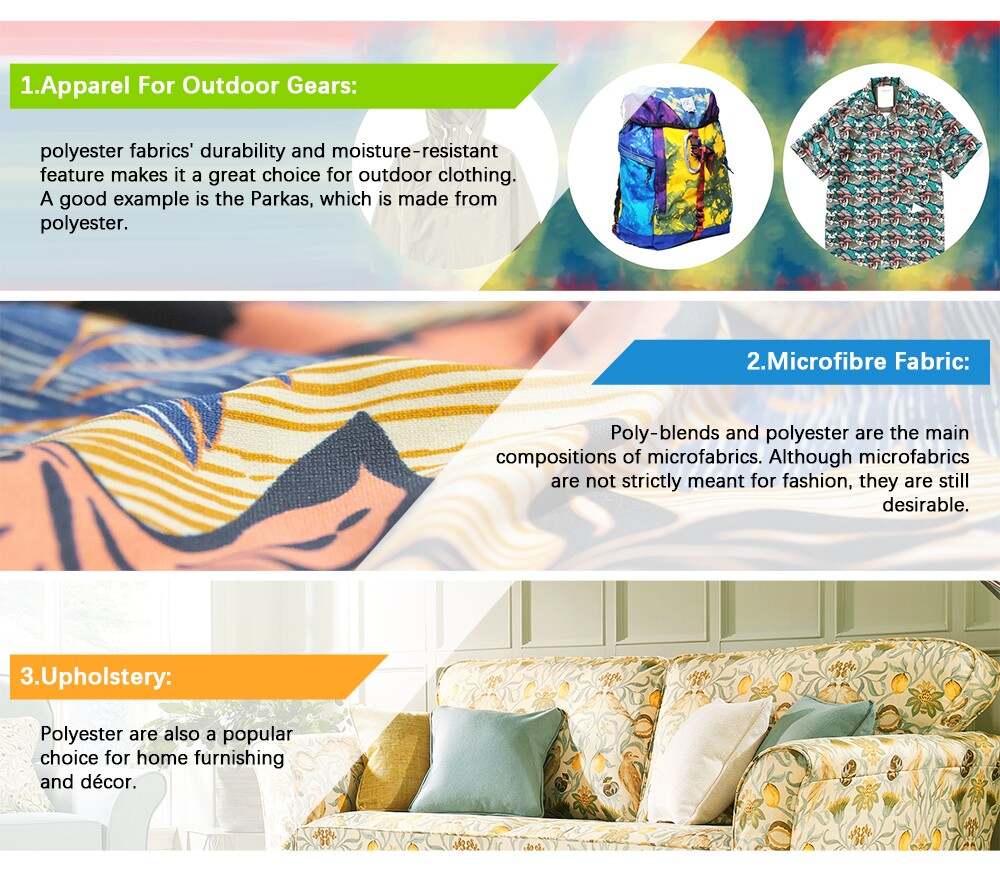 We have already established that the dye-sublimation printing process is the best for polyester fabric. This, in turn, means that the large format dye sublimation printer is what you need for your printing business. However, there are a few things you need to consider when choosing a printer for your business. And they are:
· Print size: the size of what you intend to print with the machine determines the kind that's best for you. For example, are you into T-shirt printing, panels for fabric making, or making materials used for cutting and sewing? So you see, the bigger the intended print, the larger the required printer.
· Cost: if you are new to dye sublimation printing, it's best to go for a less expensive machine that's easy to operate. Once you understand the technicalities, you can always upgrade.
· The number of colors: some dye sublimation printers come with a limited number of colors while others come with an array of colors such as CMYK and fluorescent colors . These colors produce a highly saturated rich print output. It would be best to have this at the back of your mind when purchasing one.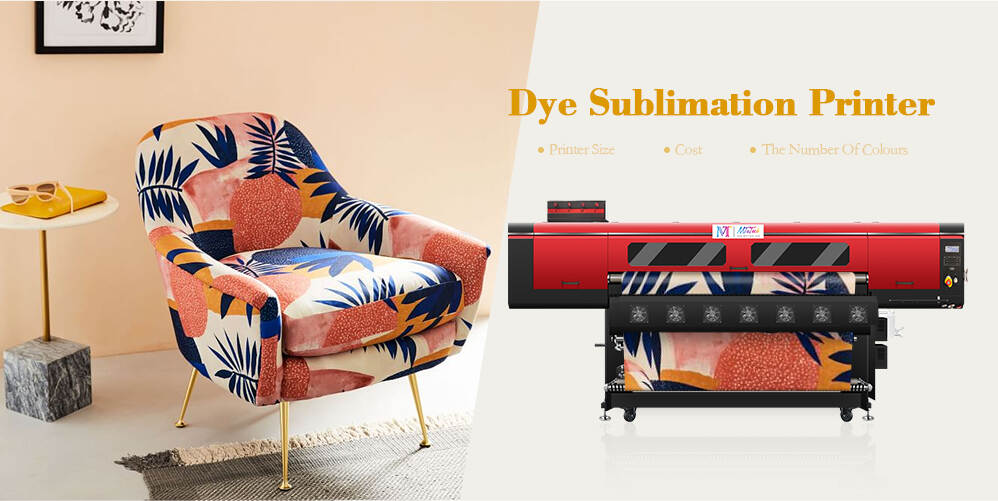 The best solution to polyester fabric printing is dye sublimation to ensure the perfect result every time. It's a match made in heaven! We hope this article is as helped you as much as we intended.
If need any support for your printing solution , try to contact us now ! We are online for you to get reach out!