Description
1. One Way Vision Printer is also called eco solvent printers!

The contra vision transforms glass with one-way vision graphics that cannot be seen from the other side. The graphics are used for advertising, branding or to achieve decorative effects. They also provide privacy and solar control benefits to people inside buildings and vehicles without blocking their view outside. MT produces this kind of one way vision printer!
The contra vision effect is most commonly achieved by applying a self-adhesive window film to the glass. The film contains areas of printed graphic (a print pattern) as well as unprinted see-through areas covering up to 50% of the film. When looking at the side with graphics, the eye is drawn to the printed colors because they reflect more light than passes through the see-through areas (provided the lighting on the outside is brighter than the inside).
The secret behind the one way vision effect is ensuring the printed graphics are obscured or hidden from the other side of the glass. This is best achieved by having a black "backing" which covers exactly all the printed areas on the one way vision film without blocking the see-through (unprinted) areas. When looking through the reverse side of the film, the view coming through the film is dominant because the black layer absorbs light and is less apparent to the eye.
One Way vision film is a product which allows you to print onto the surface with eco solvent ink by one way vision printers and then apply the printed face to the inside of the window. It means there is no need for an over laminate. Additionally, as it is applied on the inside of windows, it is now easy to advertise on high rise windows, letting light in and still permitting advertising on the window. Internal one way also saves on over lamination expenses as the window acts as the protective film and prevents dirt being caught in the perforations. More importantly, as the one way vision film is on the inside of windows on shop fronts, it means the advertisement is proof and the sign lasts longer.
One Way Vision uses micro-suction technology instead of adhesive that allows ink adhesion and is suitable for all solvent and eco solvent digital inkjet one way vision printers. Being a high tech film special printing and installation instructions apply. Please check the one way vision printer instructions prior to printing.
One way vision film printing can be a great opportunity to make use of the glass space for branding and advertising. We come up with creative one way vision, frosted and clear film design ideas. Our graphics designers create unique designs and print it on glass one way vision films that look trendy, yet elegant. Whether you own a hotel, bank, office, retail outlet, or restaurant, one way vision printer prints the best graphics. We pay special attention to your privacy and obscure sun glare inside the premises. MT can help you install the one way vision printer and prints the frosted films on windows inside and outside the office or retail store. Frosted and clear film signage printing is becoming popular these days. Giving one way vision, they add an amazing look and feel to your premises. One way vision printer can also print full color graphics onto frosted to make it look attractive and beautiful. Even if you want to incorporate your logo or brand image on the one way vision printers, we can do that as per your requirements. You can be assured that you will get nothing but the best solutions for one way vision printing on frosted and clear film!
2. Mesh Printer is also called eco solvent printer!
Unlike flex banner and vinyl banners (which require wind slits for the vinyl if it is to be used outdoors), the weave or interlaced fabric of a mesh banner is breathable; it will actually allow air to pass through the mesh weave. This makes mesh banner printing ideal for installations in any outdoor location, even if it is quite windy. And, since mesh won't tear like vinyl does, mesh printing generally last much longer.
Even though the criss-crossed weave can make the mesh slightly transparent, fully color mesh banner printing with graphics, images and text is still possible by mesh printer. As well, mesh banners can also be finished with hemming and grommets similar to flex banner and vinyl banners. With today's capabilities for large format printing by mesh printer, you can now find mesh banners commonly used as fence wraps for sporting events and on construction site fencing. Below is an overview listing a few other advantages of mesh banners printing versus vinyl banners printing.
Mesh Banner printing Advantages
Whether you should custom print your advertising on mesh or vinyl will really depend upon several things including where and how your banner will be located or installed, how long it will be displayed, and whether or not you need the image to show on double sides of the banner.
Mesh banner wind load is higher than that of vinyl banners ideal for outdoor installations as:
Construction site mesh banners
Builders mesh banners
Fencing mesh banners
Hanging mesh banners
Over the street mesh banners
Scaffolding mesh banners
Mesh banners are typically composed of 70% vinyl and 30% mesh. This makes them lightweight, durable, and they generally outlast vinyl if kept clean and properly stored. A longer life span also means that mesh banners can also be repurposed more often than vinyl.
While printing on vinyl can be less expensive than printing mesh banners, vinyl is more susceptible to being torn or damaged in high winds or severe weather locations.
Feature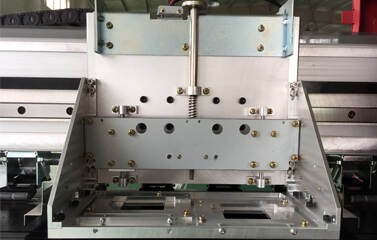 1. One Way Vision Printers equipped with Xaar1201or Epson DX5 printhead or Ricoh Gen5 printhead, Standard printing with double heads to meet the demand of high resolution and faster speed (Max. four printhead).
2. Mesh Printers through different quality tests, which is stable and competent enough for mass production requirement.
3. One Way Vision Printers equipped with intelligent infrared heater and fan drying system.
4. The LED UV printing system is optional; you may upgrade One Way Vision Printers to a LED Roll-To-Roll UV Printer once demanded.
5. Mesh Printers adopt Aluminum-Alloy girder, which is the most strongest and smoothest than other metal materials, which ensure high precision printing quality.
6. As a top quality One Way Vision Printers adopt THK 20mm width linear guide rails with double-slider and sound off function, more durable and reliable for high precision printing.
7. Mesh Printers own strong heavy-duty machine body (double stands and feet composite without any shake during printing) ensures stable printing and long time working.
8. We provide automatic feed in and take up system for One Way Vision Printers, especially adopt all-aluminum dual power take up system to carry and collect the whole weight of media more stably and easily. Professional soft film collecting and feeding system is optional too.
9. Mesh Printers equipped with intelligent media sensor that always tests media before media is going to running out.
10. Anti-collision system was also equipped on One Way Vision Printers. When the sensor installed on the both sides of the carriage, which automatic detect any force on the carriage way going, the carriage will initiate an immediate stop to protect the printheads from unexpected damage.
11. Automatic capping system is easy operation and maintenance for Mesh Printers.
12. Bulk ink supply system is standard option for this One Way Vision Printers, which is setting on the top of printer, easy to monitor ink level and easy ink refill.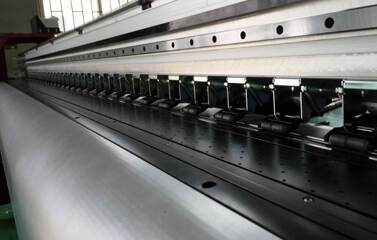 13. Mesh Printers adopt USB 2.0 interface control system that get better large data transfer and anti-signal interference. Otherwise, it is also supporting windows7/64bit system.
14. One Way Vision Printers adopt metal optical cable, which connects from mainboard to carriage board to make sure fast and stable data transit.
15. Mesh Printers equipped with two original Leadshine Motor Control, which provide more stable quality and better efficiency during printing.
16. One Way Vision Printers adopt new variable size droplet technology, six or more variable droplet printing size provide the highest printing resolution up to 2880dpi.
17. Mesh Printers benefit from VSDT technology, the smallest droplet can reach to 1.5pl and the maximum can reach to 27pl, which presenting perfect printing quality.
18. As the top quality One Way Vision Printers n China also adopt widened 65mm Multi-touch pinch roller system instead of 40mm pinch roller, which is 25mm wider than normal pinch roller. This 65mm pinch roller system can provides excellent control of media feeding; ensure high precision of large format eco solvent printing.
19. 3.2m Mesh Printers standard equipped with two types of feed in & take up system for choice. One is heavy-duty feeding & collecting system, used for printing one whole 3.2m roll of material, especially for printing outdoor flex banner with high precision; the other is light-duty feeding & collecting system, which can print two rolls of material at the same time. You can choose one roll of 1.52m and another roll 1.27m or double roll of 1.27m for same time printing. The two systems can be switched through push-pull easily, both with auto deviation-rectifying device, ensuring wide format printing high precision.