Description
Ricoh UV Flatbed Printer MT-UV1611GX is new generation of large flatbed UV printer with Ricoh G5 grayscale printhead which supports grayscale printing technology and various white printing model! Such as, automatically covering white, printing white, color to white transition! It can be adopted max 6 pc industrial Ricoh G5 printheads. The advantage of this UV Flatbed Printer MT-UV1611GX includes wide format printing, high speed, high resolution and lower cost for maintain! It has durable working precess for mess production with ultra high precision output by 5 colors, but only with lower failure rate! There are no plate making and MOQ were requested while printing, it can adapt to various environment.
Ricoh G5 UV Flatbed Printer MT-UV1611GX is easy operation control by computor and without printing post process. This flatbed UV printer provides 5 colors (CMYKW) with excellent printing quality. It adopted industrial grade Ricoh G5 printhead to improved high production capacity which can be achieve more than 10m²/h. The LED UV curing lamps are suitable for many kinds of materials which can speed up printing efficiency. Compare to the other printing performance, Epson UV Flatbed Printer can achieve the lowest cost, but gain the highest benefit!
Feature
16 Advantages to choosing MT LED UV Flatbed Printer!!!
1. Highly Precise Aluminium alloy Frame Structure And Printing Platform
The Ricoh G5 Flatbed Printer MT-UV1611GX applied all Aluminium Alloy frame structure for machine body; better-structure frame made it highly stable and highly precision that ensures equipment more stable and durable for a long time. Otherwise, the aluminum alloy printing platform which made by imported processing equipment that provides highly accuracy and outstanding durability.
2. Circumfluence Protect System
The Ricoh G5 Flatbed Printer MT-1016G equipped with Circumfluence Protect System. This function will automatic stop bulk ink supply when it detects the UV ink flow back from the ink tube to negative pressure system which ensures and protects negative pressure system security!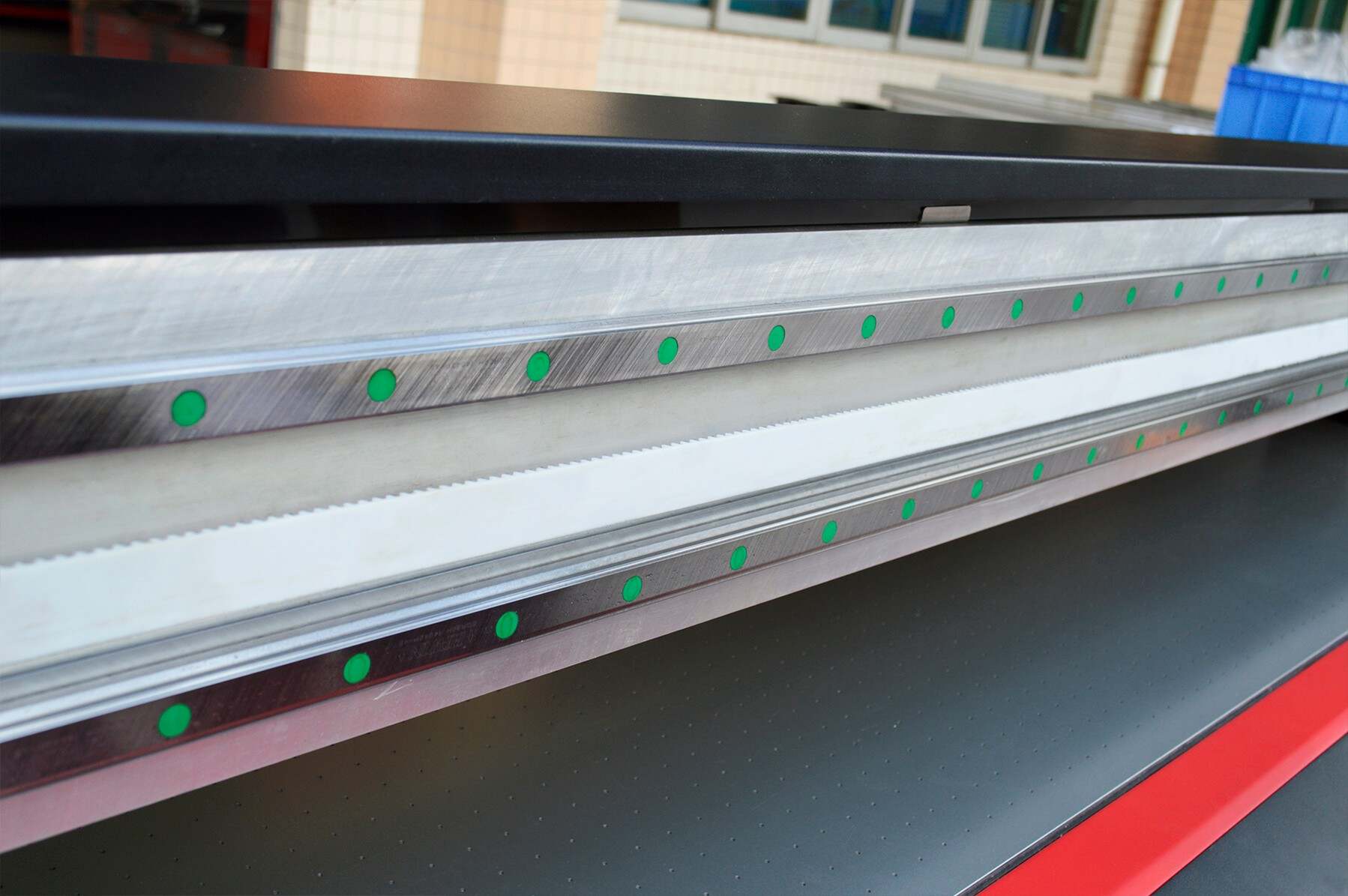 3. Continuously Printout Function
This is a easy function to help you save time. Enter the number of copies for the project and press the continuous button in the software then the UV flatbed printer MT-UV1611GX will start printing uninterrupted and automatically under a mess production model.
4. Carriage Anti-Collision System
The Ricoh G5 UV Flatbed Printer MT-UV1611GX equipped with unique carriage anti-collision system which is sensitive and accurate Auto-stop to protecting printhead that avoids any chance to damage UV printhead and carriage by any misoperation. It will automatic restart printing after the media flat and smooth to minimize printing failure rate!
5. Imported Spare Parts
The Ricoh G5 UV Flatbed Printer MT-UV1611GX adopts imported Servo Motors, guarantee mechanical precision and long duration working. It also provides high resolution, accurate printing position, high stabilization and longer lifetime. Otherwise, X-axis equipped with Germany-Imported IGUS Drag Chain that is ideal protection for data cables and ink tubes under high speed printing model.
6. Printing Height Automatic Measure Detect System
The Ricoh G5 UV Flatbed Printer MT-UV1611GX equipped with printhead height auto-control and media thickness auto-detect Function which can automatically appropriate adjust carriage according to the thickness of the rigid materials. It adopts Z-axis raster positioning and automatic altimeter. The automatic printhead height adjustment can increase productivity! Therefore, this system makes printing simpler and working easier to deliver a smooth printing of various rigid materials. The workable printing material thickness is up to 75mm.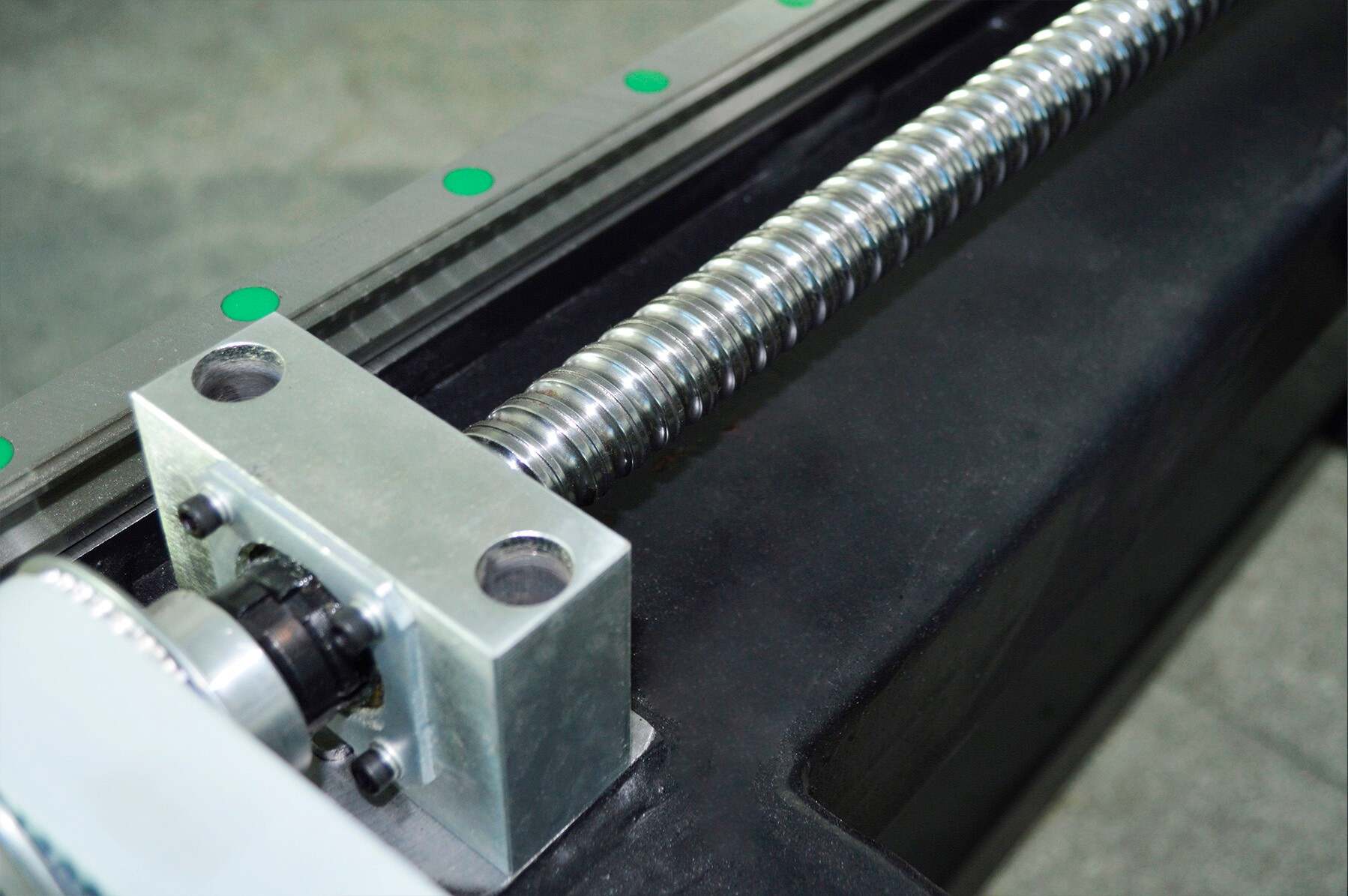 7. Sectional Vacuum Suction system
The Ricoh G5 UV Flatbed Printer MT-UV1611GX equipped with vacuum suction controlling function; it can be adjusted the suction area and air quantity for sucking different printing materials. this function makes different material printing easier and more efficient.
8. THK Mute Linear Guide Rail
The Ricoh G5 UV Flatbed Printer MT-UV1611GX adopts imported Highly Precision THK mute linear guide rail that has long service life (more than 10 years without maintenance) and highly stability! It is immensely decrease printing noise which only up to 40Db.
9. Dual Negative Pressure control System
There are independence Automatic negative pressure control system equipped with Ricoh G5 UV Flatbed Printer MT-UV1611GX for white and colors ink supply system. It doesn't need adjust the negative pressure system manually which can keep the pressure balance during white and colors printing to guarantee UV ink output stability!
·
10. Automatic Flashing Spray function
Flashing spray function can be used during the Ricoh G5 UV Flatbed Printer MT-UV1611GX working and standby, save time, save energy, save ink and extend the life of Epson printhead. Because this function keeps all nozzles unobstructed continua 24 hours working and always maintains printhead clean to reduce risk of clogging!
11. The LED UV lamp Power control System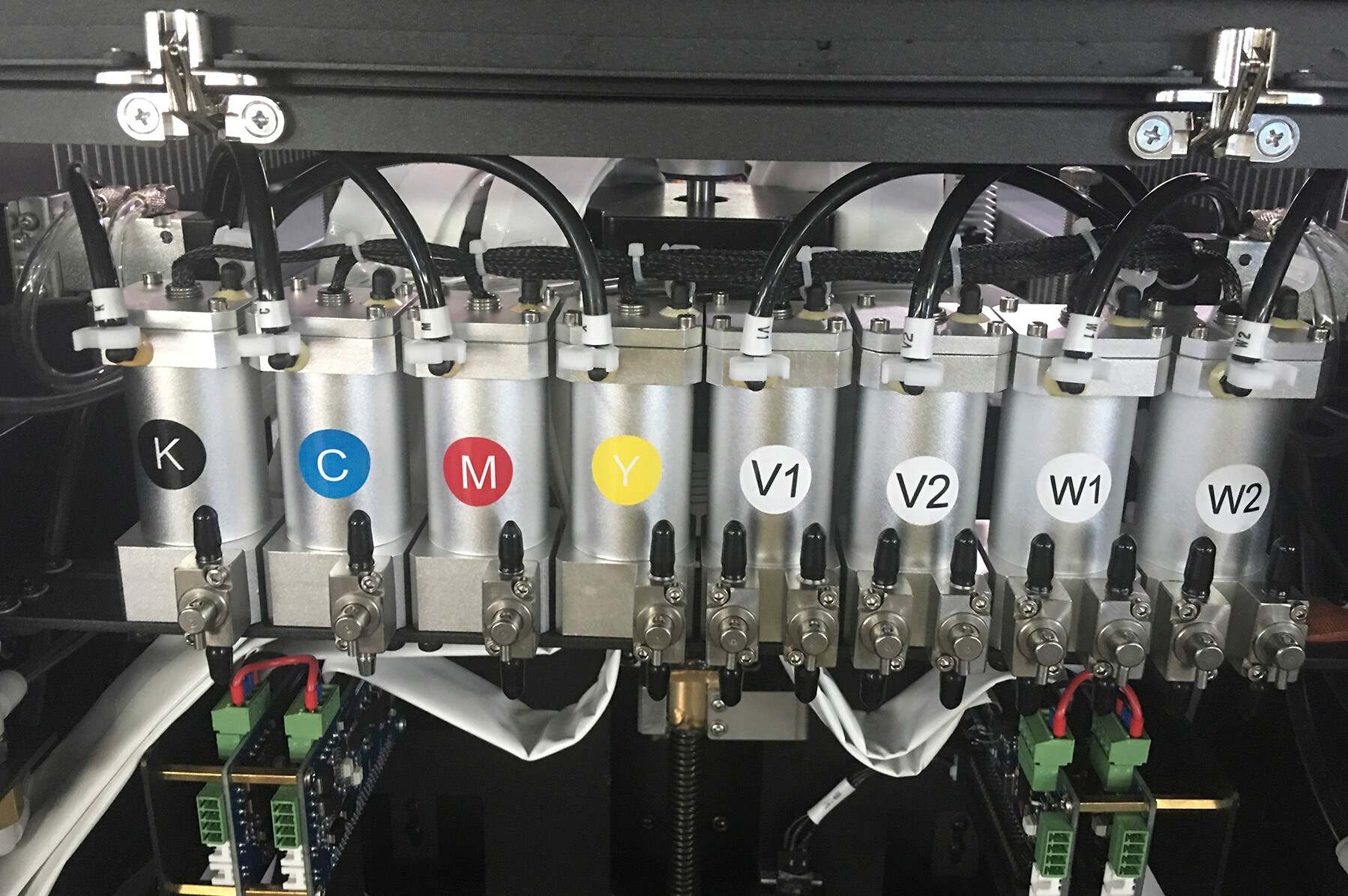 The Power of dual LED lamps can be adjusted, which provides excellent UV ink Curing and energy saving. Therefore, there is non-deformation and non-cracking after printing, but printout rapid curing with long lifetime!
12. White and Spot Color Option
The Ricoh G5 UV Flatbed Printer MT-UV1611GX can printout spot color and white optional! White and spot color printing system also provides three layer pattern printing same time model, so that white based, embossed and color covered white can be printed at same time. This way makes colors vivid and bright-colored. In addition, it also makes printout with stereoscopic texture and improves printing speed! The most important is matching white and colors to avoid printing error!
13. Water-cooled LED UV Curing Lamp
MT Industry researches and develops water-cooled LED UV curing Lamp independently; we uses unique technology and high quality accessories which greatly improves the service life and reduce energy consumption for all of our water-cooled LED UV curing lamp.

14. Intelligent Wave Printing Technology
When customers using The Epson UV Flatbed Printer MT-UV1611GX, chooses the Wave Printing from the printer software to avoid the printing stripes and pass lines, which makes LED UV Flatbed Printing more effectively than traditional UV Printing Function.

15. Variable Ink Droplet Technology
The Ricoh G5 UV Flatbed Printer MT-UV1611GX adopts Epson print head which can select variable Ink droplet function to combination based on different printing materials to makes UV printout well-bedded and subtle! This Function is not only increase printing speed, but also save 30% UV curing ink.

16. Professional RIP Software Options
The Ricoh G5 UV Flatbed Printer MT-UV1611GX can be work with much RIP software. The RIP software can compatible with postscript language, Photoshop, CorelDraw, Illustrator, Freehand, and support TIF, JPEG, EPSPS, PDF, and DCS2.0 etc.
Industries Application of MT LED UV Flatbed Printer
LED UV Flatbed Printer can be use for various industries, such as building decoration industry, glass industry, mark and sign industry, exhibition industry, rigid paperboard packing industry, leather, art-ware industry, furniture industry etc.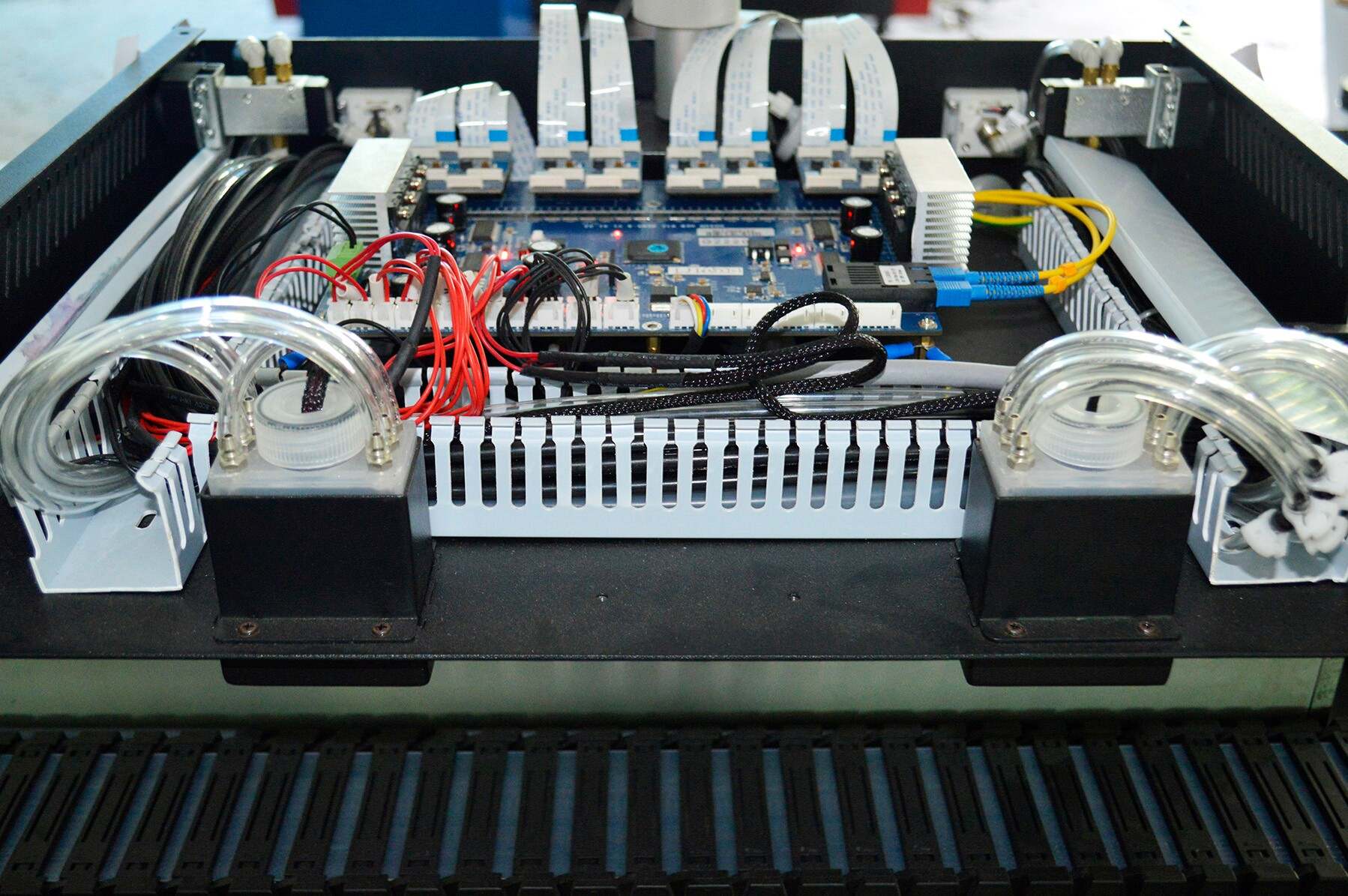 And for more applications, the UV printing materials could be: glass, ceramic, ceiling, aluminum sheet, wood board, door sheet, metal panel, billboard, acrylic panel, Plexiglass, paper board, foam board, PVC expansion board, corrugated cardboard, flexible materials such as PVC, canvas, cloth, carpet, reflective film, leather, Aluminum Panels, Wall Panel, PVC Panels, Organic Board, Ceramics, Chevron Board, Metal Board, fiber board, Plastic, Brick, Stone, Home and Office Decoration, Electric Appliances Shell, Wall Decoration, Furniture, Tile, Gift, 3C Product, Oil Painting And Fresco, Sliding Door And Wood Door, Wedding Photography and all kinds sheet materials and coiled materials, etc.
Product Specification
Mode Type
Ricoh UV Flatbed Printer MT-UV1611GX
Printhead
Ricoh G5/G6 Printheads
Number of Nozzles
2-8 printheads
Printing Technology

Unidirectional, Bidirectional

Resolution
720dpi * 600dpi / 720dpi * 900dpi /720dpi * 1200dpi
Color
CMYK+W、CMYKLcLm+W
Printing Height
0.1-80mm
Printing Weight
1000kg
Printing Size
(1600mm*1200mm)+2mm
UV Curing System
Water-cooled LED UV Curing Lamp
Lifting Function
Intelligently Carriage Lifting Function, Automatic Printing Height Adjusting And Measure Detect Function
Printing Platform
Vacuum Suction Platform
Printing Resolution
720dpi X 600dpi,720dpi X 900dpi,720dpi X 1200dpi
Printing Speed



G5 Printhead:

Standard Output Mode: 21m²/h;

Production Output mode: 14.1m²/h;

High Precision Output Mode: 10.6m²/h

G6 Printhead:

Standard Output Mode: 26.7m²/h;

Production Output mode: 18m²/h;

High Precision Output Mode: 13m²/h

Material
Application Type
Glass, Acrylic, Ceramic Tile, Aluminum, Iphone Case, Plastic, Foam Board, Wallpaper, Wall Art, Sign Advertising, Metal, Paper, Wood, MDF, Furniture, Card, Marble, Golf Products, Gift & Promotion Products, Leather, PU, PMMA, PVC, PP, PE, PTFE, Plexiglass, Panels, Ceiling, Organic Board, Corrugated, Chevron Board, Fiberboard, Brick, Stone, Home & Office Decoration, Electric Appliances Panel, Pottery & Porcelain Tile, 3C Product, Oil Painting, Fresco, Sliding Door, Wedding Photography, Mark And Signs, Exhibition, Etc......
Ink
Type
Import Soft LED UV Curing Ink / Rigid LED UV Curing Ink (Without VOC)
Bulk Ink supply System
1.5 Liter X 6 Colors
Output Life
Indoor 10years, Outdoor 3years
Interface
High Speed USB Transmission
Power
Power Voltage
220V
Control System
Windiw 7, 64 Bit, RAM ≥ 6G
RIP Software
Photoprint
Printing Environment
Temperature:20~32°C, Humidity:40%~70%
File Formats
Tiff, Jpg, Eps, Pdf