Product Description
MT UV flatbed printer MT- UV 6090Pro, breakthrough productivity model for promotional products and specialty items business. Designed with versatility and high-quality productivity in mind, MT- UV 6090Pro is a compact A1 UV printer that consistently produces excellent print quality on both flat and cylinder objects. As our small format flatbed UV printer, MT- UV 6090Pro offers various features to maximize efficiency and minimize costs for small-scale businesses.
With this UV printer, you'll get a specialty solution for your direct-to-object or direct-to-surface printing, which can be used on a wide range of items, including water bottles, wine bottles, tumblers, phone covers, USB drives, puzzle pieces, baby blocks, pens, golf balls, lunch boxes, etc. Also performs well on standard rigid materials like wood, glass, acrylic, MDF, aluminum, Foamex, Correx, and Dibond among many other substrates.

Our UV printer 6090 also works as a kind of UV DTF printer. UV DTF is a great option for anyone seeking for quick and consistent prints without sacrificing quality or sustainability. Let's talk about innovative printing process — UV DTF printing here! UV DTF printer uses UV ink and UV exposure to initially print a design onto a PET film (called A Film). Then, you need to use a laminator to print the design of A Film to a second PET film (B Film). After that, you simply need to use your fingers to press the laminated PET film on the object for a second, then tear off the film as you would with a sticker. No heat-pressing is required. This way, UV DTF printing allows you to print designs on almost all surfaces, and achieve excellent image quality with extreme accuracy and consistency. It's more durable and affordable than traditional printing methods.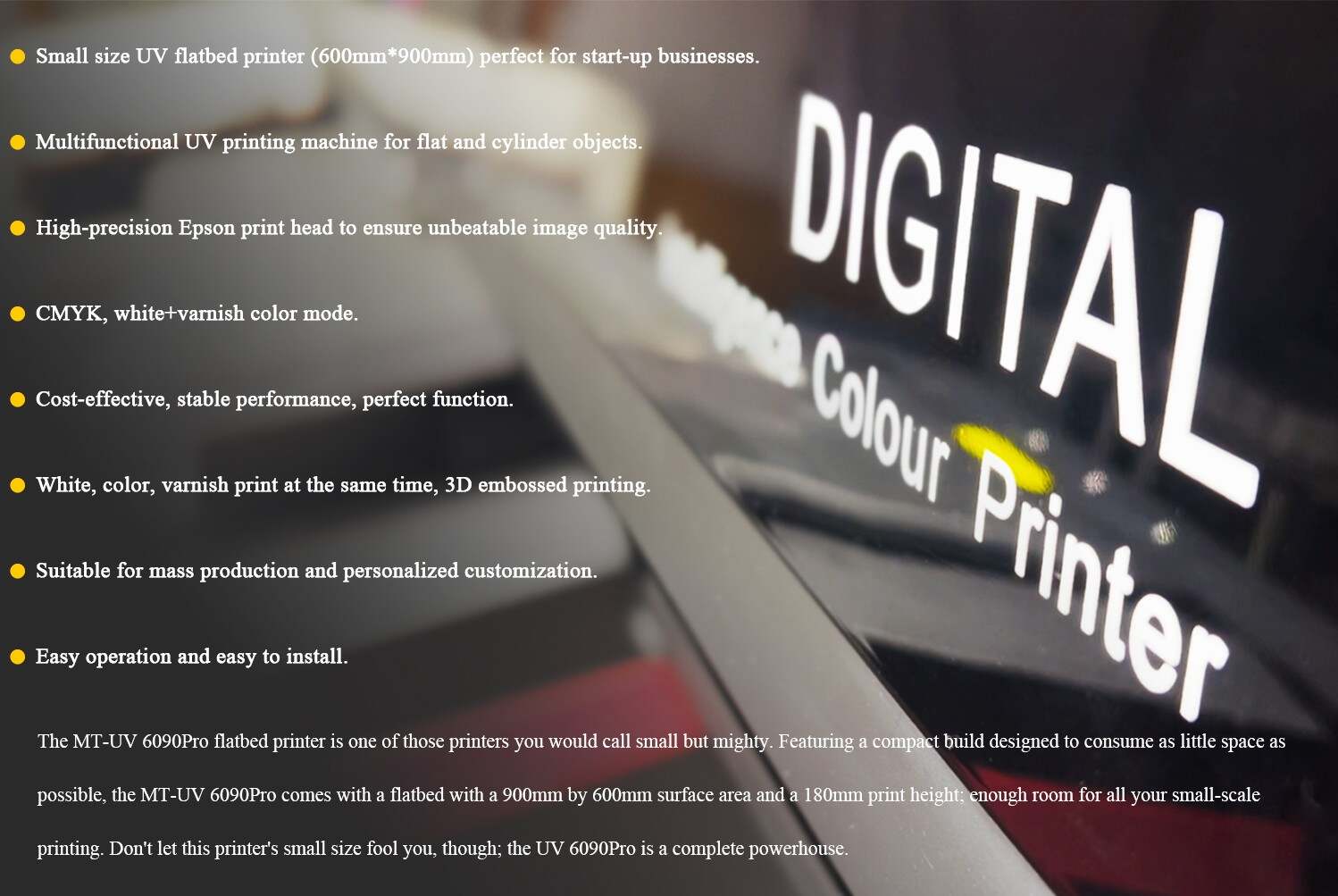 Target Markets
● Advertising Industry
The MT-UV 6090Pro is an exceptionally great choice for use in the small format signage business. It excels in prints direct to substrate and reduce processes by printing direct to metal, glass, wood, acrylic, plastic and more to deliver high quality signs and plaques.
● Electronics Companies
From smartphone and AirPods cases to power banks, small speakers, laptops, and even smaller household items, MT-UV 6090Pro is an effective and efficient choice for printers.
● Design and Personalization Company
Perfect for printing on items for the implementation of designs or the creation of mockups and the personalization of items to fit with a company's corporate identity.
● Packaging Industry
The MT-UV 6090Pro is a perfect tool for printing for the packaging industry. Though the machine's small size limits its use to smaller packages like jewelry and gift boxes. The printer is also superb for making production packages for the cosmetics and skin care industries.
● Bags and Luggage Industry
UV printing technology often creates the most stunning designs on bags and luggage. The 6090Pro's size makes it perfect for handling printing operations on items as small as wallets and purses to larger bags like backpacks, handbags, trolley cases, and even boxes.
Application
The MT-UV 6090Pro has many applications and is effective for various promotional product printing practices. MT-UV 6090Pro offers both direct to object and direct to film printing capability.

Printable Substrates
MT-UV 6090Pro is adequate for printing on various substrates, including wood, plastic, ceramic, glass, metal, and fabric, creating high-quality, long-lasting designs on all these and more. The printer excels at printing on the surface of wooden items and can be used on flat and tapered surfaces. Printing on flat surfaces is done on the device's flatbed, while printing on tapered surfaces is done in the tapered items printing compartment on top of the printer.
With the MT-UV 6090Pro, you can print on phone cases, keychains, bottles, tumblers, AirPods, CDs, puzzle pieces, headphones, glass, acrylic, wood, MDF, metal materials, cosmetic products, gift boxes, and so much more.
Size of Objects to be Printed On

The MT-UV 6090Pro is the small format A1 UV printer produced by MT and features a flatbed size of 900 mm by 600 mm and a printing height of 180 mm. For this reason, it's only designed for printing on smaller items.
Objects to be printed on the MT-UV 6090Pro range from small keychains, lighters, metal tags, and puzzle pieces to larger materials like basketballs, speakers, and other materials that can fit comfortably into the printer. It is important to remember the printer's printing height when considering the size of the item to be printed on and to ensure that it does not exceed the printer's printing height of 180 mm. Make sure the material to be printed on is not a tight fit for the printer to prevent any reduction of print quality.
The machine can only handle items with diameters between 4.5 cm and 11cm for cylinder item printing.

The shape of Objects to be Printed On
The MT-UV 6090Pro is adequate for printing on flat, tapered, or rounded surfaces. It is effective for printing on items with flat surfaces like phone cases, purses, puzzle pieces, pens, USB drivers and so on, as well as tapered and cylinder items like bottles, tumblers, golf balls, candle, etc.

The texture of Objects to be Printed On
The MT-UV 6090Pro lets you print on surfaces of practically any type. From smooth, glossy surfaces like glass or plastics to rough surfaces like textured metal and golf balls, you get premium quality prints with this printer.

Product Features
1. Epson i3200 Precision Print Heads
Equips 2pcs latest MEMS technology Epson i3200 print heads, ensure high-precision and amazing image quality output to meet your needs, makes the UV printer more advanced and more promising.
Each print head accommodates total of 12 channels color & white, designed for cost-efficient head replacement.
2. Optimized Continuous Ink Supply System
Continuous ink supply system (CISS) help to reduce frequent addition of ink. White ink circulation system and ink shortage warning system play a great role to create optimal ink flow and minimized maintenance.
3. UV LED Curing Technology
UV curing is a process that uses electronic ultraviolet (UV) light to cure the ink. Two air-cooled UV LED lamps cure the ink instantly and make it securely adhere to the substrate, with adequate depth of cure without being sticky or flakey, to offer the vibrant and lasting prints.
4. Adequate Print Area and Print Height
The max print area of 600mm*900mm(23.6"x35.4") and the max substrate height 180mm bring more possibilities for various promotional products business.
5. Supports Different Molds
You'll attain a special shape printing solution with this model, optional mold helps you to explore more possibilities. Enhances your productivity for higher capacity and makes it easy to print on various promotional items or other standard materials.
6. Efficient and User-friendly Control Panel
It enables you to access the most used functions:
· Carry out nozzle inspections and head cleanings.
· Automated and manual flatbed height adjustment.
· Bed movement backward and forward
7. Superior Fabricated Components
Kevlar belts and sturdy Leadshine Servo motors were used for this model to ensure durability and long-lasting.
8. Vacuum Bed
The vacuum bed is the most crucial configuration of the MT-UV 6090Pro to guarantee the perfect planarity and keep the print material flat. Thanks to that, you'll get a consistent and perfect print for your print project, even if you print the light, thin material like foam core and corrugated plastic, etc.
9. No Installation Required
While not strictly a feature of the MT-UV6090Pro itself, we use professional mini UV Photoprint RIP software developed by SAI, which takes the printer's capabilities up a notch.
The concept of simple design and user-friendly are fully reflected in this UV printer machine. No installation is required before you use it, and the whole printing process is fully controlled by software. Even if you are fresh in UV printing industry, you can master and operate it at ease.
10. 360°Rotary Capabilities
The UV 6090 opened up a new field of UV printing, no longer being limited to flat object printing. It can also provide satisfactory print results on irregular surfaces such as cylinders and cones, whether in terms of printing speed or the printing quality.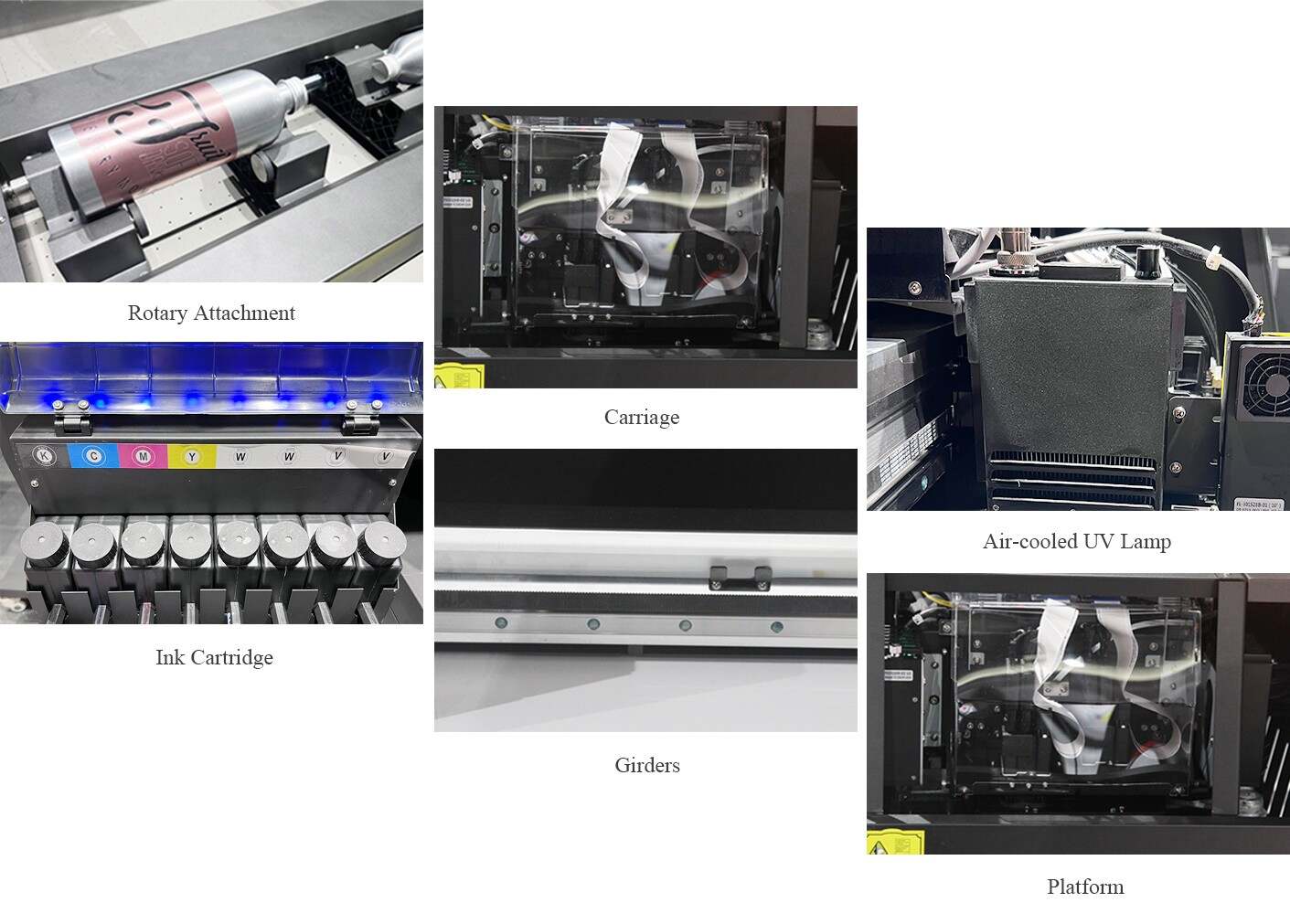 Product Functions
MT-UV 6090Pro comes with all you would expect from a professional UV printer and more.
The printer comes equipped with the following features:
● High Precision Printing with Dual Epson I3200 Printheads
● Multi-Mode Printing

● Advanced Noise Reduction Technology
● Variable Ink Drop Technology
● Automatic White Ink Mixing
● Automatic Cleaning
● Intelligent Control Technology
● Multiple Material and Ink Compatibility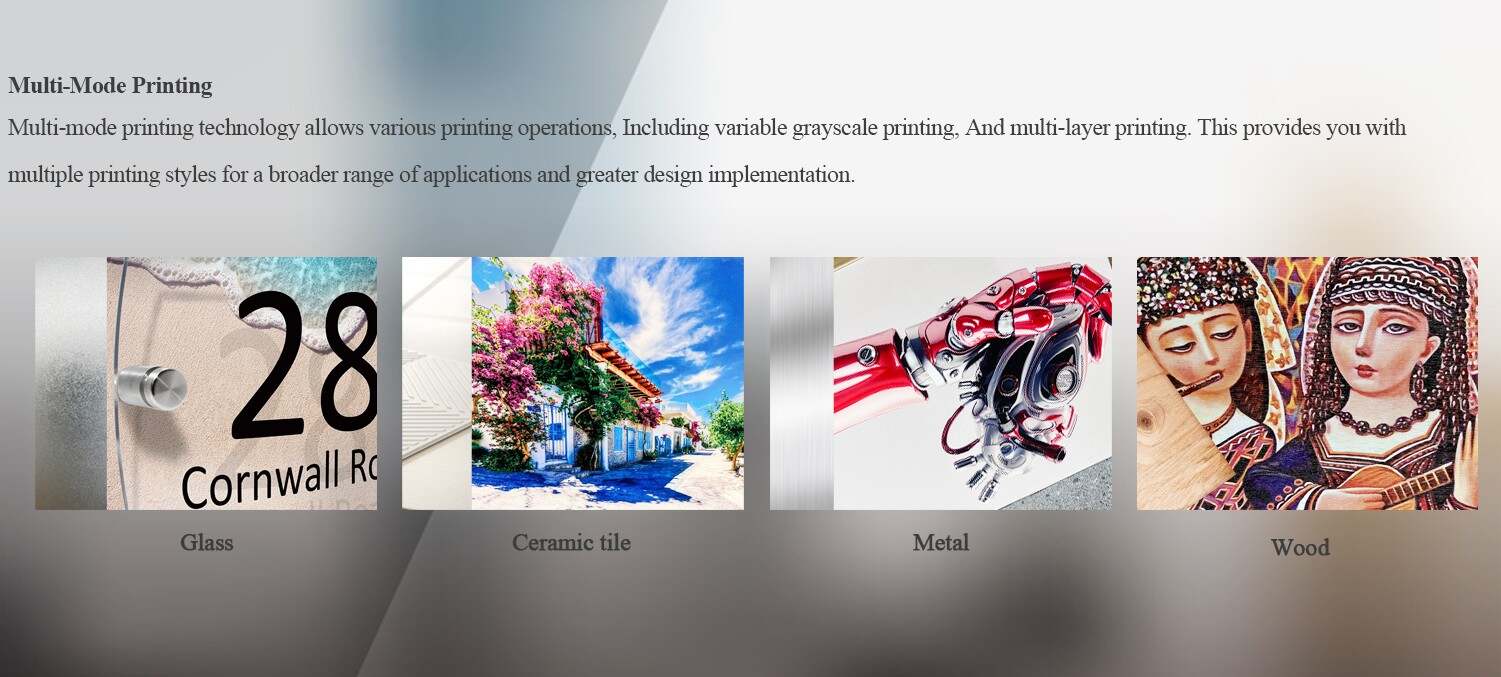 Advanced Noise Reduction Technology
Advanced noise reduction technology on the MT-UV 6090Pro allows for a more silent printing experience. This provides a noise-free work environment that improves workplace conduciveness and the overall atmosphere.

Variable Ink Drop Technology
Variable ink drop technology allows the UV 6090Pro to vary the size of ink applied at any given point in the printing process. This variation in ink size allows a more controlled printing process to produce detailed designs and prints, creating accurate designs even in smaller images.
Epson's unique Variable Sized Droplet Technology(VSDT) delivers smooth gradation by freely control to eject the droplet volume.
Variable Ink Drop Technology All MEMS manufacturing and thin film piezo elements can realize high precision and high density(600 dpi / 2 rows of nozzles). Contributes to compact, high speed, high quality, and high image quality.
Precision made of Epson unique MEMS nozzles and an ink flow path ensure the perfectly round ink droplets are placed accurately and consistently.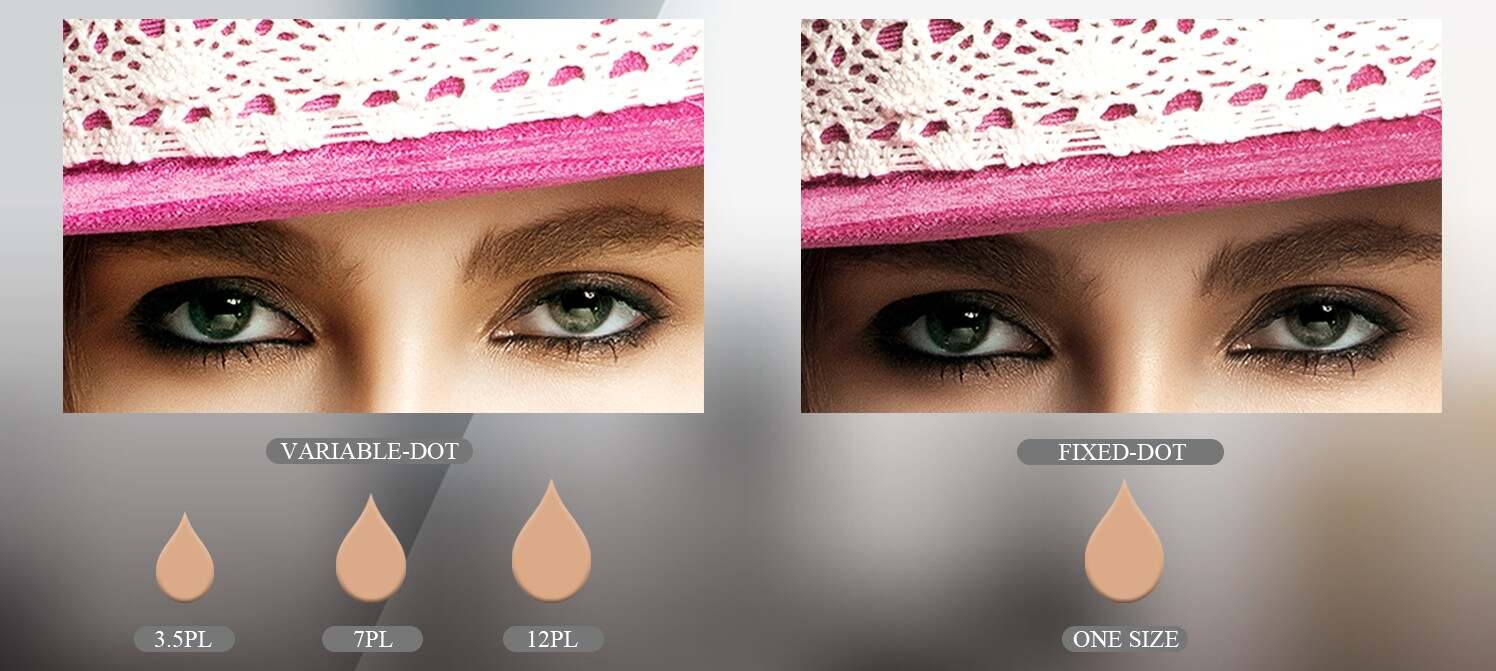 Multiple Material and Ink Compatibility
Compatible with various materials and inks, MT-UV 6090Pro is equipped to handle practically all flatbed printing and can be used to print on any material and surface.

Using two Epson i3200 print heads, the MT-UV6090Pro can print high-quality images substantially faster. Two print heads are used for the conventional CMYKW inks, leaving the remaining four print heads open to any mix of Varnish to meet your unique requirements.
The large ink tank accompanies the printing process, resulting in a self-agitating system that reduces setup time and makes the start-up process easier. Each 500 mL / 1L large ink tank is made to function as a closed ink system and as a bulk ink solution.


High Precision Printing with Dual Epson I3200 Printheads
MT-UV 6090Pro features one of the best Epson printheads on the market - Epson i3200 printheads. It comes equipped with two of these printheads for maximum print quality. Known for producing premium quality prints with no flying inks and satellite dots, Epson
i3200 printhead perfectly handles precision printing and heavy detailing.
Moreover, the Epson i3200's print speed of about 21.6KHz means that the MT-UV 6090Pro can handle small-scale printing projects in record time. This lets you get more work done in less time.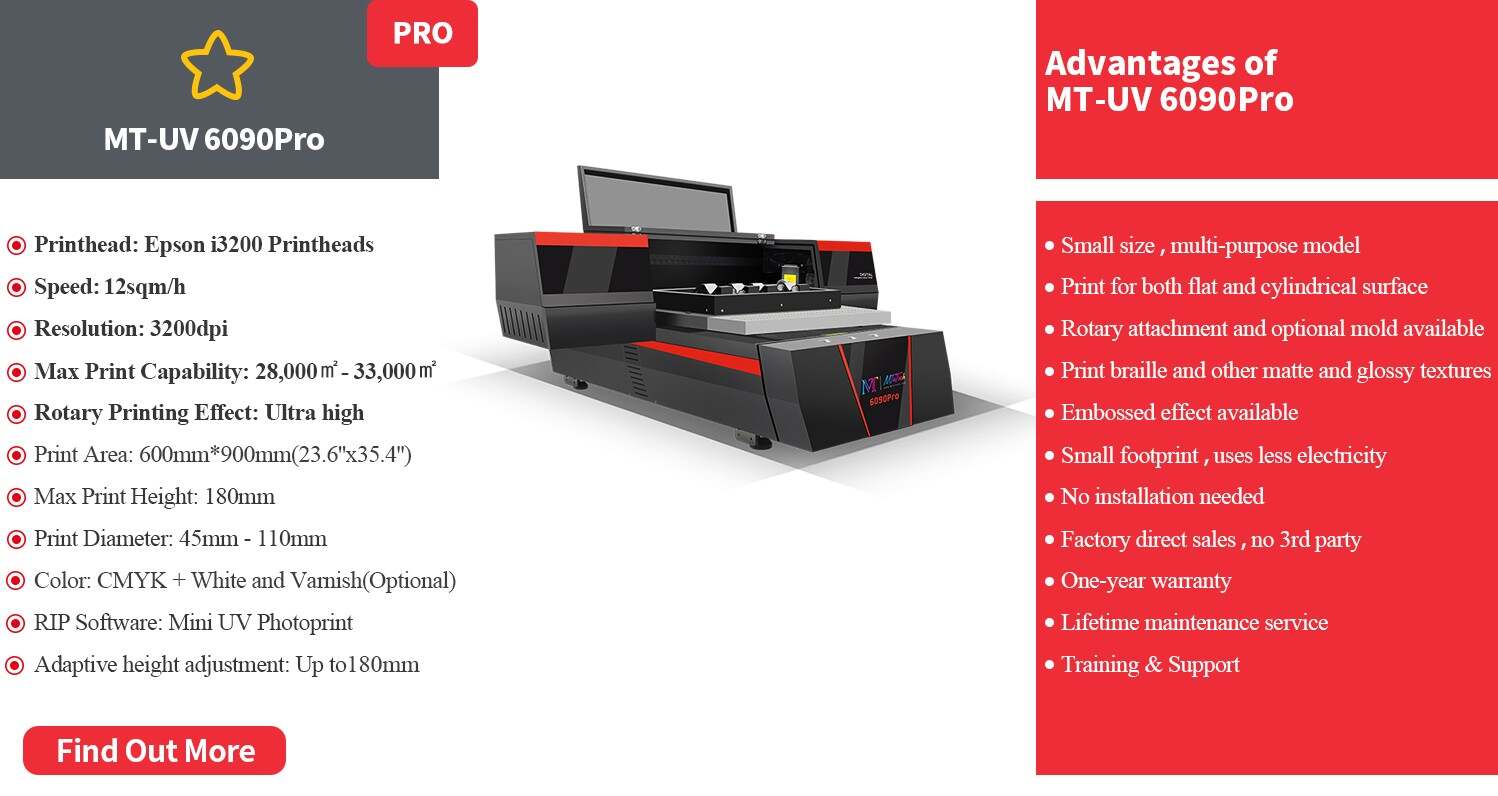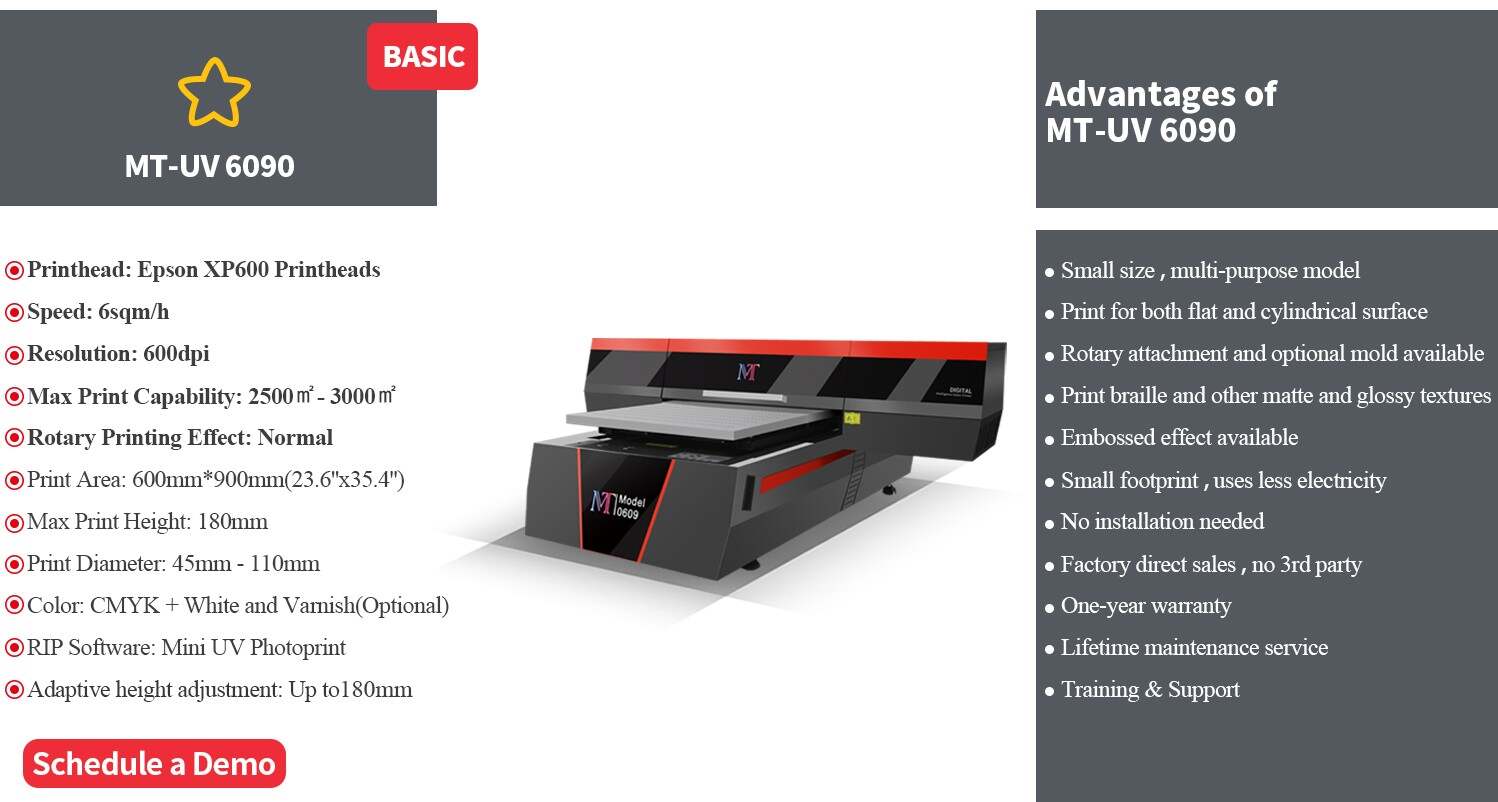 Stable High-Speed Production
Built for professional printing, the MT-UV 6090 Pro has all the features needed to handle the high-performance demand of professional production.
● High-Speed Production
The UV 6090 Pro's high-speed production technology gets more done in less time.
● Improved Printing Efficiency
Spend less on each design you print and make the most of your resources on each printing project.
● Ink Management Technology
Never have to worry about wasted ink again with the MT-UV 6090 Pro. Experience ink management technology that prevents spills and applies ink efficiently on every material.
● High-Precision
Create detailed designs with pinpoint accuracy with the MT-UV 6090 Pro's high-precision Epson i3200 printhead.
● Wide-Range Application
Enjoy a wide range of printing applications that lets you make professional prints on all forms of materials and textures. You can print all surfaces, including fabric, wood, plastic, glass, metal, ceramic, etc.
Advanced Image Effects

Get the best out of every print function with the UV 6090Pro. Experience advanced design features like improved varnish and relief effects, realistic color presentation, and improved image details.
Flat and tapered Surface Printing Compatibility
Designed to print on flat and tapered surfaces, the MT-UV 6090Pro flatbed UV printer can be used to print on all kinds of surfaces. The printer can be used on flat surfaces or tapered items with the same degree of success.
Improve Your Tapered Surface Printing Experience
Printing on tapered and rounded surfaces with the MT-UV 6090 Pro is great, but with our dedicated printing mold, the experience becomes even better! Providing greater flexibility to the tapered surface printing experience, our reliable mold improves the speed, efficiency, and precision of your tapered printing activities on the UV 6090Pro. You can customize your mold to fit your business's specific needs and get a more personalized option.
Get the MT-UV 6090Pro UV printer today and enjoy premium-quality printing on all your small-scale printing operations.
Free Accessory List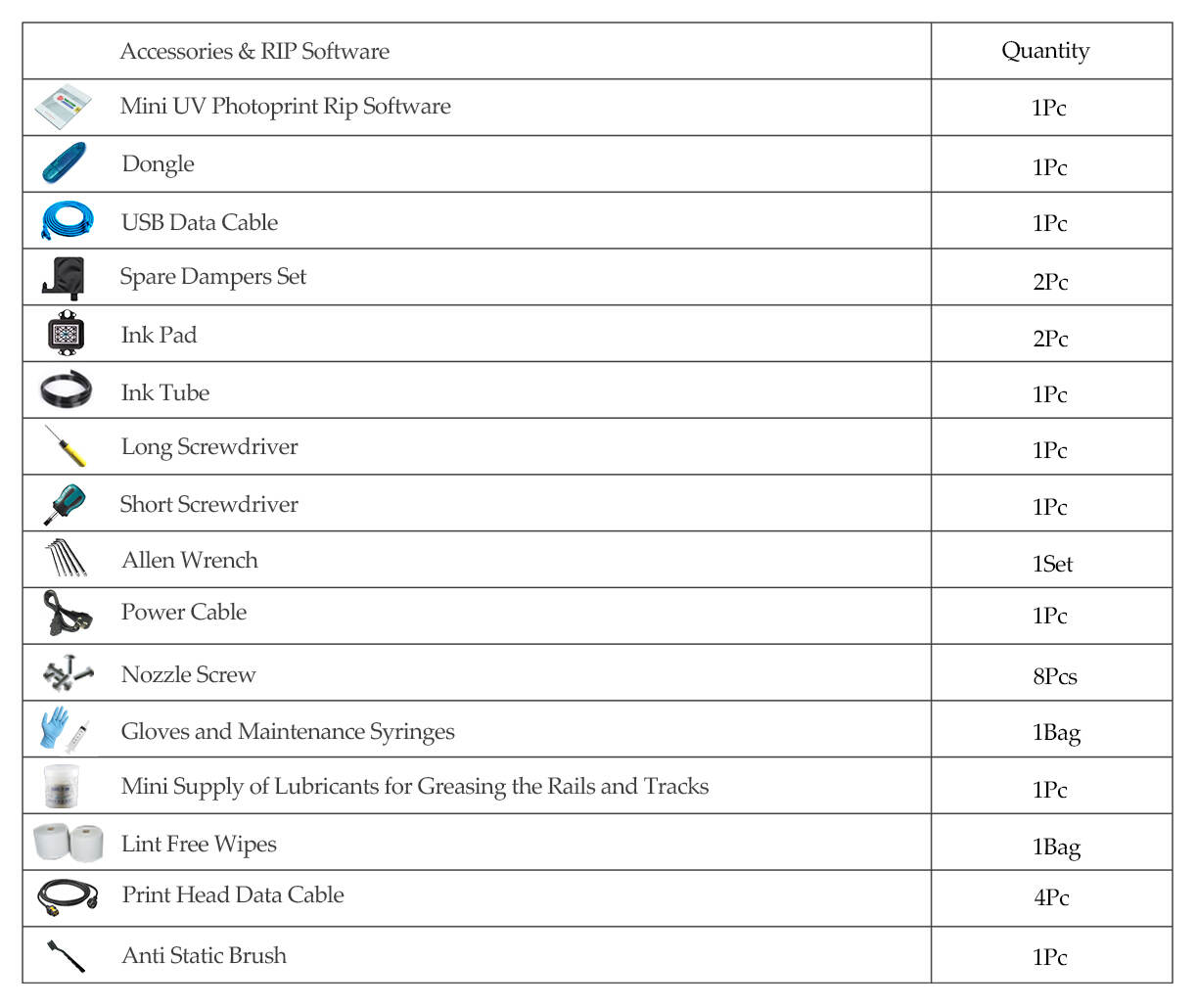 Specifications
Model Type
Epson i3200 UV Flatbed Printer MT-UV6090pro
Printhead
Epson i3200 Printheads
Number of Nozzles
2 / 3 printheads Optional
Printing Technology

Unidirectional, Bidirectional

Resolution
360dpi * 720dpi * 1440dpi
Color
CMYKLcLm+W/CMYKLclm+White+Varnish
Printing Height
UP to 180mm
Printing Weight
155kg
Printing Size
610mm*900mm
Printer Size
1510mm * 1600mm * 740mm
UV Curing System
Fans Coolinng System
Lifting Function
Intelligently Carriage Lifting Function, Automatic Printing Height Adjusting And Measure Detect Function
Printing Platform
Vacuum Suction Platform
Printing Resolution
360dpi X 720dpi 720dpi X 720dpi 720dpi X1080dpi 720dpi X 1440dpi

Printing Speed


12 m²/h
Material
Application Type
Glass, Acrylic, Ceramic Tile, Aluminum, Iphone Case, Plastic, Foam Board, Wallpaper, Wall Art, Sign Advertising, Metal, Paper, Wood, MDF, Furniture, Card, Marble, Golf Products, Gift & Promotion Products, Leather, PU, PMMA, PVC, PP, PE, PTFE, Plexiglass, Panels, Ceiling, Organic Board, Corrugated, Chevron Board, Fiberboard, Brick, Stone, Home & Office Decoration, Electric Appliances Panel, Pottery & Porcelain Tile, 3C Product, Oil Painting, Fresco, Sliding Door, Wedding Photography, Mark And Signs, Exhibition, Etc......
Ink
Type
Import Soft LED UV Curing Ink / Rigid LED UV Curing Ink (Without VOC)
Bulk Ink supply System
1.5 Liter X 6 Colors
Output Life
Indoor 10years, Outdoor 3years
Interface
High Speed USB Transmission
Power
Power Voltage
AC220/110±10, 50HZ-60HZ
Control System
Windiw 7, 64 Bit, RAM ≥ 6G
RIP Software
Photoprint
Printing Environment
Temperature 20-25°C, Humidity 40%-60%
File Formats
Tiff, Jpg, Eps, Pdf