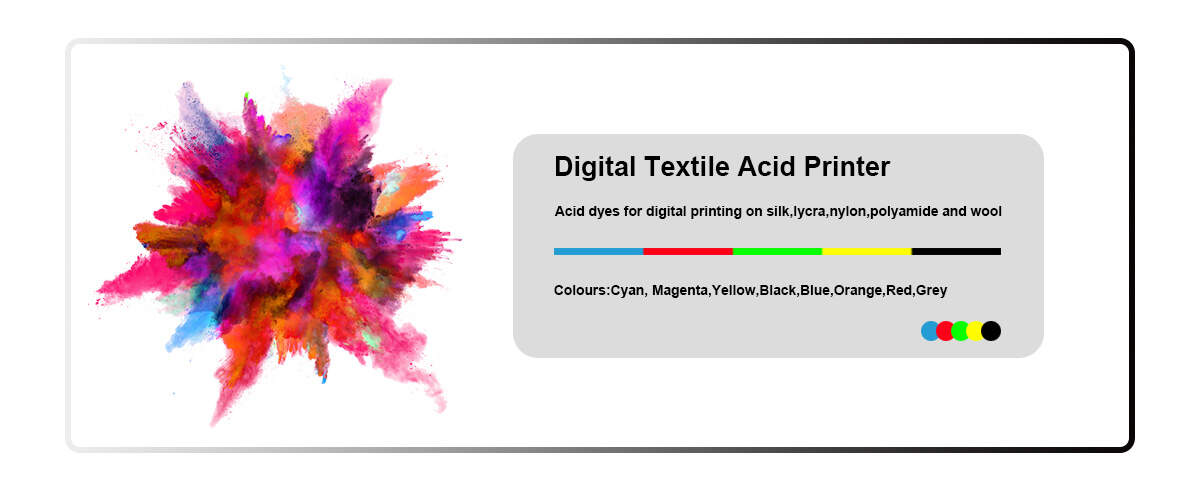 Description
Digital Textile Acid Printers are for digital inkjet printing on silk, lycra, nylon, polyamide and wool.
Digital Textile Acid printers are widely used throughout the digital textile printing industry for the decoration of synthetic fibers such as nylon (primarily polyamide) as well as natural materials like silk. Digital Textile Acid printing offer outstanding color and fastness properties allowing for extensive adoption in fashion and swim/sportswear applications where high quality is essential.
MT digital textile Acid printers deliver the excellent quality, purity and stability of printout that is ensuring color consistency batch after batch and of printed textile without taking risks with your printer. When applied digitally further benefits of design freedom and detail reduced water and reduced energy consumption is realized.
Digital Textile Acid Printer is designed for use in high volume production printing systems, MT delivers exceptional print reliability, assuring that producers of high value applications such as swimwear, sportswear and luxury silks benefit from unrivalled color strength and extended color gamut without compromising productivity.
Feature
Key Features Of Digital Textile Acid Printer:
• Printing High color yield & brilliancy.
• Printout offer excellent wash and light fastness properties.
• Best printing solution for printing of polyamide, silk & other fashionable fabrics.
• print with good stability, no clogging to print head.
• High color saturation and color-fixing rate.
• Excellent image definition post processing.

Solution
Digital Textile Acid Printing Technological Process
• Coating
• Digital Textile Acid Printing
• Steaming
• Washing
• Drying

Application
Applicable Fabric of Digital Textile Acid printer
Protein fiber like nylon, wool, silk, acrylic fiber etc.
Application For Digital Textile Acid printer
Scarves, Swimwear, underwear etc.