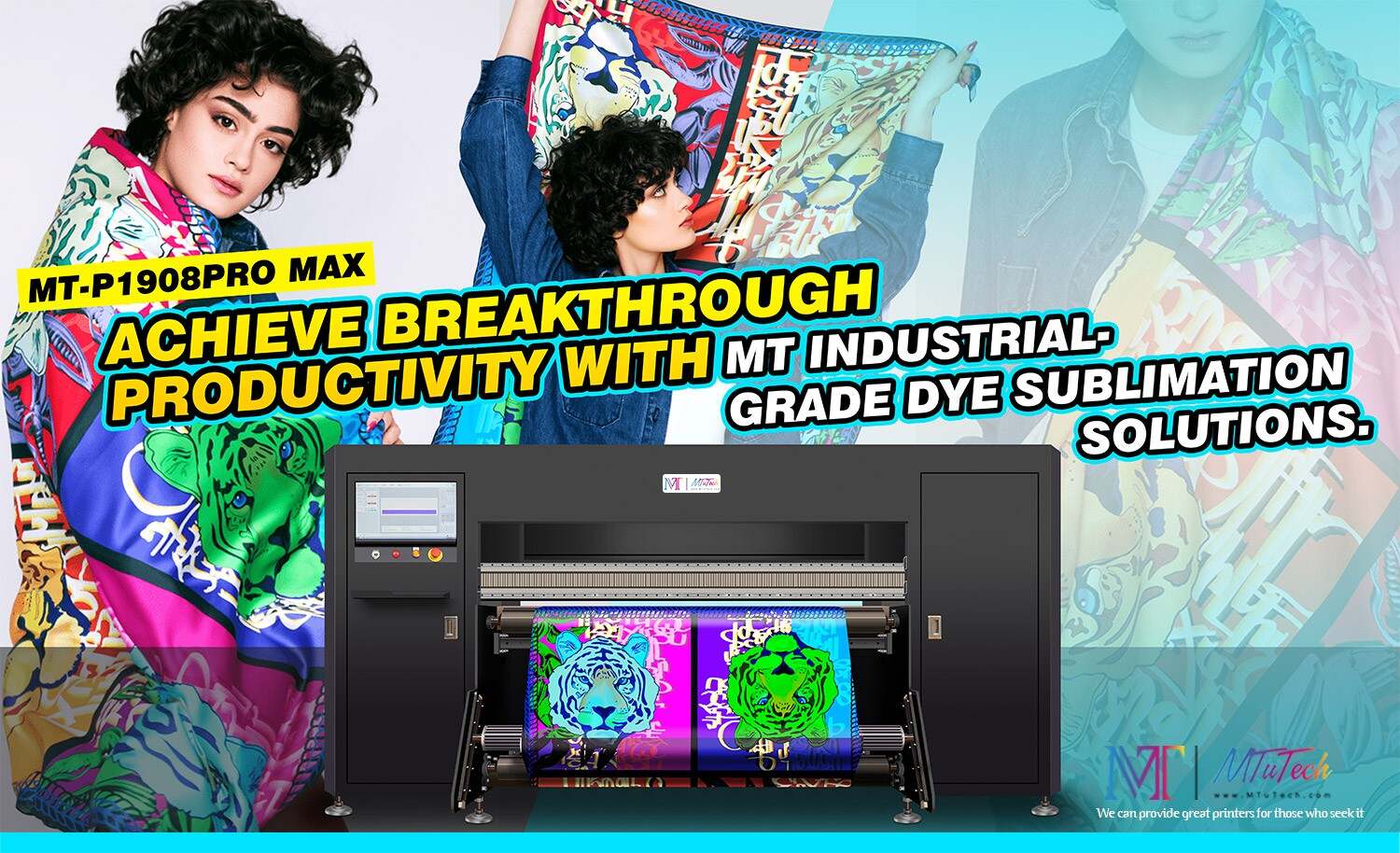 WHAT IS DYE SUBLIMATION PRINTING ?
Dye sublimation printing is the printing process that involves dyes changing states directly from solids to gas when it's heated. During the dye sublimation printing process, the design is printed onto the transfer paper first with an inkjet printer. Then the ink is heat transferred from the paper onto the fabric by using a heat press machine. Upon being transferred, the heat changes the ink from its solid state to the gas phase, enters and becomes fully infused the polyester fibers, allowing for a more permanent print.

By allowing the ink to bond with the fabric in the gaseous state, this printing process creates a more permanent bond between the dye and the fabric. Here, the ink is absorbed and infused into the fabric, not just printed on the surface. This creates longer-lasting, high-quality designs which are extremely durable, highly detailed, and can be washed repeatedly without degrading.
When using dye sublimation printing, you can achieve high-quality and high-volume prints on synthetic fabrics like polyester. It excels in apparel applications, like fashion and sports apparel, t-shirts, trade show banners, floor mats, shower curtains, bedding, table cloths, coffee mugs, mouse pads, cell phone cases, etc.
MT provides a range of large format printers that employ the dye sublimation process. Designed for business and industrial use, these dye sublimation printers are professional tools that provide high-quality prints. Depending on your needs, you can choose an entry-level or professional-grade large format dye sublimation printer.
Now you'll know more about our industrial dye sublimation printer MT-P1908 Pro Max below.

Compared to inkjet printing on other materials like paper or vinyl, dye sublimation is a more involved process since it involves multiple steps. But don't worry. With MT-P1908promax printers, dye sublimation can be a pleasant and profitable business.
Here's what you need to know to get started:
1.Know what material you want to print on.
2.You Can Print a Huge Variety of Products.
Dye sublimation is best for adding printed images to polyester, polyester resin-coated materials, knitted fabrics, woven fabrics, polyester-cotton textiles, and more. Some dye sub printers have extra wide formats, The MT-P1908promax printer has a maximum media width of 1.8m/74.8 inches. In addition to this, It is also often used on ceramic, PVC, and polymer materials, so is well-suited for printing designs on polyester-coated aluminum as well as polymer-treated plastic, aluminum, glass, fiberglass, and other rigid substrates.
Choose a printer based on the level of versatility that suits your application.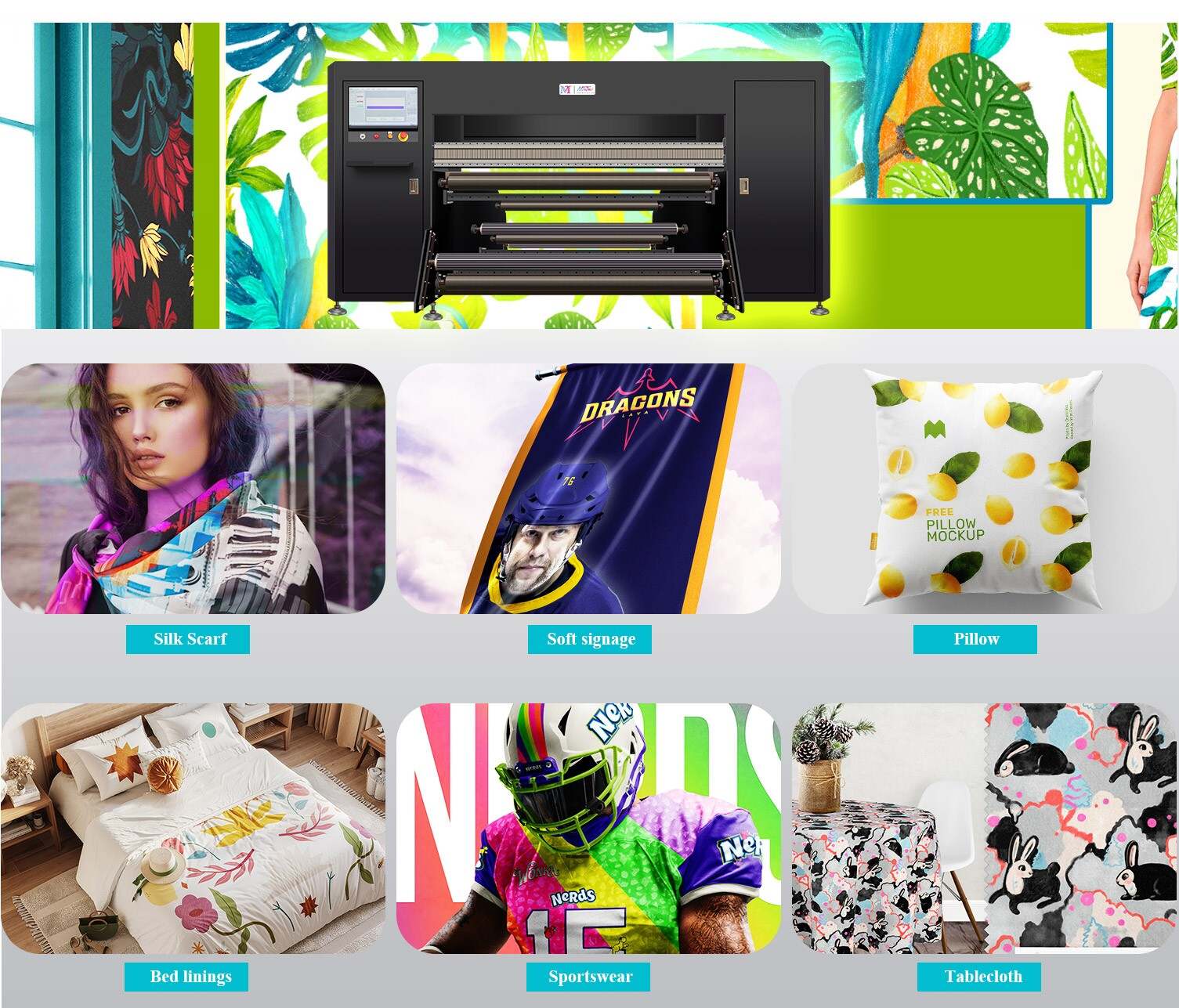 Ade For Making Sportswear
Dye sublimation transfer printing is ideal for customizing polyester sportswear fabrics and garments. This MT-P1908promax is the ideal device for creating colorful graphics for team uniforms, amateur sportswear and professional sportswear.
Branded And Personalized Fashion And Clothing
Whether you're making your own fashion statement through clothing and pattern design. Create stylish prints for accessories like ties and bags. Or printing for corporate branded T-shirts and clothing, the MT-P1908promax offers you a wealth of fabrics and customization options. It's the perfect machine for mass-producing corporate apparel or high-end fashion items.
Eye-Catching Soft Logo
High-speed creation of amazing backlit graphics, polyester banners, silicone edge graphics (SEG), buy points and more. Take advantage of MT-P1908promax printer's additional ink options to produce photographic quality images with subtle skin tones and extremely vivid colors.
Interesting Custom Items
Use the MT-P1908promax printer to customize promotional gifts, gadgets, sports equipment and merchandise. From smart phone cases, mouse pads, coffee mugs, clipboards, license plates to custom decorative luggage tags, MT-P1908promax is an incredibly reliable and unstoppable dye sublimation transfer printer that can help you launch your custom empire.
Custom Interior Decoration
Print logos, brands, patterns and designs on a variety of fabrics used for home furnishings such as curtains, tapestries, pillows, home decor and wall coverings. Using MT-P1908promax , you can make a lot of decorations in the fastest time.
In addition, dye sublimation printers can also be used for ceramic floor tiles. It can create unique designs for floor tiles in a home kitchen or bathroom, or it can decorate a restaurant or other commercial establishment. Another common application is photo printing; Images can be successfully transferred to clothing, magnets, or canvas.
Dye Sublimation Also Excels In:
Quality: The dye sublimation process continuously blends all colors and processes them all at once, creating a seamless image.
Longevity: Ink is embedded throughout the substrate, so it will last longer than traditional inks and is waterproof.
Accuracy: Vaporization is more effective at yielding accurate prints; the high heat and coating process also make it highly unlikely for ink to smudge.
MT-P1908promax is the right choice for those is looking for: high-productivity, top-performance and the best workflow planning for the full production process.
A super quick machine that is advantageous from the first performance
Speed, quality, reliability and consistency are our most advanced MT-P1908promax wide format dye sublimation printers.
Outstanding Productivity And Quality At A Lower Cost
Now you can aim higher with MT-P1908promax, the 4-color sublimation printer that sets a new standard in fashion and sportswear production. Built for industrial production, with fast 505m²/5435.7ft²/hr output and an outstanding quality of up to 1200 dpi, MT is the most productive printer in its class. Combined with up to 20% less ink consumption MT-P1908promax offers a fast ROI when really put to work. MT-P1908promax print speeds combined with its multiple possible configurations make it possible to satisfy the most competitive time-to-markets.Eventually you can replace multiple low-end printers with just one robust industrial printer that can do it all.
Speed And Quality For Each Design
At 1.9m (74.8 inches) print width you can choose the most protable way to produce different designs using different speed and quality modes. Max Print speed up to 662m²/h to meet your high volume demands. From 505m²/h ( 5435.7ft²/h) in one pass mode at 300 x 600 dpi to 600 x 1200 dpi in four pass mode at 162m²/h (1743.7ft²/ h). In two pass mode MT-P1908promax produces 295m²/h (3175.3ft²/ h) while maintaining a resolution of 300 x 1200 dpi onto the thinnest of transfer papers. Easy operation and great exibility ensure you to get the best quality/production ratio to satisfy more customers with less effort.
Less Ink, Better Quality
Excellent Epson S3200-A1 print heads and high-density inks from MT results in 30%-50% less ink consumption for the same designs, only with better definition and more vivid colors. On top of lower ink consumption, extensive testing in fashion production showed that MT-P1908promax delivers superior quality at 300 x 600 dpi compared to competitors with higher specifications. Don't just take our word for it, ask for samples.

Proven Inkjet Technology
MT-P1908promax comprises proven technologies that ensure maximum uptime. Such as a modular degassing system, directly at the print heads, that eliminates the risk of air bubbles in the print heads. The highly accurate print head carriage accommodates for 8 print heads and is built to last for heavy use. And a hot swap ink bottle system allows you to refuel without interrupting print jobs. This and more features amount to a robust ink system that is at the heart of uninterrupted printing capacity.
Trouble Free Paper Handling
Save significantly on paper costs with the advanced printing and drying system of MT-P1908promax. The wide vacuum table offers high speed paper control and allows for lower weight paper. An adjustable cold air ventilation system provides more stability and easier paper drying, while the compact feeder and take up system for 1.1M/43.3 inches diameter rolls ensure easy operation. From adjustable dancer bar, for perfect tension and speed, to the hot contact area for paper drying, it all sums up to trouble free paper handling that will save you time and money.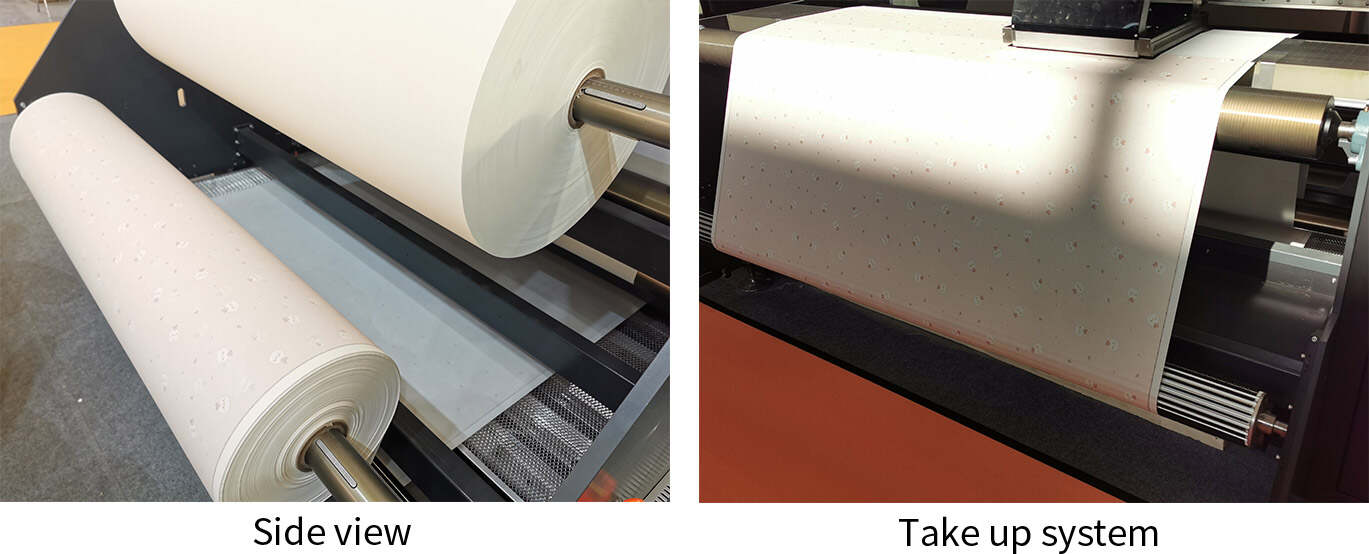 Seamless Work Flow,Anyone Can Operate It
With precision printing and reliable production, MT-P1908promax is designed to provide its full potential in any production environment. We made sure anyone can operate it and put great effort in a user-friendly design of the touch screen panel that allows for easy control over the complete system. Operators can work with clear job tickets, access the complete print history, perform color or print head recovery easily and check real time production information. We'll support you using it anyway.
ATTRACTIVE SUPPORT PACK
MT is a total systems supplier, offering productive hardware, best in class software and compatible inks in different chemistries. Our aim is to help you take advantage of digital printing technology with MT-P1908promax. From installation and application support to an attractive ink deal, we're committed to support you all the way in dye sublimation printing.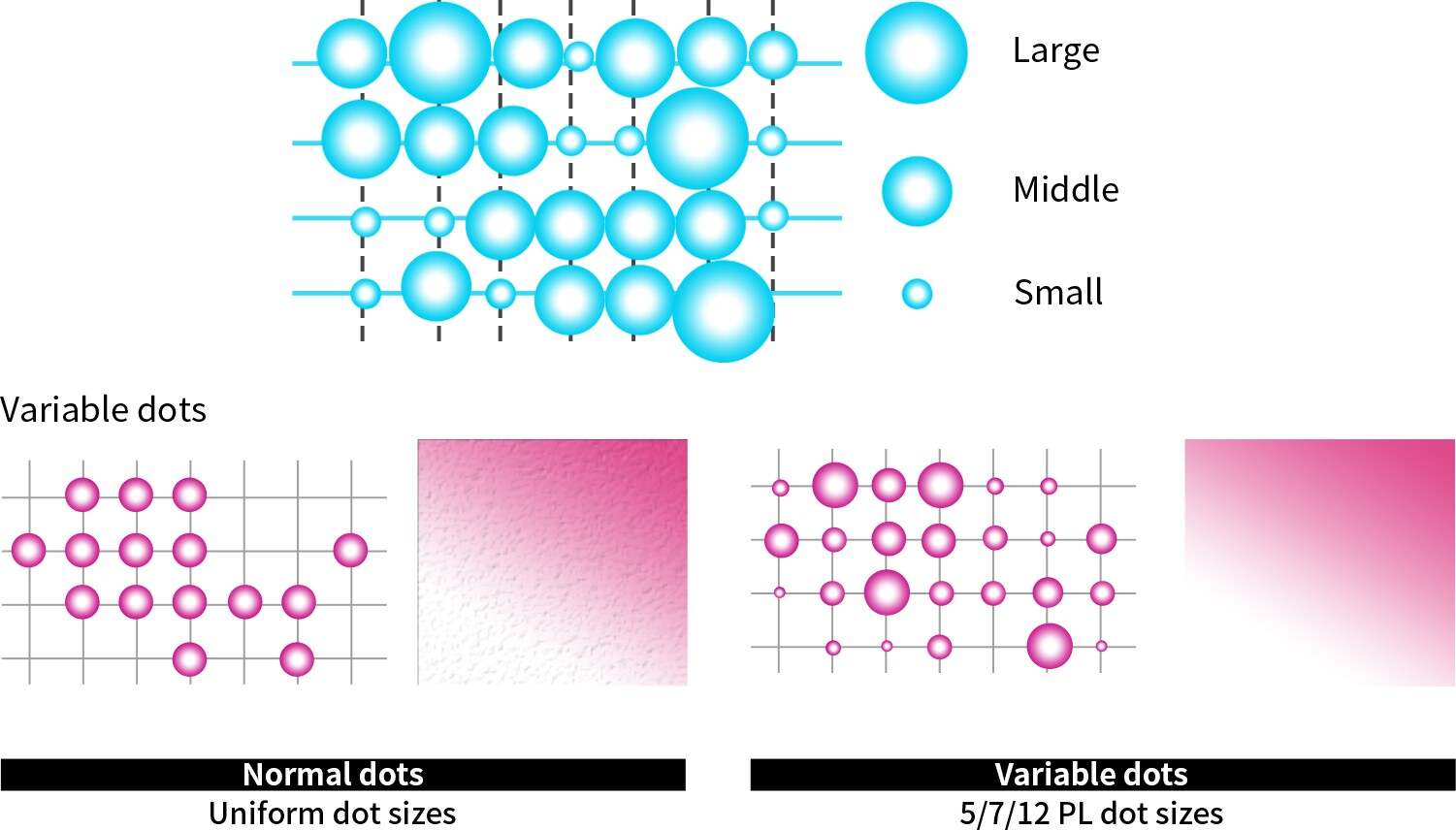 INDUSTRIAL LEVEL PRINT HEADS BRILLIANT IMAGE QUALITY
Up to 8 interleaved head CMYK configurations, 5, 7, 12 pl variable ink drop technology, has a huge production potential of 10000.00m²/107639.1ft² / day, achieving high yield of sharp quality.
LEAF CLAMPS
Polished steel clamps placed at either side to prevent paper edges from curling.
INK DEGASSING SYSTEM
To remove bubbles and gastrapped in ink tubes and avoid ink starvation.
MULTIPLE BRUSH ROLLER
To ensure effective wrinkle-free media feeding and take-up.
TENSION ROLLER
To provide continuous uniform tension and roll alignment for media from feeding to take up.
LINEAR MAGLEV MOTOR
Linear motor with high precision dual guide rail beam helps improve printing speed and ensure printing accuracy.
METAL GRATING
More precise ink jetting at high speeds, effectively leading to longer service life .
HIGH SENSE PAPER TENSION REGULATOR
It detects fluctuation in tension and corrects it almost instantly.
To Prevent cockling of paper & provide precise ink absorption on the media.
ACTIVE SEAMING TECHNOLOGY
Active Seaming Technology for superior quality at high speed.
ON-LINE DRYING (POWER-D-THIRD PASSAGE)
allows the direct drying of the media after printing, for increased efficiency and optimized workflow.
Head crash protective system by 2 laser-beam sensors.
It allows the precise detection of the printing media unevenness by preventing the contact with the printing heads.
INLINE INK DEGASER
It allows the removal of any latent air bubbles present in the ink, guaranteeing the highest print quality.
MORE INK MEANS LESS DOWNTIME
low-cost, high-capacity replaceable ink pack system holds up to 20 L of ink per color, which allows for longer print runs without user intervention.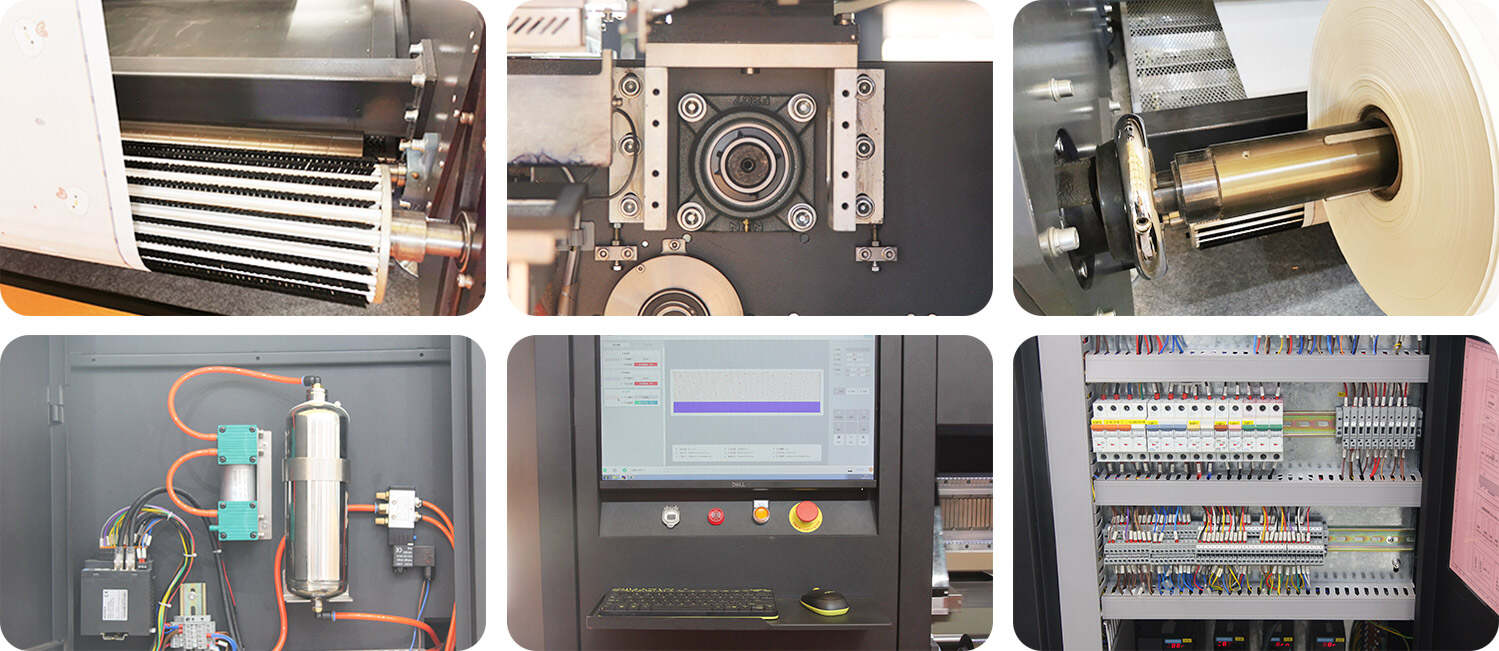 You'll Need to Use a Specific Type of Ink
Transferring of design or text or graphic onto the fabric requires the ink to be converted into the gaseous form. The chemical process for dye sublimation is very specific, and hence you will need to use a particular type of ink called disperse ink or dye. It is also known as dye-sub ink.High temperatures allow ink to transfer to items without migration, cracking, or smudge because the ink becomes an integral part of the printed product, does not fade over time, and is completely washable. This makes sublimation inks highly reliable and durable, in addition to the high level of accuracy that can be reached using this type of ink and printing technique.
The long-lasting sublimation ink is highly recommended for a variety of printed products, When approaching a printing task that calls for a detailed print, sublimation ink should definitely be considered. It's important to make sure that the printed fabric can handle the high temperature and pressure involved in the dye sublimation process, as some fabrics, like cotton, might be damaged due to these conditions.
Disperse dyes have a vibrant gamut and some manufacturers like MT have introduced fluorescent inks to further push the gamut towards being more vibrant!
Choosing Dye Sublimation Inks
MT includes dye sublimation inks, reactive dye inks, textile pigment inks, and other ink options with our products.
There are also various types of inks, so research what is best for your type of project. For example, the same ink used for textile may not produce the same results on hardware. Large-format printers often use aqueous sublimation ink dyes, while wider-head printers may use solvent-type dyes.
Why We Choose Epson S3200 Inkjet Printhead?
PrecisionCore Technology
All MEMS manufacturing and thin film piezo element can realize high precision and high density (600npi/2 rows of nozzles). Contributes to miniaturization, high speed, high quality, and high image quality. Precision made of Epson unique MEMS nozzles and an ink flow path ensure the perfectly round ink droplets are placed accurately and consistently.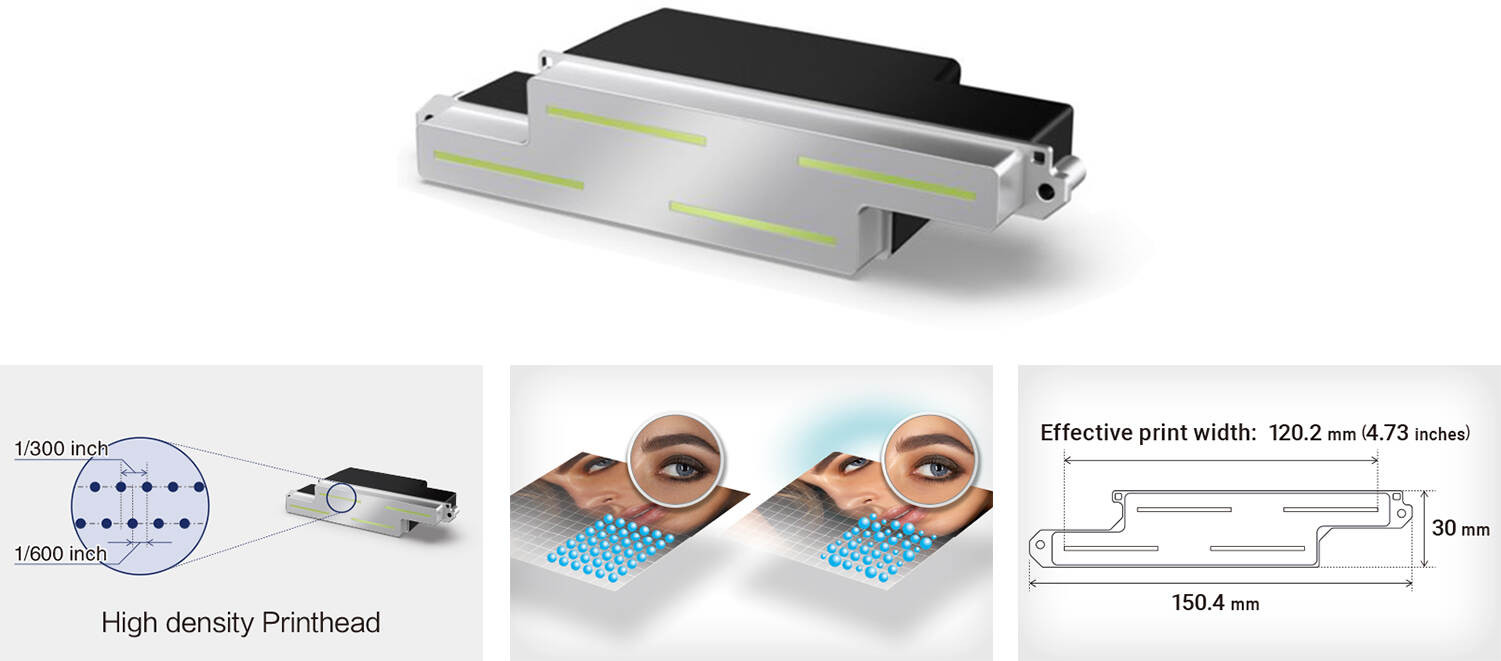 Support for grey-scale
Epson's unique Variable Sized Droplet Technology (VSDT) delivers smooth gradation by freely control to eject the droplet volume.
High Productivity
The wide printing width of 120.2mm (4.73 inches) is excellent for high production. Minimum-pass printing is possible because there is very little variation between nozzles.
Scalability
Highly scalable S-shape design can realize space-saving for increasing productivity and multi-colours. Contributes to miniaturize the printer.
Maintainence
A high-precision positioning hole allow the user to replace the head quickly and efficiently without further adjustments.
High durability
PrecisionCore print head has proven high durability and extended service life by Epson's industrial printers.
MT integrates R&D, production, sale and service, and adopts the newest and the most pragmatic technology into printers through cooperating with world famous printer head manufacturers, and software suppliers.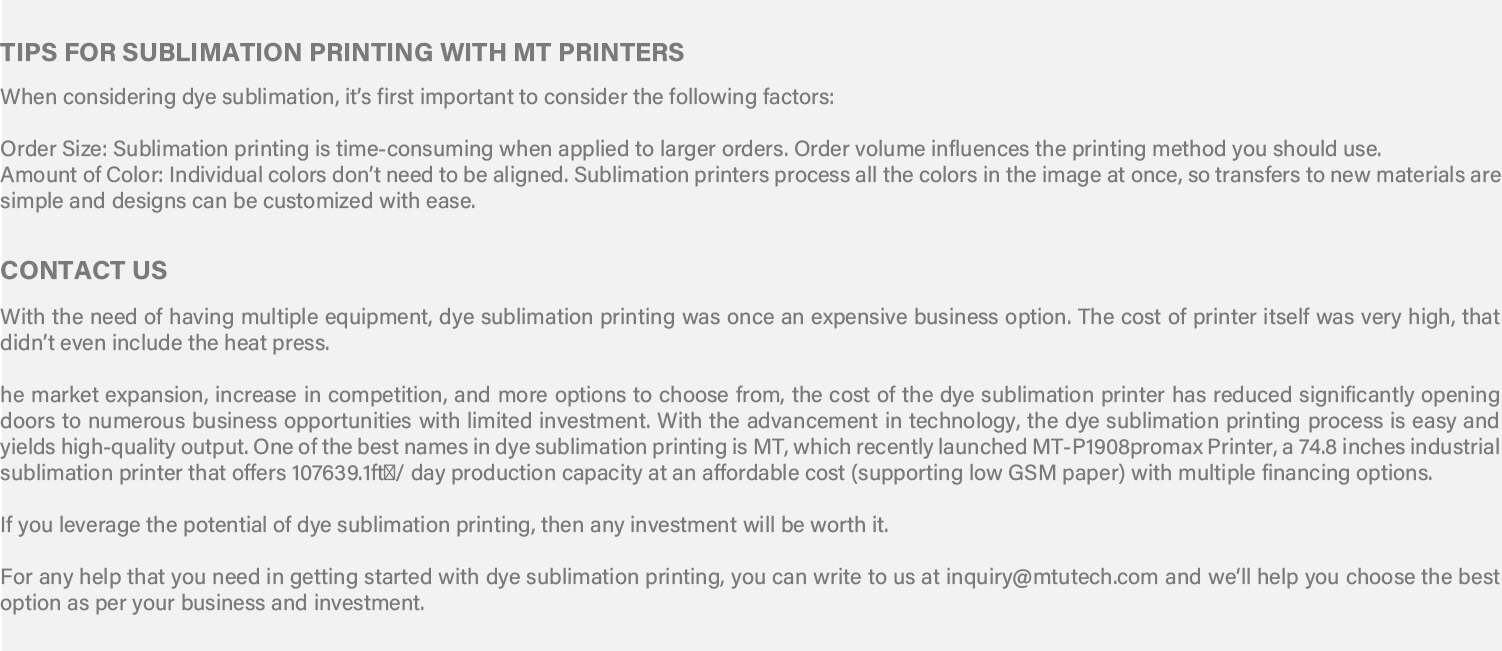 Model Type

Industrial Dye Sublimation Printer

Print head

8 Epson S3200 printheads / Kyocera printheads

Number Of Printhead

3200

Printhead

Color

4 colors: cyan, magenta, yellow, black

Resolution

2400dpi (Max.)

Printhead height

2-5mm

Size Of Ink Droplet

3.8-12pl

Max. Printing width

1800mm (74'')

Max. Media width

1900mm (Max.)

Real time monitoring

None

Print speed

1 pass

505 Sq.m Per Hour

2 pass

295 Sq.m Per Hour

4 pass

162 Sq.m Per Hour

Media feeder

Yes

Media collection

Yes

Material

Maximum weight

600kg

type of application

Especially suitable for transfer paper / wood grain paper / film / wallpaper, etc.

Ink

Type

Sublimation ink

Ink tank account

12 * 350ml Bulk Ink Continuous Supply System

Automatic cleaning system

Automatic flash cleaning and moisturizing spray function

Interface

HI-USB3.0

Power

Power Voltage

AC220-240V 50-60HZ

Control software

Print Manager

RIP Software

Maintop/Photoprint/Wasatch/Print Factory

Operation System

Windows 7,Windows 8,Windows 10

Printing environment

Temperatura: 20-25 grados centígrados, humedad: 40-60%

Image type

AI/EPS/PDF/PSD/FS/PD/JOB/CUT/JPG/JPEG/FPX/PCD/PCT/PICT/WMF/PRT/PLT/2PS/FJB/PRN/TGA/TIF/TIFF/BMP/PCX

Printer dimension

W3640 * D1370 * H1940mm

Packaging dimensions

W3330 * D760 * H1020mm

Gross weight

1650kgs

Net weight

1580kgs