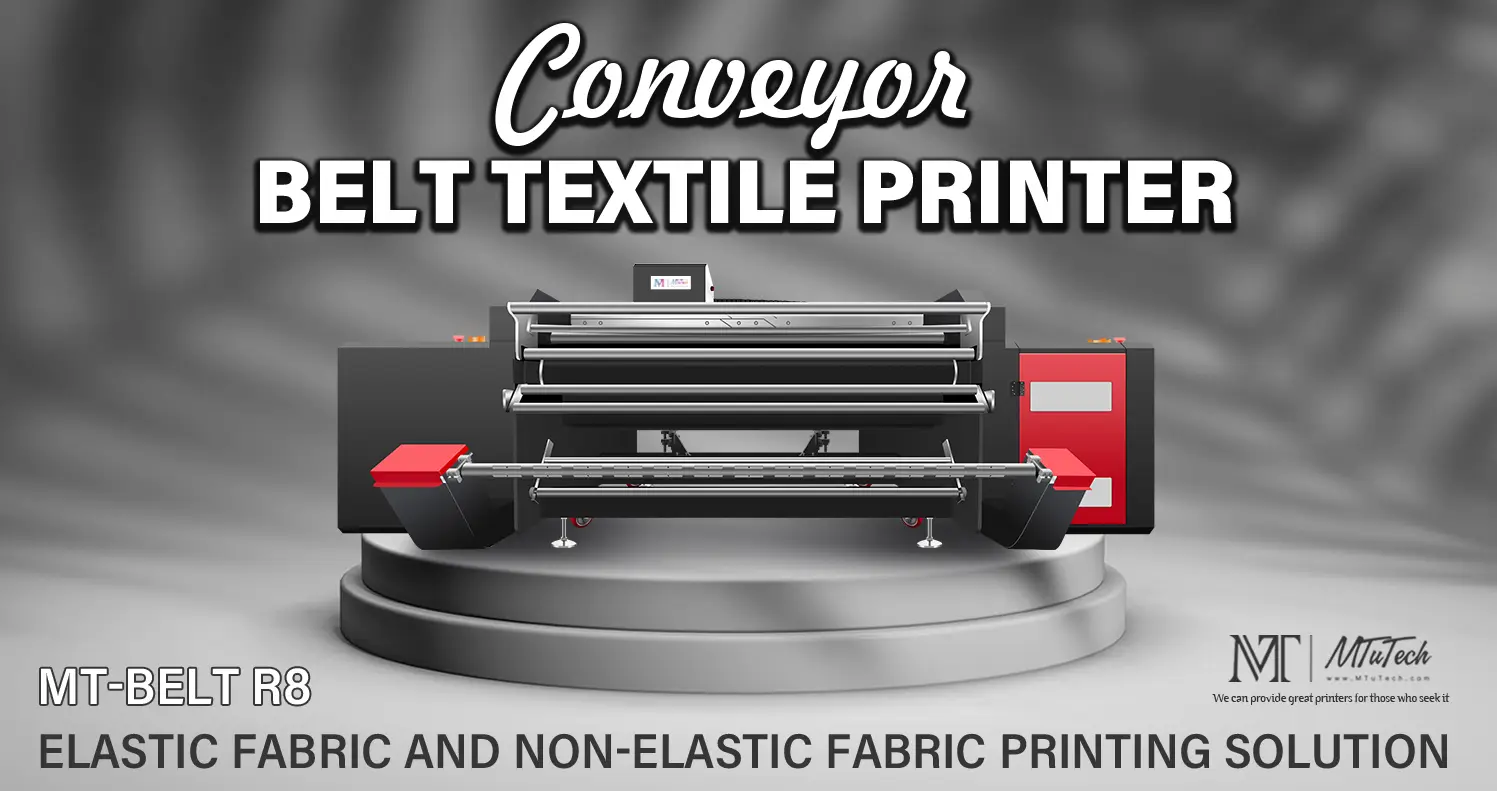 Innovative benefits of digital textile printers. Achieve higher standards of quality on the widest range of fabrics. With a MT direct to fabric printer, you're able to bring new ideas faster to the market in a fast, cost-effective way.
What is digital Direct to Fabric printing?
Direct to Fabric printing is a process where rolls of fabric are printed using large format ink-jet printing machines. In a similar process to a desktop computer printer, printer heads containing many fine nozzles squirt tiny droplets of inks onto pre-treated fabric. Direct digital printing has been developed particularly for the natural and nylon market. Fabrics are pre-treated with chemicals to help in the bonding of the print by the fibres. The digitally printed fabric then post treated to fix the dye into the fabric in the process of high heat pressing.
Direct to fabric printing method is quick and relatively easy process with files loaded into specific print software then sent to printer. As with digital sublimation printing on polyester fabrics, direct digital fabric printing allows for multiple color ways and designs to be printed along or within one roll of fabric. The number of colors within a design does not impact the cost of printing, it allows for the quick turn-around and for small run sampling as well as for printing large runs, placement and engineered designs.
If you've ever thought about switching from traditional screen printing to digital printing, now is the time to step into a colorful world full of new possibilities. Using MT Belt textile printers as your digital platform, you can offer new and existing customers flexibility, stunning designs and faster lead times.

High Speed, High-Quality Belt Textile Printer
MT-Belt R8 Printer is a truly advanced industrial-grade 70.8inch belt textile printer, which perfectly integrates the latest technology and efficient engineering to meet the growing needs of textile business. MT, a digital textile printing consultancy, offers this high-speed fabric printing machine, which is compatible with four types of ink: reactive, Acidic,sublimation and pigment. It is capable of printing any design on a variety of materials such as cotton, polyester, silk, wool and a variety of other blended and non-blended fabrics.

Belt textile printers are also the machine of choice for a variety of applications. It can be printed on all kinds of textiles, but it is mainly used in the following classified products:
Wallfabric
Complement and expand your current photo offering by printing to new types of media. A host of digitally coated wallfabric options await for printing with pigmented or dye-based inks. Tapestries, canvas and wallfabric stocks are readily available and deliver exceptional color brilliance and durability while offering a greener print process.
Furniture, Curtains and soft furnishings
Co-ordinate everything
Match cushions, curtains, and beanbags, or even upholster entire couches, chairs, and more with the MT-Belt R8 Printer solutions. Creativity in color and design drives the home interior market to new levels. Walls, floors, bedrooms, kitchen, and outdoor living spaces all benefit from color and advanced fabric choices.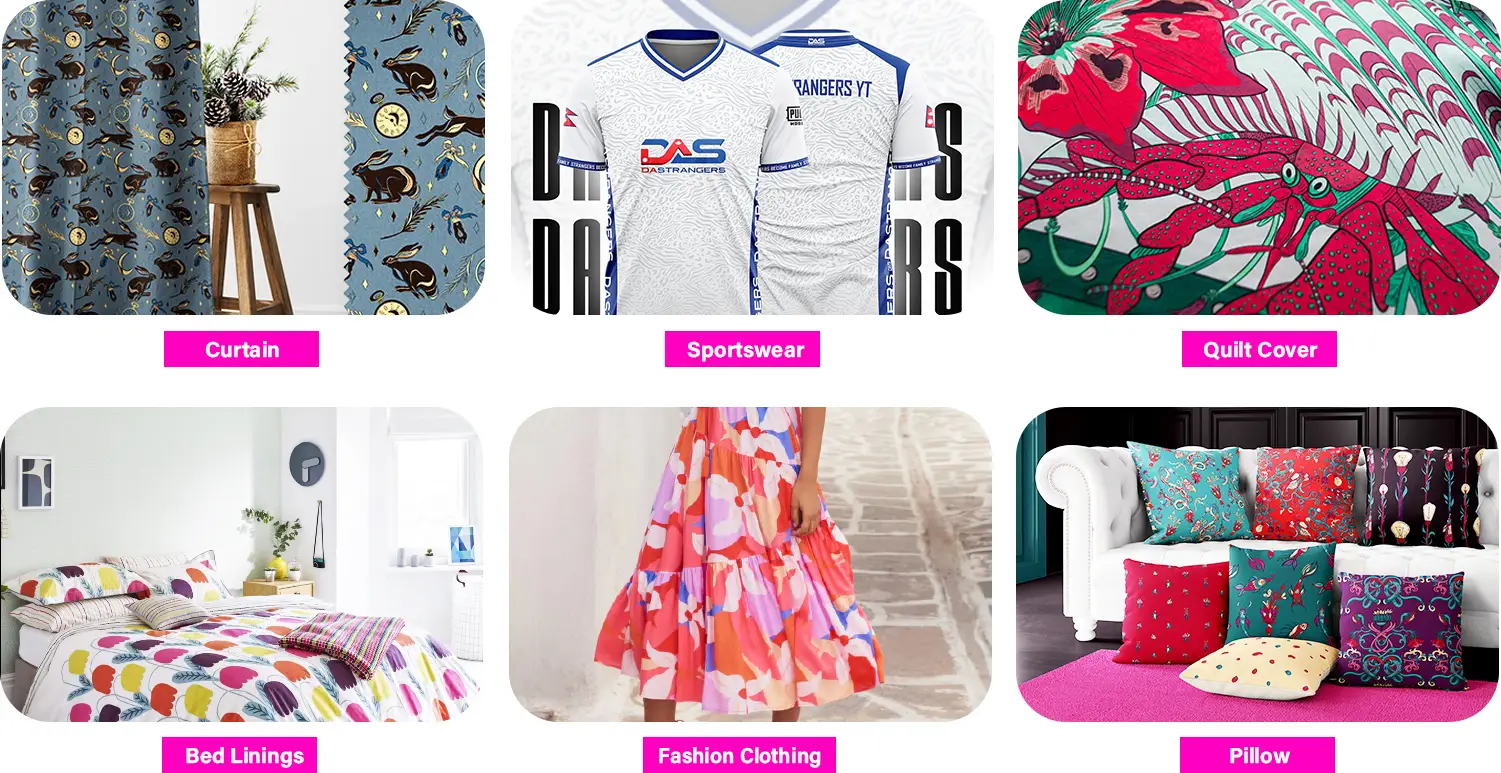 Fashion
Your own designs on your fabric
MT-Belt R8 Printer flexibility means having the ability to achieve demanding color and design requirements not available from traditional fashion printing methods. And with our new inksets, MT-Belt R8 Printer now images stunning colors on a wider array of fabric types. Whether printing for one or 1000 pieces, imaging for fashion is quick and offers exquisite quality with colors not imaginable several years ago.
Street wear/Wearables
Fast turnarounds on ANY fabric application.
Print an endless range of high-value applications such as t-shirts, pillows, bags, socks, and really, anything you can imagine! Print to stunning textured all-natural fabrics like linen, silks, and cottons and to synthetic fabrics with either dye or pigmented ink.
Sports apparel
MT-Belt R8 Printer is a sports apparel producer's dream.
With the most expansive pallet of 19 dye sub colors including orange, green, violet, and neon colors, MT-Belt R8 Printer images will never be dull. MT-Belt R8 Printer media handling system easily accommodates the wide array of stretchable fabrics used for sports apparel. With end-to-end printing and fixing solution, the MT-Belt R8 Printer system is the perfect in-house digital apparel producer.
Professional photography, Fine art and decoration
Produce professional photography and fine art reproductions on fabrics. Long lifespan and fade resistance keep prints in top viewing condition on a range of printing materials from canvas to tight weave fabrics – tapestries, framed pictures, and stretched fabric options unleash creativity in new markets.
Window coverings
Capture accelerating growth in a huge new market.
Digital printing is changing the way everyone looks at window coverings. Today window blinds, shades, and other indoor window treatments provide form and function. Pigmented inks offer superior fade resistance to dye inks and outdoor applications open new doors to business.
Niche markets
Just too many to list!
There is incredible opportunity within niche markets as well: Soft toys, bow ties, neck ties, wedding veils, custom shoes, hand bags, table cloths, table runners, scarves, kimonos, headwear, leggings, shoe bags, book covers, lamp shades, baby mats, baby wear, costumes, horse blankets, decorative boxes, dresses, shirts, pants, and more. We continue to see an incredible array of applications using MT-Belt R8 Printer printers.
This high-speed direct-to-fabric printer from China MT provides a complete textile printing solution from direct-to-fabric printers.

High-end digital printing
The MT-Belt R8 Printer from MT offers unsurpassed quality and value to textile printers who are taking the first step into digital production. It also offers a step up to high-performance, high-quality production for printers who wish to develop their digital capabilities further. MT-Belt R8 Printer uses several printing modes and 8/16/32 Rich print heads with a resolution of 1200 dpi.for long service life and deliver high-quality prints with speeds reaching upwards of 362 sq. meters per hour.
Save time, space and money
Direct to printing has many benefits. It makes short-run, fast-turnaround jobs affordable for customers and profitable for printers. It eliminates screen preparation time and makes more time available for printing full production runs on screen printing lines. With an annual output up to 2 million metres,MT-Belt R8 Printer is both a workhorse and a sprinter.
Multitude of applications
Open creative possibilities with the wide range of substrates that can be printed by MT-Belt R8 Printer: natural fibres, polyester, lycra, wool,silk and even polyesters. Blotches, fine lines, geometric designs and intense colours can all be printed thanks to variable ink drop technology.
Flexibility
MT-Belt R8 Printer comes with a unique feature of choosing any one inks at the same time, out of the three inks- sublimation, Reactive, and Pigment. The brilliance of MT-Belt R8 Printer, our wide format fabric printer can be measured through its ability to double your profit and ROI. This is a transforming machine that meets designer home textile needs with ease. This versatile China made direct to textile printing machine gives you the freedom to choose between a variety of fabrics and inks, thus opening endless avenues for your business.
Proven Inkjet Technology

MT incorporates proven technology to ensure maximum uptime. This industrial textile printer features advanced degassing and defoaming to avoid print head clogging when printing at high speeds. The high-precision print head frame can accommodate 16 print heads, which is durable and durable. And comes with a 2.5-liter ink tank for long ink refill cycles. The infrared drying system in the machine ensures efficient radiation with minimal heat dissipation to the surrounding environment. This and many more features make up a powerful ink system that is at the heart of uninterrupted printing capabilities.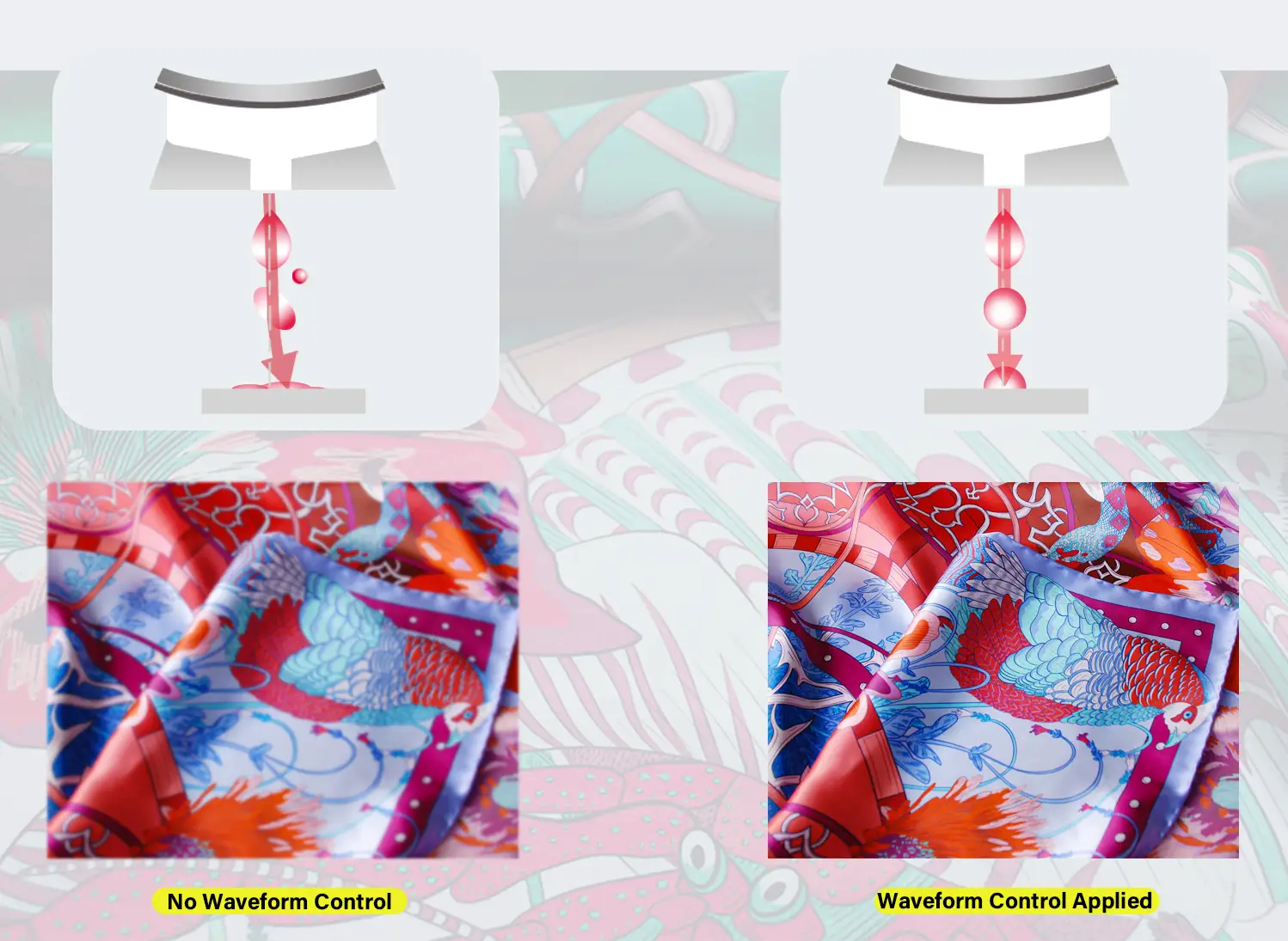 Looking forward to a complete solution
At MT, we provide complete solutions to help you meet challenges and provide new perspectives. Integrate MT-Belt R8 Printer into your production environment to provide advice and support for implementing this direct-to-fabric digital printer in your existing work flow, combined with targeted print heads.
Installation and training are part of a complete solution, same as local service and support The next few years.
Attractive Support Pack
MT is a total systems supplier, offering productive hardware, best in class software and compatible inks in different chemistries. Our aim is to help you take advantage of digital printing technology with MT. From installation and application support to an attractive ink deal, we're committed to support you all the way in dye sublimation printing.

MT Fine Diffusion
(Enhanced Stochastic 2 and Error Diffusion 2 in Potoprint)software uses an advanced dithering process to reduce noise and produce more even colors, enhancing the image quality at the lowest resolutions.
MT Intelligent Heaters
Our patented intelligent heaters are built onto each printer to maintain media temperatures, improving performance that results in high-quality images.
Waveform Control
Waveform Control utilizes finely-tuned frequencies for the inks' specific gravity and viscosity to precisely shape and place individual drops.
MT Variable Dot Technology
Combined with Waveform Control and MT original inks, Variable Drop Technology optimizes ink droplet size for smooth color reproduction and fine line details.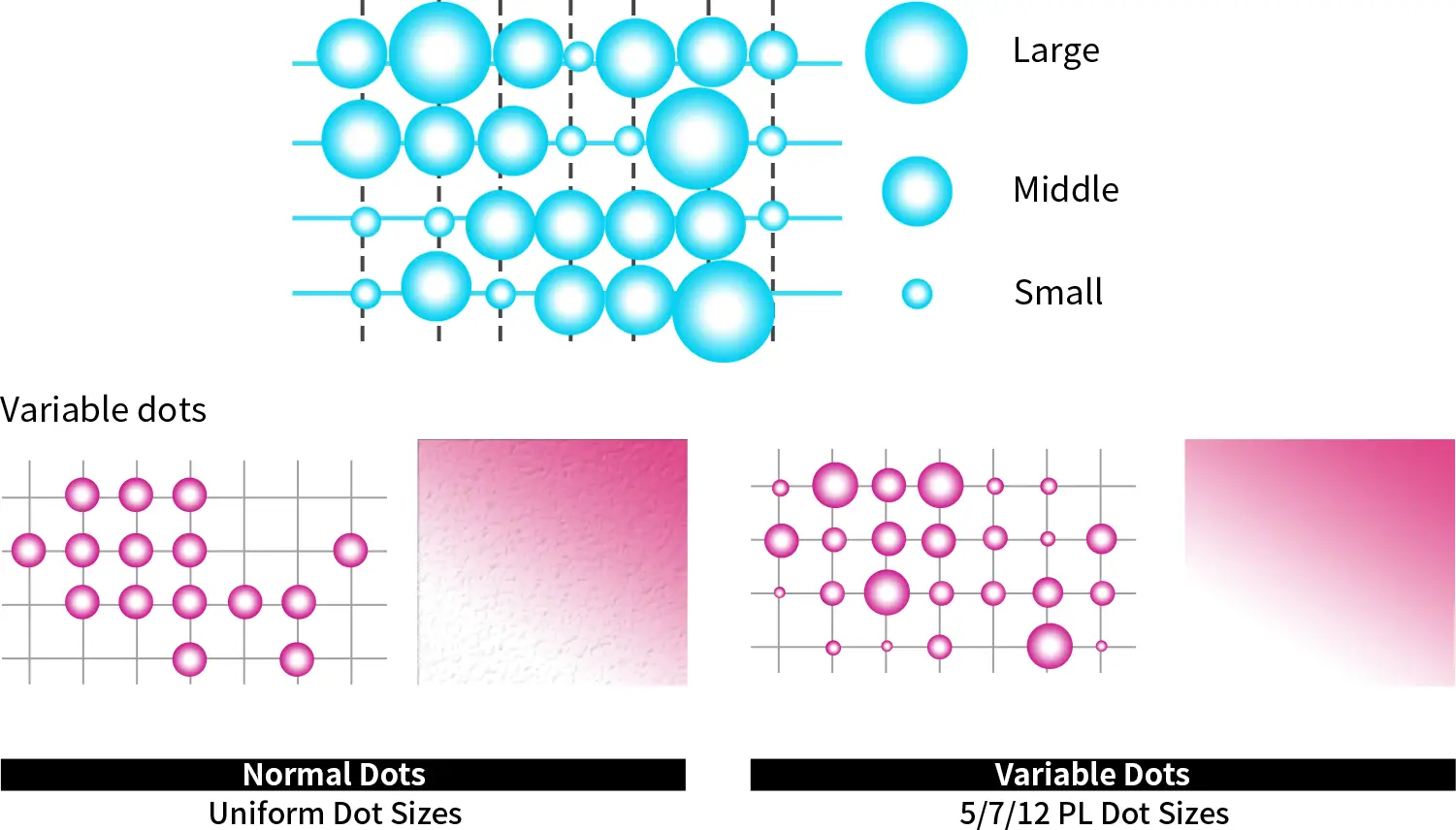 MT Circulation Technology
MT Circulation Technology continuously circulates ink at regular intervals to prevent settling and achieve a stable ink delivery.
Uninterrupted Ink Supply And Alarm System
The XXL large-capacity ink tank continuously supplies ink, and is equipped with sensors to monitor the ink level in real time. When the ink level is lower than 15%, the alarm system will automatically sound and flash alarm to remind the staff to add ink. Of course, 15 % of the ink can still keep the printer working for about 1 hour, but with the existence of the alarm system, the loss caused by the exhaustion of ink can be avoided in a timely manner.

What are the advantages of using Ricoh print heads?
1.High print resolution
Three-level grayscale piezoelectric inkjet, featured variable ink droplet printing. the smallest ink droplet can reach 7pl, high printing accuracy, little color difference.
2.Easy to maintain
The print head is made of all-steel material, which is not easy to block or corrode during use. The piston type cleaning method can reduce the damage to the nozzle, one head is double colored, and the utilization rate is increased to reduce the purchase cost.
3.Wide range of applications
The automatic height measurement and height control system adopts the full closed-loop design, which can automatically identify the material thickness, so it can break through the material limit and print patterns on a variety of materials.
4.Easy to operate
Ricoh print head adopts intelligent X-direction and Y-direction white jump printing,automatic identification of white areas,fast skipping,support for multi-frame printing and area printing,which is convenient for large image batch printing and large image sampling printing.Supports resume printing,which is used to resume printing for users to stop the print job or exit the print job due to an error during printing.Support the mirror-to-print function of double-sided printing.Double zero positioning(double start printing),the printer can print from the beginning or the end.Realize reverse printing and forward alternate printing without wasting materials.
5.Stable performance
the equipment is designed according to the 24-hour*7-day production operation mode,and various durable components that meet the requirements of industrial production are used to meet the production requirements.The service life of the nozzle can be as long as 3-5 years if maintenance is paid attention to.
6. Save ink and environmental protection
Ricoh print head uses environmentally friendly ink, does not contain VOC(volatile organic compounds), environmental protection is a major trend in the future. Using variable ink drop printing, can save 30%-50% printing ink. It reduces the amount of ink it uses by adjusting the size of the ink droplets to adapt to changes in the color depth of the image, while normal printing uses light ink to adapt to changes in the color depth of the image. It saves a lot of cost for users who have a lot of consumption. Lower printing costs, profits will naturally increase。

How silk is printed on the Belt textile printer?
The methodology for digital silk printing is similar to standard inkjet printing but requires more care as silk is a delicate fabric.
Below is the step-wise process:
1. Designing
The customers' design or artwork is required to begin the process. It can be either digital or hand-drawn and then can be converted into digital format. Designers have many options, including the ability to use a wide range of colors. It is important to create designs that can be reproduced consistently.
2. Pre-treatment
Silk printing requires pre-treatment. Silk must be coated with an external fabric finisher to absorb ink and accept it in order to ensure the best output. The fabric is in RFD (Ready for Dyeing) mode. A piece of fabric is print tested for calibration of the printer, as per the right amount of ink. Too much ink can cause the fabric to lose its crispness and low ink may result in the print losing its brightness and color.
3. Printing
After the fabric has been pre-treated, it is now in the RFDP (Ready for Digital Printing) mode. Now, the fabric can be passed through the digital inkjet printing machine to print the desired design. Silk fabric is printed by acid dye ink or reactive ink. Acid dye is water soluble anionic dye which shows brilliant bright colours and fastness properties. Before printing begins, the ink heads are adjusted to the right height. In order to create the desired design with vibrant colors, the head sprays tiny droplets of ink on the fabric.
4. Finishing
The last step in the process is finishing, which is the same for digital or screen printing. As silk is freshly printed, it is in the most vulnerable stage and requires utmost care. The silk needs to be steam-dried so that the ink and fabric fibers are bonded. Then, it must be washed to remove any residual ink and coating. Finally, the silk is dried and ironed.
Digital printing and screen printing: which is better?
It's a question we're asked a lot, but it's not a case of one method simply being better than the other.
Technology is continues to develop for both print methods. Improvements to artwork preparation, inks and print equipment have increased screen printing quality. However, the basics of the screen printing process have largely remained unchanged. At the same time, there has been a more noticeable progression in digital printing. These include developments in several areas such as material, inks and the printers themselves.
Let's take a look at the pros and cons of digital fabric printing and screen fabric printing.

Less impact on the environment as there's less dye wastage and the fabric is printed on demand (so there are no minimums)
You can print small amounts of fabric
There is usually a quick turnaround
There is a minimal setup time
You can use unlimited colours
You can print fine detail and detailed, complex work
Minimal upfront investment
CONS:
More expensive process (although costs are coming down)

As yet, you can't create all printing methods e.g. devore, (burnout technique), discharge (bleach technique) and flocking
Some machines cannot print large volumes of material

You can use many more printing processes e.g. devore, flocking, discharge and relief printing
You are able to print large meterage of fabric easily
Cost effective for bulk orders
You have versatility with design placement
Inks are very durable
Can be printed onto many different types of surfaces
CONS:
More impact on the environment with wastage of dyes and pigments and also the cleaning of screens with chemicals
The number of colours you can use will be limited by cost
Large upfront investment as you need to pay for each screen to be prepared with your artwork
Longer turnaround times
There are definitely advantages and disadvantages of both digital and screen printing methods. Before you decide which is best for you ask yourself:
What outcome am I after?
What product am I creating?
What type of surface/fabric do I want to print on?
How much am I willing to invest?
What quantities do I require?
The good news is that digital fabric printers are becoming a more affordable option, so if you're just starting out, we can easily serve you samples with MT fabric printers without spending a fortune.

Do you feel that after learning about MT-Belt R8 Printer printers, direct to fabric printing can help you grow your business? But are you still wondering if it's really valuable for your company?
In a personal conversation with one of our digital textile printing experts, you can discuss your current production process and learn how to use digital textile printing to stay ahead of the competition.